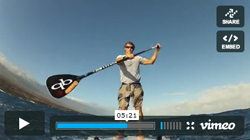 Jamie Mitchell's Latest SUP Adventure on Maui
UPDATE: Watch the vid below then take a look at Part 2 of Jamie Mitchell's Maui Downwinder Gone Wrong.
*****
Check out Jamie Mitchell's latest SUP adventure.
Just your average downwinder on Maui (…except for the helicopters, breakdowns, ocean rescues and the all-star cast of JM, Connor Baxter, Dave Kalama and Mark Raaphorst).
…I guess there's a shortage of boat ramps on Maui?
You can also follow the 10x World Champ on his new blog, LivingInLiquid.com (he's pretty much all over Twitter as well).