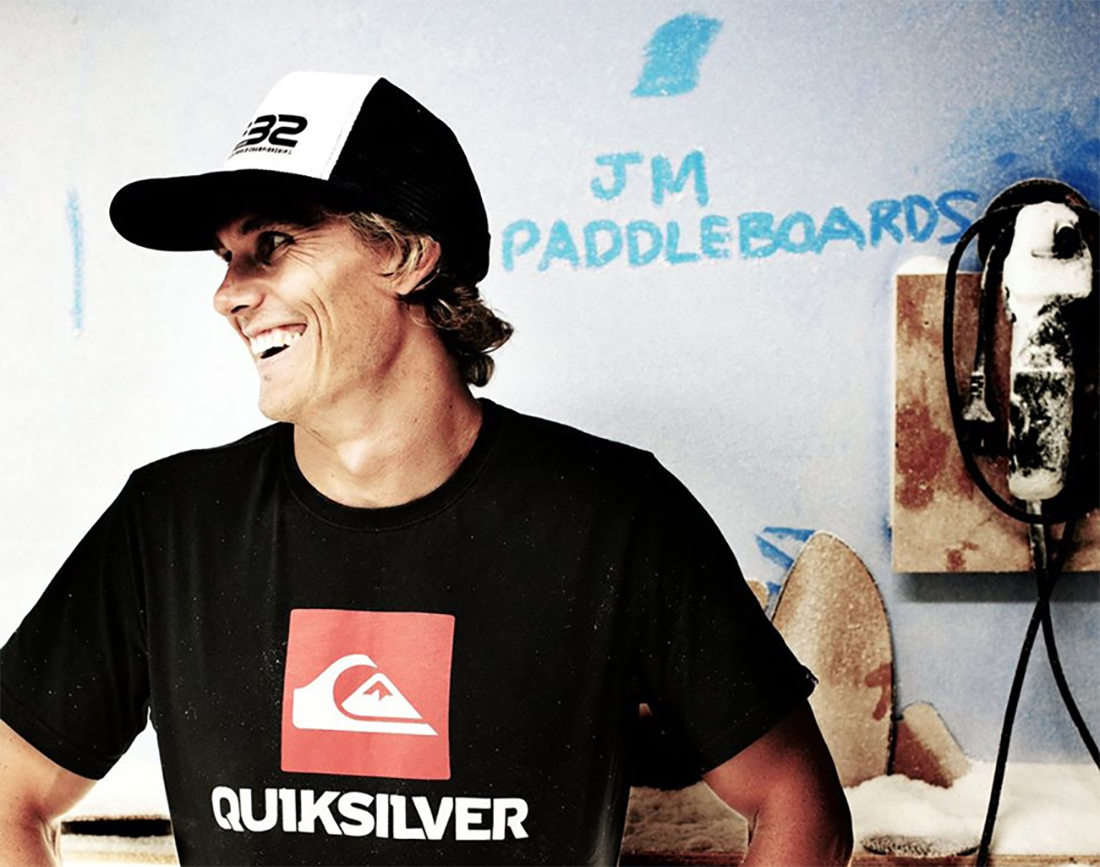 April 12, 2015
by Christopher Parker (@wheresbossman)
With New Partnerships, Jamie Mitchell Looks To Take 'JM Paddleboards' Next Level
As a 10x winner of the epic Molokai 2 Oahu Paddleboard race, BOP champion, multiple ISA Gold Medalist and big wave surfing hero, Jamie Mitchell has won his fair share of battles in the ocean. However Jamie's next contest is set to happen off the water, as the Aussie looks to take his boutique 'JM Paddleboards' brand to the next level.
JM Paddleboards stirred to life four years ago after Jamie retired from Molokai and looked for the next phase in his career. There was an initial two-year licensing partnership with Surftech, however when the major Californian brand hit troubled waters the JM Paddleboards deal wasn't renewed. This letdown turned out to be a blessing in disguise, as it gave Jamie flexibility and motivation to pursue JM as a standalone brand.
Jamie and his team, led in the shaping bay by master craftsman Adrian Birse, have been producing high quality customs for the past few seasons at their base on Queensland's Gold Coast. However now there's a push to make the brand a legitimate player on the ever-growing but also increasingly-competitive international market.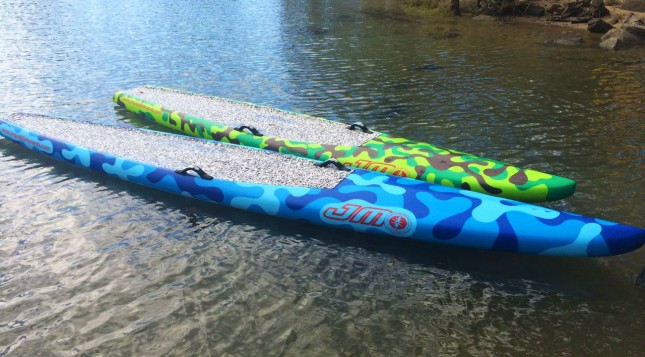 Although JM Paddleboards produces some very slick SUP race boards, their biggest seller are the traditional prone boards used by nippers (junior lifeguards) across Australia. To reinforce this niche, Jamie recruited two young prone stars to the JM team: Rhys Burrows, a permanent fixture in Australia's ISA juggernaut, and Jordan Mercer, whose shared "JM" initials meant she was always destined to represent Jamie's brand.
Jordie has given the JM brand priceless exposure, winning 4x straight Molokai 2 Oahu titles to carry on the JM legacy in that event. Even more significantly, the Red Bull athlete is one of the brightest young stars on the NutriGrain IronWoman Series, a televised spectacle reminiscent of the Battle of the Paddle but with prone, surf ski and swimming disciplines.
But the single biggest step forward for JM Paddleboards came when Jamie formed a partnership with long-time friend Scott Hargreaves and financial expert Dave Finnimore late last year. Scott brings years of experience as head of marketing at global surf titan Billabong, giving the JM team priceless business insights as they look to expand overseas. Meanwhile Dave holds down a career with Macquarie Bank, which in turn gives the JM team valuable financial knowledge.
For now, JM will continue crafting custom prone and SUP race boards in Australia, though there is a clear plan to establish a quality manufacturing base in Asia "in the near future." I chatted with Jamie recently about this future direction of the JM Paddleboards brand, and how they plan to take a relatively small outfit and compete against the Starboards and Naishs of the world.
"It was very difficult for me to run the brand while I was traveling the world surfing and racing," says Jamie of the motivation for this new direction. "Bringing a partner on board was the logical next step and Scotty and Dave turned out to be the perfect fit."
"I've worked with Scotty in the past and have known the guy for years through surf life saving. I know how hard Scotty works and how good he is with business/marketing work. Dave is based down in Sydney and has an amazing insight into the financial world, so these are two very talented guys to bring on board."
Jamie is under no illusions that the JM Paddleboards is still a boutique brand going up against large, established players on the international market: "Moving forward it's going to be baby steps in the beginning. We're a relatively small business but we're here for the long term."
While it's a long-road ahead, the fearless big wave charger is just as confident taking his brand to the next level as he is stroking into a bomb set at Maverick's: "We know we can't take over the SUP industry in twelve months, however in five or ten years I hope JM will be one of the most marketable and best-known brands on the market."
"I'm just really excited we've got such a terrific team in place. Between Scotty and Dave, along with Adrian and the boys in the factory, we've got the right people to take JM Paddleboards to the next level. I'm super stoked to be moving forward in a positive direction and can't wait to see where we can take the brand in the next few years."
I caught up with the team at the Aussie National Surf Lifesaving Titles on the Gold Coast this week, and when I chatted with Scott he explained his primary motivation for all this was to help tell Jamie's story to a larger audience.
"The main motivation for me joining was Jamie and my desire to help him leverage all his achievements. His profile is possibly larger in the US than Australia and for me that feels wrong. To the core audience in Oz he's well known, however his story is so aspirational that I felt it was too large of an opportunity to ignore. There's no other paddleboard brand in the world that carries this type of credibility and authenticity. Jamie's the perfect guy to spearhead or anchor the brand, so now it's time to tell the Jamie story and grow our business along the way.
Since coming on board I've definitely felt the momentum start to swing forward. Jamie was also wise to secure Dave as another partner: Dave's a senior executive at one of Australia's largest financial firms and a very passionate waterman as well. He's got a large network inside the surf life saving clubs and brings 30 years of high-powered business experience to the team. It's quite a lethal combination for our business and one we're all excited about."
"Right now our core business is within the Australian Surf Life Saving market, so we're focusing a lot of energy towards the prone boards. In addition to this we're gearing up our production capabilities to be able to supply both SUP and prone abroad. We identify the US market (both SUP & prone) as our second biggest opportunity and will be taking advantage of the upcoming summer over there, while we're also looking at opportunities in emerging markets such as Japan.
As part of our brand strategy our aim is to ensure we remain true to the values of creating premium, authentic paddleboards that provide a market leading user experience. We want our customers to have comfort and trust that a JM Paddleboard will tick every box. Whilst we go about building our team and capability we also want to ensure everyone involved has some fun along the way. We all spend a large chunk of our time in the ocean and understand it's at the core of how we live our lives. No one will ever get sacked for going for a paddle or surf during the day as long as the job gets done."
Sounds like the crew are serious about the challenge ahead and I can't wait to see what they achieve. I think it's fascinating to watch one of the most famous athletes in the paddleboarding world embark on a new phase of their career.
I've followed Jamie's career more closely than most over the years, regularly traveling alongside the "Captain" and getting a rare insight into what makes this guy tick. Jamie is definitely on a different level than most of us, something that becomes quite clear when you watch the crazy videos of him charging ridiculously large waves. It's this intensity and dedication that will serve him well in his battle to make JM Paddleboards a top level board manufacturer.
Jamie is also fired up to get back in the SUP racing scene and personally put the latest JM creations to the test, however that will have to wait a few months as he nurses an injured shoulder back to health. There's also the small matter of his partner being due to give birth to a baby girl in July.
It's going to be a big year for Mitcho…