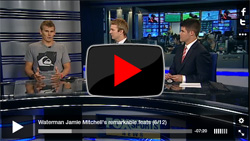 Jamie Mitchell Talks Paddling On Fox Sports Australia
Jamie Mitchell is back home this week for the Australian Premiere of Decade Of Dominance, his new movie about going for a record 10th straight Molokai 2 Oahu Paddleboard World Championship title.
The Decade of Dominance movie premiere is happening this Saturday on the Gold Coast (click here for details) but in the meantime JM has been on a bit of a promo jaunt, including a stop off at the Fox Sports studios in Sydney yesterday. Check out the full interview below, which includes a recount of the time Jamie was getting tailed by a massive shark halfway across the Molokai Channel.
No, it's not SUP racing, but it's close enough for us. There's plenty of SUP history associated with the Molokai event, and either way JM is one of the world's fastest paddlers, period, whether he's on his knees or standing up…