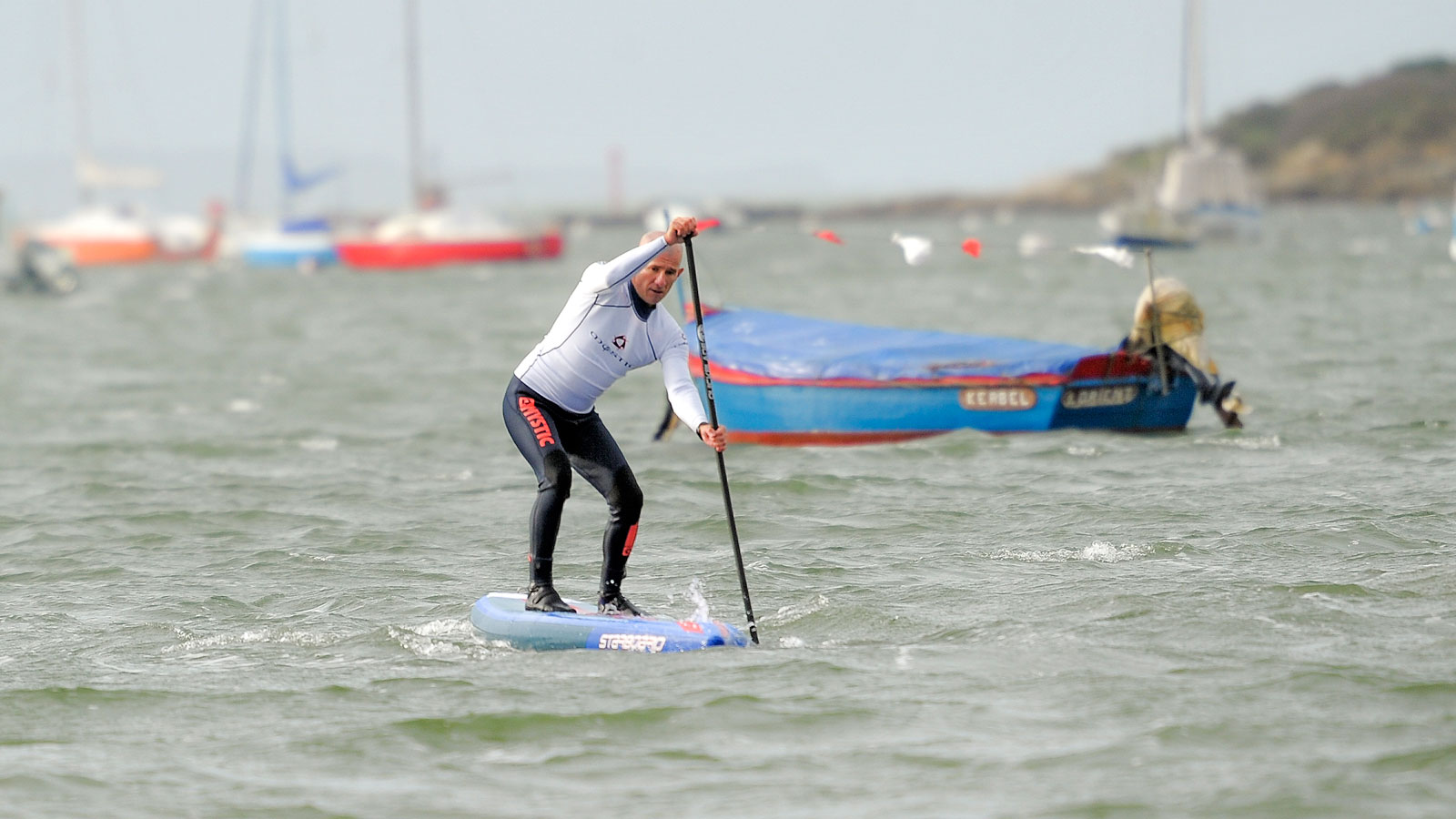 January 26, 2016
by Christopher Parker (@wheresbossman)
A Cold Water Review of the Starboard Racer 'Deluxe' Inflatable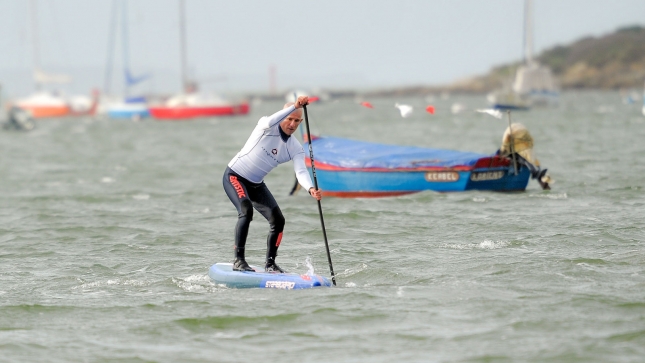 Inflatables are closing the gap on hard boards. They've already taken over in the rivers and have eaten into a huge chunk of the touring market, but even in the elite domain of racing, inflatables are rapidly improving. While the carbon fibre machines still have an edge, brands such as Red, Starboard and Mistral are all investing heavily in new inflatable stand up paddle board technology.
It'll be very interesting to see where inflatables are at in another five years, as it seems the boards improve noticeably every season. That's why this very comprehensive, cold-water review of the new Starboard Racer Deluxe piqued my curiosity. Thanks to Ludovic Bacquet from France for the detailed run down of the board plus photos of it in action.
Ludovic was on the 14×28 model of the Deluxe, though it also comes in 12'6×26 and 12'6×28. Those widths clearly suggest the target market isn't the hardcore elite paddler, who would usually want a sub 25″ wide (and preferably carbon) board, but rather the 'weekend warrior' athletes who want a competitive board that doesn't ding, isn't a pain to store and is easy to transport.
I've personally tried the older generation Starboard Racer but I haven't been on the 'Deluxe' version yet, so I'll let Ludovic give you the run down. The full write-up is over on the Zone, but here are some select quotes and photos.
Interestingly, Ludovic said it was one of the funnest upwind paddles he's done. That's something that Sam Ross highlighted in his "Why I Paddle Inflatable Race Boards" article the other week.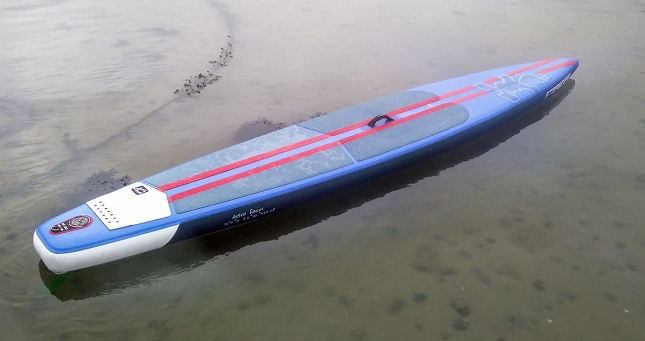 STABILITY
The first thing you will notice is that the board is stable. It doesn't feel like a barge because it's still lively, but it's plenty stable for most total-beginners on flat water.

It's an inflatable, and so the recessed deck that I am used to isn't there; I am sitting "way up there". Remarkably, I still found it plenty stable, even in big open water conditions.

GLIDE / FLAT WATER
That first day was so cool: the water was like a lake – and the board was "right at home". The board felt swift; the glide was nice. I kept thinking: "this is an inflatable?!"

Speed-wise, my inflatable 14×28 could compete with just about any 12'6 rigid board.

TRACKING
I was a bit shocked when I first got the board and realized that the fin was so far back. Once on the water, it really paid off: the board tracks very well.

UPWIND
This board handles upwind well. Its stability and its tracking probably had a lot to do with it, but I just kept paddling at a steady slow pace.

SIDEWIND
I found it to handle side wind better than any other board I have owned. The Racer is very predictable and stable, so much so that I decided to do a headstand with a full on side chop.

DOWNBREEZING
This is where I am really surprised. The Racer 14×28 is primarily designed for flat water, but I wanted to see its limits (I still haven't reached them yet… by the way).

The wind was blowing at 30 km/h – with stronger gusts from time to time. Waves were very small, but the board was a blast. It picked up waves with ease. Surfing took literally seconds to figure out that you had to be quick on your feet, and step back.

As you would have it, the nose wants to pearl. I wish my first wave was on video; you would have been laughing pretty hard as I submarined the whole thing. Strangely enough, I didn't fall: very predictable.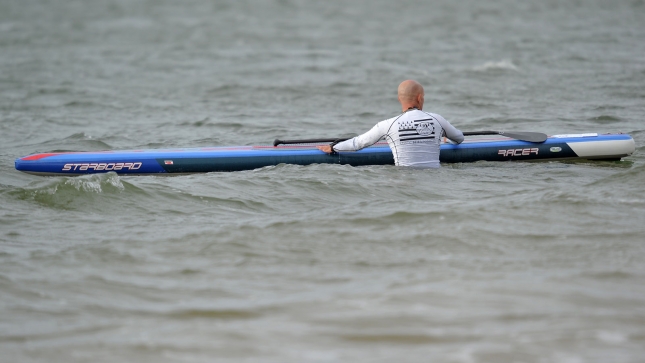 To put it all in context, here's the official promo video from Starboard:
…and in case you were wondering what 'Deluxe' means (I know I was) this video gives you the pitch:
And a couple more pics from Ludo's adventure: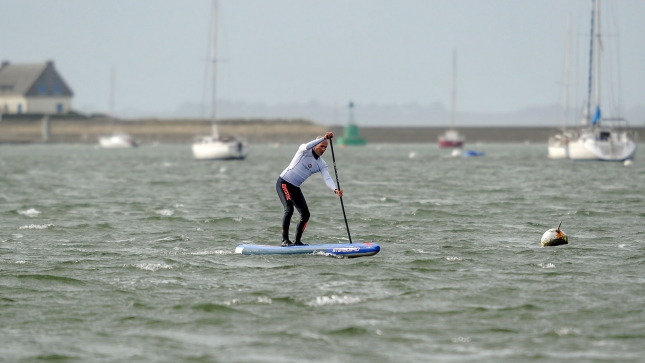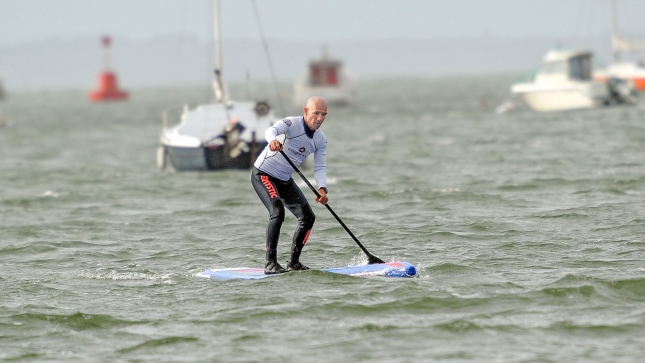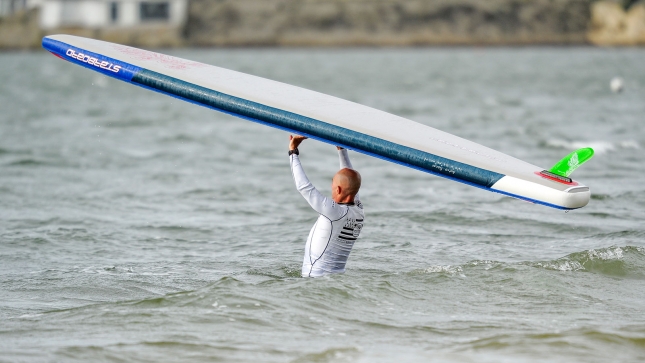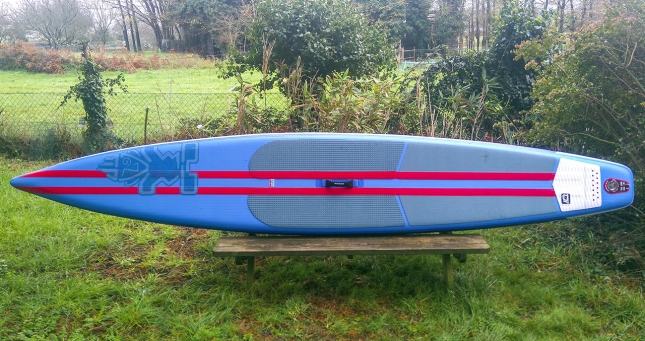 Full disclosure: Starboard advertises on SUP Racer (however if you've been a fan of SUP Racer for a while, you'll know we only talk about stuff we like, regardless of who our partners are)