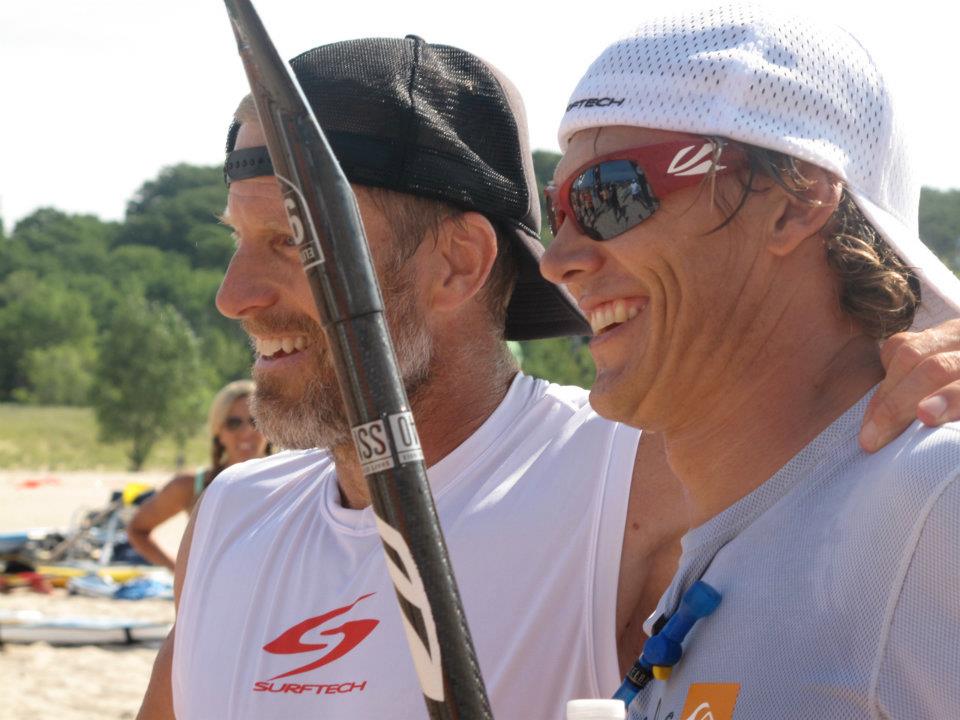 July 23, 2012
by Christopher Parker (@wheresbossman)
[RESULTS] Great Lakes SUP Classic: Jamie Mitchell, Larry Cain Dominate
Stand Up Paddle racing in the Midwest seems to be really taking off, with events almost every weekend. The charge is being led by the 10-race "Midwest SUP Championship Series", which this weekend headed to Holland, Michigan for the 3rd Annual Great Lakes SUP Classic.
It was the Jamie & Larry Show, with two big stars of the SUP racing world, 10x World Champ Jamie Mitchell and 3x Olympian Larry Cain, travelling to Lake Michigan for the race. They didn't disappoint either, proving too strong for a bunch of hungry locals in the Elite 6 Mile Race to take the top two spots.
Rob Patton snatched third from Ron St. John and Danny Mongno, while Jen Scully dominated the women's.
Scroll down for the full race results plus check out some pics of the action thanks to Erin Finn Macdonell (view the entire photo gallery on Facebook).
If you want to see what other SUP races are coming up in the Midwest (or anywhere else in the world) take a look at our ever growing list of Stand Up Paddle Races.
*****
*****
2012 Great Lakes SUP Classic RESULTS
6 Mile Elite Race
Click "Class" to sort results by Board Class/Gender
Click "Time" to reset the results

| Overall # | Name | Time | Class | Class # |
| --- | --- | --- | --- | --- |
| 1 | Jamie MITCHELL | 1:08:34 | Men's 12'6" | 1 |
| 2 | Larry CAIN | 1:09:56 | Men's 12'6" | 2 |
| 3 | Rob PATTON | 1:13:08 | Men's 14' | 1 |
| 4 | Ron ST. JOHN | 1:13:31 | Men's 14' | 2 |
| 5 | Danny MONGNO | 1:13:39 | Men's 14' | 3 |
| 6 | Matt JOHNSON | 1:15:37 | Men's 14' | 4 |
| 7 | Ken LAMBREHT | 1:16:19 | Men's 14' | 5 |
| 8 | Matt HASSENRIK | 1:18:05 | Men's 14' | 6 |
| 9 | Andrew VAN ESSENDELFT | 1:18:49 | Men's 14' | 7 |
| 10 | Robert PLANKENHORN | 1:19:06 | Men's 14' | 8 |
| 11 | Joel BAKER | 1:19:29 | Men's 14' | 9 |
| 12 | Ross HERR | 1:19:41 | Men's 12'6" | 3 |
| 13 | Matt FRANKE | 1:21:28 | Men's 14' | 10 |
| 14 | Tony PAUL | 1:23:42 | Men's 12'6" | 4 |
| 15 | Rich MOSHER | 1:23:53 | Men's 14' | 11 |
| 16 | Gary STONE | 1:25:02 | Men's 14' | 12 |
| 17 | Matt BALMER | 1:25:43 | Men's 14' | 13 |
| 18 | Chris PAUSTIAN | 1:26:37 | Men's 14' | 14 |
| 19 | Matt CAMPBELL | 1:27:31 | Men's 12'6" | 5 |
| 20 | Tom O'CONNOR | 1:28:03 | Men's 12'6" | 6 |
| 21 | Adam SCHUTT | 1:30:01 | Men's 14' | 15 |
| 22 | Matt REAUME | 1:32:07 | Men's 14' | 16 |
| 23 | Bill LINSMAYER | 1:32:55 | Men's 14' | 17 |
| 24 | Nick YEATES | 1:33:40 | Men's 12'6" | 7 |
| 25 | David PLANKENHORN | 1:34:28 | Men's 14' | 18 |
| 26 | Winsor MACDONELL | 1:35:20 | Men's 12'6" | 8 |
| 27 | Jen SCULLY | 1:35:41 | Women's 12'6" | 1 |
| 28 | Cy TOPE | 1:35:53 | Men's 14' | 19 |
| 29 | Mary RADTKE | 1:36:30 | Women's 12'6" | 2 |
| 30 | Kate BORG | 1:40:36 | Women's 12'6" | 3 |
| 31 | Evan STONE | 1:44:13 | Men's 12'6" | 9 |
| 32 | Dan WHITMOYER | 1:56:11 | Men's 12'6" | 10 |
| 33 | Sarah MASON | 2:04:34 | Women's 12'6" | 4 |
| 34 | Robyn RUTIEWICZ | 2:04:51 | Women's 12'6" | 5 |
| 35 | Karen VAN PUTTEN | 2:11:39 | Women's 12'6" | 6 |
| 36 | George MELUCH | 2:15:12 | Men's 14' | 20 |
3 Mile Recreational Race
Click "Division" (twice) to switch between Men's and Women's Results
Click "Time" to reset the results

| Overall # | Name | Time | Division | Division # |
| --- | --- | --- | --- | --- |
| 1 | Mike SCHOLMA | 0:40:02 | Men's | 1 |
| 2 | Anthon MAURICE | 0:41:34 | Men's | 2 |
| 3 | Doug VOGELZANG | 0:43:07 | Men's | 3 |
| 4 | Tom CHINONIS | 0:43:17 | Men's | 4 |
| 5 | Brian STAUFFER | 0:43:38 | Men's | 5 |
| 6 | Joey GHENT | 0:43:51 | Men's | 6 |
| 7 | Austin VONDRACEK | 0:44:03 | Men's | 7 |
| 8 | Aaron CAMPBELL | 0:44:19 | Men's | 8 |
| 9 | Jonathan SHARP | 0:44:33 | Men's | 9 |
| 10 | Paul VANDEWATER | 0:44:36 | Men's | 10 |
| 11 | Andrew MCFALL | 0:45:10 | Men's | 11 |
| 12 | Mark BROWER | 0:45:24 | Men's | 12 |
| 13 | David TUZINOWSKI | 0:45:37 | Men's | 13 |
| 14 | Ben WALKER | 0:46:03 | Men's | 14 |
| 15 | Scott MOORE | 0:46:20 | Men's | 15 |
| 16 | Jeff WEINERT | 0:46:27 | Men's | 16 |
| 17 | Tim MCKENNA | 0:46:55 | Men's | 17 |
| 18 | Kurt BLACKBURN | 0:47:14 | Men's | 18 |
| 19 | Neil STEGER | 0:47:18 | Men's | 19 |
| 20 | Butch MOCKLER | 0:47:55 | Men's | 20 |
| 21 | Bryan BOODS | 0:48:02 | Men's | 21 |
| 22 | Tyler BOSGRAAF | 0:48:21 | Men's | 22 |
| 23 | Dave MEADE | 0:48:52 | Men's | 23 |
| 24 | Brian BOSGRAAF | 0:48:58 | Men's | 24 |
| 25 | Tim FOLKERT | 0:49:18 | Men's | 25 |
| 26 | Elisabet ANDERSON | 0:49:25 | Women's | 1 |
| 27 | Patrick MCFALL | 0:49:34 | Men's | 26 |
| 28 | David BOES | 0:49:42 | Men's | 27 |
| 29 | Keith BORG | 0:50:13 | Men's | 28 |
| 30 | Darren PETTERSON | 0:50:34 | Men's | 29 |
| 31 | Anna BEIRD | 0:51:05 | Women's | 2 |
| 32 | Donald LAWLESS | 0:51:32 | Men's | 30 |
| 33 | Jim MCCLELLAN | 0:52:07 | Men's | 31 |
| 34 | Keith EASTLAND | 0:54:00 | Men's | 32 |
| 35 | Sara FOLKERT | 0:54:33 | Women's | 3 |
| 36 | Laura LEENHOUTS | 0:55:29 | Women's | 4 |
| 37 | William MOSS | 0:56:14 | Men's | 33 |
| 38 | Jen EICHORST | 0:57:27 | Women's | 5 |
| 39 | Diane TOPE | 0:57:27 | Women's | 6 |
| 40 | LaGenia BAILEY | 0:58:35 | Women's | 7 |
| 41 | Eliza BEIRD | 0:58:53 | Women's | 8 |
| 42 | Brian BOSIE | 0:59:01 | Men's | 34 |
| 43 | Charlie PIKE | 0:59:22 | Men's | 35 |
| 44 | Tori PETTERSON | 1:00:37 | Women's | 9 |
| 45 | Sean MCFALL | 1:00:47 | Men's | 36 |
| 46 | Jill MOCKLER | 1:00:53 | Women's | 10 |
| 47 | Leslie MACLIN | 1:01:36 | Women's | 11 |
| 48 | Aimee MORTENSEN | 1:01:38 | Women's | 12 |
| 49 | Lisa JAMES | 1:02:17 | Women's | 13 |
| 50 | Kris CAMPAU | 1:02:50 | Women's | 14 |
| 51 | Corinna PARISH | 1:02:56 | Women's | 15 |
| 52 | Jack WICKHAMN | 1:04:13 | Men's | 37 |
| 53 | Melissa PORTER | 1:05:00 | Women's | 16 |
| 54 | Mary EYKE | 1:08:38 | Women's | 17 |
| 55 | Nick LAUTERBACH | 2:10:43 | Men's | 38 |