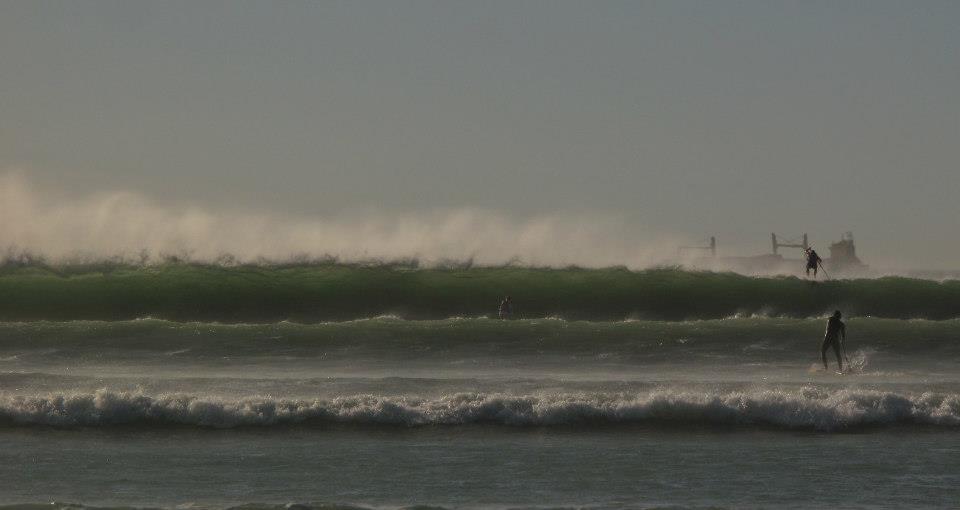 December 12, 2012
by Peter Petersen
Final Race In The 2012 PRIMI Naish Downwind Dash Series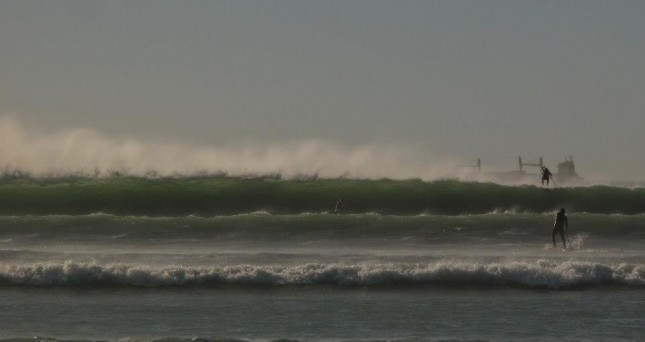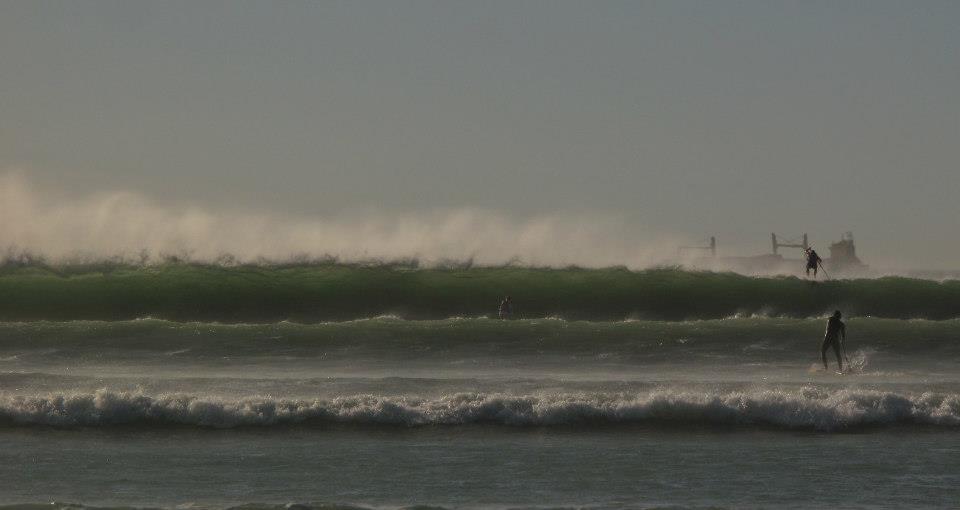 Big final race held in sizeable surf made for an exhilarating finish to this years PRIMI Naish Downwind Dash Series here in Cape Town, South Africa. With 9 out of 10 weeks producing raceable conditions (we held races in everything from 17 to 43knots of wind) this has to go down as our most successful series to date!
With Chris Bertish (NAISH), Brigette van Aswegen (STARBOARD) and Ethan Koopmans (NAISH) (Junior) having already wrapped up their divisions it was down to the fight for lesser placings that became the focus of today's race. Being the final race of the year with only a week and a half to go to x-mas we also incorporated a Code-Red dresscode, which saw some great outfits take to the runs.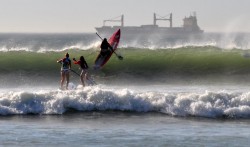 The swell was pulsing with some 4-5ft sets making the paddle out a little testing and a couple of SUP'ers got sent back to the beach before they'd even caught a run. Once out the back it was clear that this was going to be a long, tough race. Very light winds (for Cape Town) of 11-17knots created runners – but you had to work for them!
Greg Bertish (NAISH) had taken 2nd overall from Dylan Frick (STARBOARD) last week and Greg basically just had to stay ahead of Dylan to maintain this position. Dylan had other plans though and put on a masterclass of lightwind downwind riding, getting the most out of the small runners on offer. His time was only 20 seconds slower than the week before which was held in proper 20-30knots, while everyone else in the top ten dropped 4-6 minutes due to the light winds. Dylan came to the race knowing what he needed to do and he executed his plan to perfection, while Greg tried to hang on but had to settle for 2nd, over 2 minutes behind. Third place went to Colin Heckroodt who has been steadily improving this year. Chris had to settle for 4th after getting stuck mid-break a the start and then deciding to go around the rocks at Big Bay while the rest of the lead bunch ran the Small Bay gauntlet.
Brigette van Aswegen made it 9 out of 10 and although Mieshka Steyn (STARBOARD) and Monika Wohlgemuth (NAISH) have improved all year, Brigette has clearly established herself as the undisputed champ of SA downwinding. This time round Tammy Robarts (COREBAN) found some form to take 2nd while Monika managed to take 3rd ahead of Mishka.
In the Juniors Ethan Koopmans once again cleaned up while Kimon Dos Santos (NAISH) made a welcome return to take 2nd with first timer Dylan Maxwell (NAISH) in third. Meanwhile Joshua Robertson (NAISH) and Matthew Maxwell (NAISH) became victims of the carnage at the start and had to take DNF's.
In the Masters it was all about Pietro Muscas (NAISH) and Andrew Cillie (STARBOARD) for the overall title with Pietro going into the final race holding a narrow lead. Unfortunately Cillie decided to run the last 300m to the finish which gained him a couple of placings and a protest was handed in. The finish procedure is clear in that the buoy in front of time-keepers must be rounded to starboard before finishing between the flags. In Andrews defence, there was no buoy out tonight due to late arrival of timekeepers, but in keeping with the spirit of the rule, it was decided that paddlers should still finish the race from the water with a paddle to the line. In the end Pietro was awarded the Masters overall 1st place while Andrew had to settle for 2nd.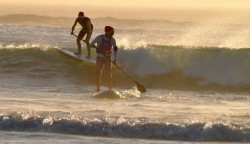 After the race we had a great prize-giving a the Big Bay Surf Lifesaving Club. Numerous awards were handed out and a raffle and auction for the "Paddling for Smiles" initiative raised over R5000 – so big thanks to all our paddlers, BBSLSC safety crew, time-keeping crew and all our sponsors PRIMI, Naish, BulkSMS, Vitaminwater, Coreban/Xpression, New Balance, SWOX, Buchulife, Watersports Warehouse and SUPHQ.
We resume the PRIMI Naish Downwind Dash Series on the 9th of Jan with another 10x Wednesday night races.  See you all in the New Year!
– Peter
Mens Open:
1st Chris Bertish (NAISH) – R2000
2nd Dylan Frick (STARBOARD) – R1000
3rd Greg Bertish (COREBAN/NAISH) – R500
Ladies:
1st Brigette van Aswegen (STARBOARD) – R1000
2nd Mishka Steyn (STARBOARD) – R400
3rd Monika Wohlgemuth (NAISH) – R100
Juniors:
1st Ethan Koopmans (NAISH)
2nd Joshua Robertson (FANATIC/NAISH)
3rd Kimon Dos Santos (NAISH)
Masters:
1st Pietro Muscas (NAISH)
2nd Andrew Cillie (STARBOARD)
3rd Peter Petersen (NAISH)
Awards:
"Rookie of the Year": Nic Muhl
"Fighter of the Year": Oliver Potgieter
"Youngest Downwind Paddler": Nathan van Vuuren
Overall Results from the 2012 PRIMI Naish Downwind Dash Series