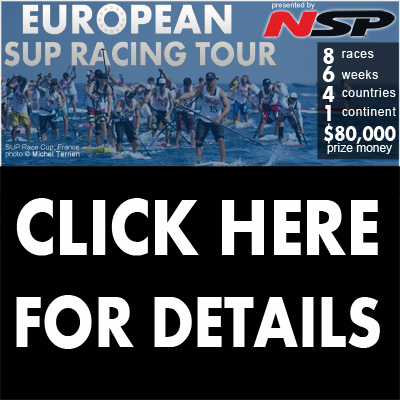 May 29, 2013
by Christopher Parker (@wheresbossman)
Europe, Day 7: We're In The Middle Of Nowhere In Germany
After driving through seven countries yesterday, we spent today prepping for the big Lost Mills event, which officially gets going tomorrow.
Jamie Mitchell and Rami Zur went off exploring the lake by foot, I picked up Jimmy Terrell from airport, the Fanatic crew, who'd spent the past couple of days in Italy, rolled into town late this evening, Travis Grant and Rico Leroy, fresh from their Summer snowboarding expedition (look out for the next episode of Trav's Trippin' tomorrow!) rocked up tonight, as did Bart and Connor, who spent this morning river surfing near Munich.
All in all there's probably two dozen international paddlers holed out in the awesome "Strandhotel Seehof", which is hosting the Lost Mills event and is located literally a stone's throw from the start line of the races.
Tomorrow the Lost Mills kicks off for real, with the 200m "Fastest Paddler On Earth" time trial; a unique, never before seen SUP race that has no prize money but over 10,000 Euros in prizes up for grabs, including a kickass Breitling watch. I have no idea how these Germans swung so many cool prizes for a SUP race that's being held in the middle of nowhere in Bavaria, but I'm sure glad they did.
Friday we'll have a fun 4km race in the morning and then the Jamie Mitchell Survivor Race in the afternoon. There's close to $10,000 on offer between the two events.
Then on Saturday it's the big one, the main event: the 18km "Lost Mills International SUP Race" distance race. There's a ridiculously stacked field in town for this one, so it's going to be very interesting to see who can come out on top. After winning one race each on the weekend, Connor and Trav will probably start favourites, but guys like Jamie, Chase, Jacko, Beau, Casper, Jake and probably half a dozen other guys will be in with a shot as well. Organisers are predicting just over 100 paddlers on the start line, so the mad dash-for-position at the start is going to be a great sight.
The setup down here on the lake for the Lost Mills is pretty awesome. There's a giant, Oktoberfest-style tent setup next to the water, there's a kickass timing system in place for the 200m time trial, we've got live bands playing Thursday and Saturday night, the big Quickblade Super Session on Friday night, and, in true German style, everything has been planned with ruthless efficiency, so we should be in for an absolute cracker of an event.
(oh and there's a giant (and I mean GIANT) photo of Jamie Mitchell and Casper Steinfath from Peru. Kinda cool but kinda scary…)
Stay tuned over the next few days and we'll keep you posted with all the action and results. SUP racing in Europe is about to go next level!