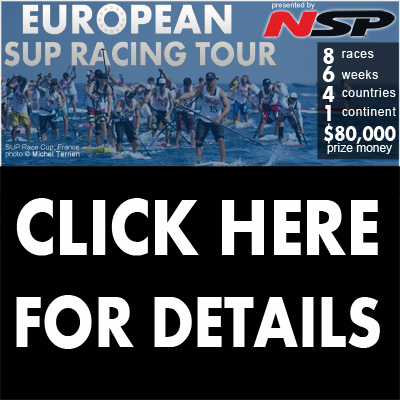 May 25, 2013
by Christopher Parker (@wheresbossman)
Europe, Day 3: Apocalyptic Winds
We've just wrapped up day 3 of the European SUP Racing Tour presented by NSP, which saw the first big race of the Summer hit the water at St. Maxime, France.
Read the full recap over on the SUP Race Cup results page, but basically it went like this: Gnarly winds, long delays, chaotic start, grinding paddle, 4.5km sprint, Connor won.
The young gun held off a big field, including a determined effort from Aussie Travis Grant. I crossed the line a couple of minutes after these guys but even then Connor was still on the ground looking half dead. He gave it 100% today and was obviously spent, though the apocalyptic winds didn't help; every breath chilled the lungs, and the way you suck in air during a short SUP race just compounded the problem.
But still, Travis definitely looked fresher on the line, so it'll be interesting to see how the two favourites go tomorrow. I wouldn't be totally surprised to see Trav snatch the win.
Today's race was still fun but I'm very glad it's out of the way. It was a grind. Tomorrow the forecast is looking relatively mild, so the Distance Race should be a lot more enjoyable.
That's all for now, I think I can smell some bread and wine…