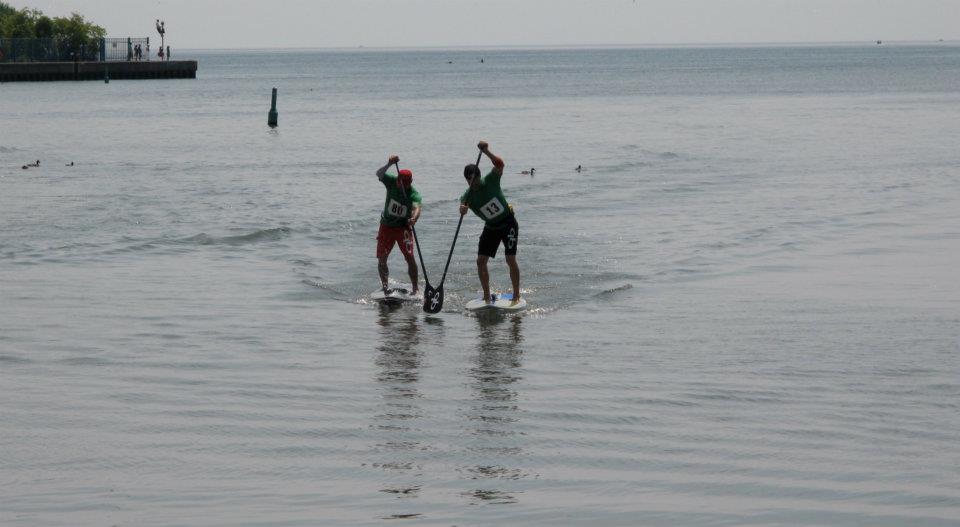 July 8, 2012
by Christopher Parker (@wheresbossman)
[RESULTS] Eastern Canadian SUP Championships (updated)
Check out the results from the Eastern Canadian SUP Championships held in Toronto yesterday.
The race featured a couple of big names of the Stand Up Paddle racing world; Jim Terrell and Larry Cain. It's always a close race between the former Sprint Canoe champions (who have an amazing seven Olympic Games between them) and this weekend was no different, with the pair duking it out for the entire race.
In a sprint to the finish it was the 1984 Gold Medallist Cain who narrowly took home the victory over the Mad Scientist, with Norman John Hahn rounding out the podium.
In a good sign for Canadian stand up paddle racing, an impressive 76 paddlers turned out to compete in either the Elite Race or Recreational Race. Get the full race results are below plus check out some great pics courtesy of Erin Finn Macdonell and Quickblade Paddles.
*****
*****
2012 Eastern Canada SUP Championship
Elite Race Results
Click "M/F" to switch between Men's & Women's results
Click "#" to reset the results

| # | M/F | M/F # | Name | Time | Class | Age |
| --- | --- | --- | --- | --- | --- | --- |
| 1 | M | 1 | Larry CAIN | 1:40:45 | 14' | 49 |
| 2 | M | 2 | Jim TERRELL | 1:40:48 | 14' | 47 |
| 3 | M | 3 | Norman HANN | 1:43:21 | 14' | 42 |
| 4 | M | 4 | Brent SCHMIDT | 1:44:37 | 14' | 47 |
| 5 | M | 5 | Pete BUDAY | 1:46:41 | 14' | 34 |
| 6 | M | 6 | Jack CHUBATY | 1:50:37 | 14' | 47 |
| 7 | M | 7 | Anthony ABRAHAM | 1:50:53 | 14' | 52 |
| 8 | M | 8 | John BECKER | 1:51:07 | 14' | 53 |
| 9 | M | 9 | Chris STRINGER | 1:51:26 | 14' | 47 |
| 10 | M | 10 | Richard PHELAN | 1:51:32 | 14' | 37 |
| 11 | M | 11 | Andrew SKEOCH | 1:52:07 | 14' | 40 |
| 12 | M | 12 | Matt REAUME | 1:53:13 | 14' | 39 |
| 13 | M | 13 | Peter HAMILTON | 1:54:25 | 14' | 49 |
| 14 | M | 14 | David FEKETE | 1:56:45 | 14' | 28 |
| 15 | M | 15 | Max TRACY | 1:57:14 | 14' | 44 |
| 16 | F | 1 | Lina AUGAITIS | 1:57:16 | 12'6" | 31 |
| 17 | F | 2 | Jessica RANDO | 1:58:16 | 12'6" | 28 |
| 18 | M | 16 | Rob KAVCIC | 1:59:13 | 14' | 31 |
| 19 | M | 17 | Attila BUDAY | 1:59:51 | 14' | 38 |
| 20 | M | 18 | Mark SCRIVER | 2:00:35 | 14' | 52 |
| 21 | M | 19 | Pat WATERS | 2:00:51 | 14' | 40 |
| 22 | M | 20 | Dan HAMZIC | 2:01:00 | 14' | 40 |
| 23 | M | 21 | Del DASILVA | 2:02:50 | 14' | 37 |
| 24 | M | 22 | Aaron PILON | 2:03:23 | 14' | 40 |
| 25 | M | 23 | Gander TAWASTSTJERNA | 2:05:51 | 14' | 52 |
| 26 | M | 24 | Mike FEKETE | 2:07:20 | 14' | 65 |
| 27 | M | 25 | Raj PATHAK | 2:07:31 | 14' | 45 |
| 28 | M | 26 | Rob SARGANT | 2:08:31 | 14' | 36 |
| 29 | M | 27 | Lee STORM | 2:08:57 | 14' | 41 |
| 30 | M | 28 | Scott MADILL | 2:09:21 | 14' | 42 |
| 31 | M | 29 | Joe BARK | 2:09:28 | 14' | 52 |
| 32 | M | 30 | Ivan DIMIC | 2:10:06 | 14' | 51 |
| 33 | M | 31 | Scott MUNDY | 2:10:20 | 14' | 24 |
| 34 | M | 32 | Darren MOSSMAN | 2:12:00 | 14' | 23 |
| 35 | M | 33 | Mike SANDUSKY | 2:13:12 | 14' | 33 |
| 36 | M | 34 | Sean GRAYSON | 2:13:14 | 14' | 37 |
| 37 | F | 3 | Chanda REID | 2:13:38 | 12'6" | 39 |
| 38 | M | 35 | Tim MANASTERSKY | 2:16:01 | 14' | 59 |
| 39 | M | 36 | Brent ACKLAND | 2:16:52 | 14' | 40 |
| 40 | F | 4 | Nadia BAER | 2:19:12 | 12'6" | 36 |
| 41 | M | 37 | Winsor MACDONELL | 2:19:13 | 14' | 46 |
| 42 | M | 38 | Warren KING | 2:21:17 | 14' | 38 |
| 43 | M | 39 | Paul GARNIER | 2:23:23 | 14' | 44 |
| 44 | M | 40 | Hugh WILSON | 2:28:49 | 14' | 50 |
| 45 | F | 5 | Julie SKEOCH | 2:31:52 | 12'6" | 40 |
| 46 | M | 41 | Jonathan LABA | 2:33:55 | 14' | 37 |
| 47 | M | 42 | Steve MARTIN | 2:35:54 | 14' | 38 |
| 48 | F | 6 | Ariel AMARAL | 2:36:18 | 12'6" | 29 |
| 49 | F | 7 | Annie PILON | 2:36:52 | 12'6" | 49 |
| 50 | M | 43 | James STATHAM | 2:37:53 | 14' | 53 |
| 51 | M | 44 | Dave ABBOTT | 2:41:33 | 14' | 60 |
| 52 | M | 45 | Eric GRIMES | 2:42:00 | 14' | 38 |
| 53 | F | 8 | Mary-margaret QUENNELL | 2:44:53 | 12'6" | 45 |
| 54 | M | 46 | Paul TREBILCOCK | 2:46:34 | 14' | 46 |
| 55 | F | 9 | Nancy HAMILTON | 2:46:53 | 12'6" | 55 |
| 56 | F | 10 | Misha GILBERT | 2:50:33 | 12'6" | 28 |
| 57 | M | 47 | Henry HAIDUK | 2:52:24 | 14' | 70 |
*****
Recreational Race Results
Click "M/F" to switch between Men's & Women's results
Click "#" to reset the results

| # | M/F | M/F # | Name | Time | Class | Age |
| --- | --- | --- | --- | --- | --- | --- |
| 1 | M | 1 | Jonah LOGAN | 0:30:50 | 14' | 39 |
| 2 | F | 1 | Colleen COXSON | 0:33:55 | 12'6" | 36 |
| 3 | M | 2 | Cameron MACAULAY | 0:34:30 | 14' | 19 |
| 4 | M | 5 | Lorenzo GIOVANNONE | 0:34:43 | 14' | 18 |
| 5 | M | 3 | John KUYPER | 0:35:08 | 14' | 46 |
| 6 | M | 4 | Gord WILKINS | 0:35:58 | 14' | 40 |
| 7 | F | 2 | Paula LAING | 0:36:08 | 12'6" | 47 |
| 8 | F | 3 | Tracey FINLAY | 0:36:31 | 12'6" | 47 |
| 9 | M | 6 | Gregg WILKINSON | 0:37:52 | 14' | 22 |
| 10 | F | 4 | Kathy CLARKE | 0:38:20 | 12'6" | 57 |
| 11 | F | 5 | Laura HAYWARD | 0:38:53 | 12'6" | 24 |
| 12 | M | 7 | Nikko DE MINTICH | 0:39:21 | 14' | 22 |
| 13 | F | 6 | Janet STRINGER | 0:39:21 | 12'6" | 43 |
| 14 | F | 7 | Andree GAUTHIER | 0:40:48 | 12'6" | 50 |
| 15 | F | 8 | Sabrina ELLIOTT | 0:41:17 | 12'6" | 33 |
| 16 | F | 9 | Dianne GIBSON | 0:41:28 | 12'6" | 41 |
| 17 | M | 8 | Scott KADWELL | 0:44:15 | 14' | 55 |
| 18 | F | 10 | Barbara COON | 0:44:27 | 12'6" | 52 |
| 19 | F | 11 | Lynne ALEXANDER | 0:50:00 | 12'6" | 30 |