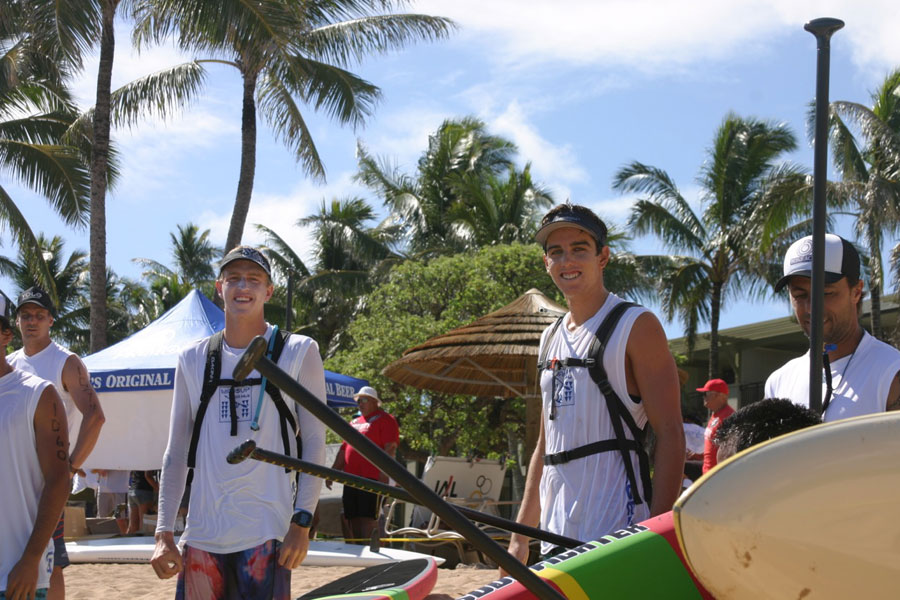 July 5, 2013
by Christopher Parker (@wheresbossman)
Connor Baxter In His Own Words: My "Da Hui Paddle Race" Recap
Boss Man's note: Connor Baxter won yesterday's big Independence Day race on Oahu, aka the Da Hui Paddle Race, which attracted roughly 600 paddlers to the North Shore.
Despite the light winds and hot sun, Connor led all the way from the first buoy to the finish line, defeating a solid crop of elite paddlers that included Aussie world-beater Travis Grant and Oahu native Scott Gamble.
So check out the young gun's take on the event below and have a look at the full Da Hui race results when you're done.
*****
2013 Da Hui Paddle Race Recap by Connor Baxter
The 2013 DaHui race was amazing. It was on the North Shore of Oahu and started at Turtle Bay and went to Waimea Bay, which is about 7 miles. I got there and scoped out my competition and knew who was going to be fast – Travis Grant, Scott Gamble, Kody Kerbox, Mo Freitas, Kaeo Abbey.
Driving on the way up to Turtle Bay, I saw it was going to be a light wind, flat water, downwinder – a grind the whole way. I knew I had to have a good start and non stop paddling until the end. So that's what I did. Once I heard the horn blow and I jumped to my board as quick as possible. There were about 35 elite paddlers in the race and we had to all fit through this keyhole in the reef. So I made sure to be in the front right from the get go.
Once I got through the reef I did a quick left hand buoy turn and started sprinting catching every bump I could. I stayed in the front the whole time not letting anyone pass me. The farther we got the less windy it got – plus it started blowing off shore. So I stayed close to shore and tried to stay in front. I stayed in front for the rest of the race all the way until the finish. Where I hit the beach and had a 300 meter sprint uphill in deep sand just to top it off.
Overall I was super stoked on my first place, especially since I will be racing most of these guys for the next three weeks.
I want to thank my sponsors for all their support – Starboard, Maui Jim Sunglasses, Rainbow Sandals, Futures Fins, Dakine, GoPro, OnIt Pro, Waterman's Sunscreen, Igloo Coolers, Sunrite Maui, Hammer Nutrition, iDcard, EFX and Hi-Tech Sports.
Also a big Mahalo to all the event organizers and volunteers. Excellent Event!! Look forward to next year.
Aloha,
– Connor Baxter
(all photos  © Karen Baxter)