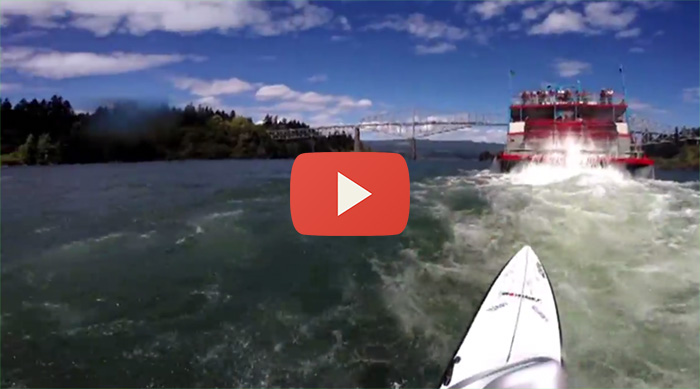 September 3, 2014
by Christopher Parker (@wheresbossman)
Surfing The Gorge Sternwheeler (The Endless Bump…)
Here's a cool little clip from Arthur Daniel that gives a first person view of the famous Gorge Sternwheeler wave in action.
This old boat cruises up and down the Columbia River Gorge at Cascade Locks, just up the road from Hood River, offering a virtually endless bump if you time it right.
With it's giant rolling wheel hanging off the back, this boat kicks out a massive wake that sets up half a dozen trailing waves. The sternwheeler cruises along at just the right speed for surfing it on your race board and the captain is usually happy to accommodate any eager paddlers.
Surfing the sternwheeler wave has become something of a pre- or post-Gorge Paddle Challenge tradition and yesterday the Frenchman, along with Belar Diaz, got in on the action. It's a hell of a lotta fun. Or least so I'm told…
I was bummed after I went up to Cascade Locks with Arthur and Belar last week – my last day in Oregon – only to find the ship was out of action for 24 hours. Definitely on my list when I head back to Oregon for the 2015 Gorge Paddle Challenge though.
Here's another POV of the Gorge sternwheeler wave from Mike Tavares that gives you a good look at just how far back the surfable bumps go:
http://instagram.com/p/sSlAT1GKse/
…and just because I can't get enough of looking at this awesomely endless wave, here are a couple more vids of stand up paddlers surfing the Gorge Sternwheeler wave: