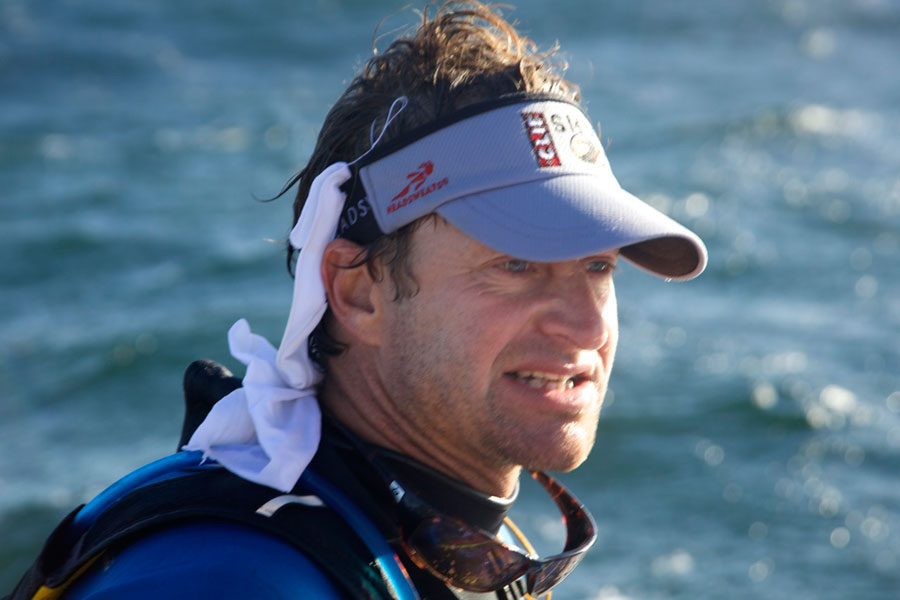 December 18, 2013
by Peter Petersen
South Africa's Wild Man Does It Again: Chris Bertish Paddles 130km In 12 Hours To Set Downwind World Record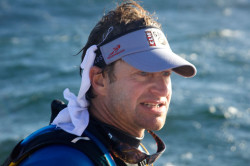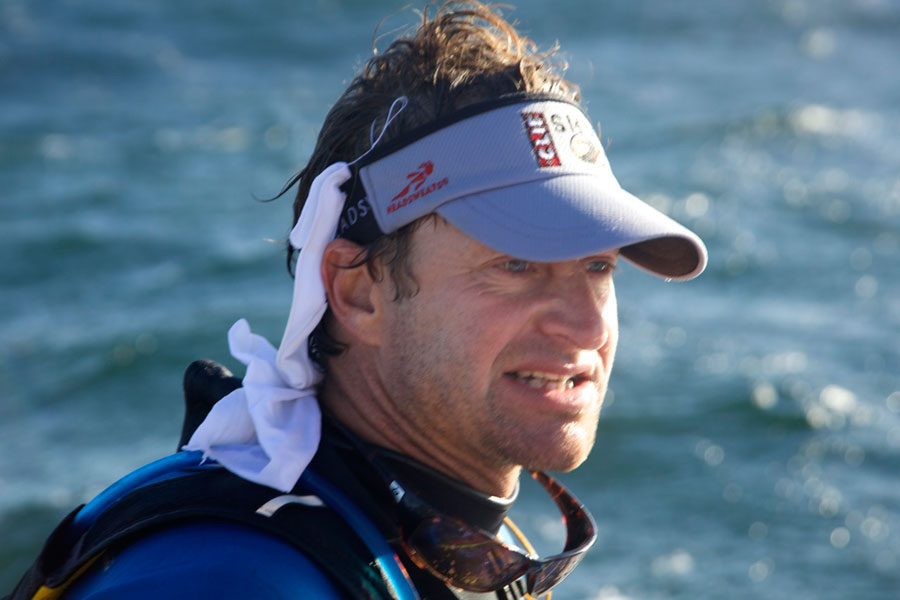 Chris Bertish has made a name for himself doing things a little differently: First guy to paddle in (not tow) at Jaws in 2000, winning Maverick's Big Wave Invitational in 2010, in the biggest wave in recorded paddle in history (on a borrowed board because his didn't show up) and then stand up paddling 320km up the South African West Coast in 2012, completely unassisted & unsupported, facing sharks, massive waves and unfavourable winds whilst carrying everything (tent, food, comms etc) on his board.
This time round he's turned his focus back on one of his first loves of SUP – downwinding. Chris was the first guy to do our local 10km Cape Town Milnerton downwinder which has since grown into the annual PRIMI Naish 20x race series. He was unbeatable for the first 3 years and held the course record up until recently as well. I had the pleasure of joining him in 2011 on a 65km downwinder from Cape Town Waterfront to Yzerfontein – it took us 7 hours and I spent an hour in the support boat because he'd gotten too far ahead…. That was one of many occasions where I realised this guy is not your average Joe….
The latest challenge Chris decided to tackle, was the 12 hour open sea record, which supposedly stands at 120km. Chris reasoned that our South Easter would help propel him up the coast at speeds in excess of 10km/h, meaning 120km was his goal.
Chris had applied for Guiness Book of Records recognition and they had given him a 3 week window, in December 2013, in which to do the deed. December is plenty windy with several +30knot days with a couple of 40knot days thrown in for good measure. Chris and his team of photographers, timekeepers, skipper and support crew nearly tackled the task 2 weeks ago when the forecast looked mental with purple charts on the Guru promising 30-40knots all day long. Unfortunately it was also accompanied by a 4meter South West swell at 15 seconds which would run at an cross-angle to his rhumb line so he pulled the plug in the last second. The rest of us enjoyed a stonker on that day with massive speeds on our normal little 10km run….
Fast forward two weeks till the 17th Dec. and the guru was promising a little less wind, 20-35knots, but this time round with zero ground-swell. This meant Chris would be enjoying pure wind-swell running straight up his rhumb line – perfect.
Chris was up before light and upon approaching Kommetjie for his launch the wind seemed a little on the light side – but the direction was an ideal pure South East. The plan was to start 2km off Slangkop, Kommetjie and then follow a rhumb line past Cape Town outside Robben Island and straight up the coast to Saldanha, Langebaan – 120km's up the coast, to hopefully achieve his dream and break a world record at the same time! At many points it would take him more than 25km off-shore.
The minute Chris set paddle, he was immediately surrounded by humpback whales which followed him for the first 15 minutes of the journey. The wind was 15-20knots which was enough to set an initial blistering pace of 12.8km/h for the first 4 hours. The Molokai distance of 53km (32miles) was covered in 4hrs 33 which would have put him in over 25 minutes ahead of Travis Grant's winning time this year and would have been the 7th fastest ever Molokai time! This was a promising start but he had to keep reminding himself he had to do another Molokai and a half, to complete his task – without a break…
From this point on the wind dropped off slightly for a couple of hours before re-building after lunch time and approaching 20-35knots. 70km's into the paddle Chris entered the crisis zone asking no longer how long have I gone, but how far do I still have to go. Chris also started experiencing dropping body temperature and mild hyperthermia, loosing feeling in his hands and feet, meaning he had to put more and more neoprene on to keep warm and raise his core temperature. Remember, despite it being summer and 25deg. air temperature, the sea is around 12 deg. celsius which creates a massive wind-chill factor. His body also started craving more substantial foods than his Clif energy bars he'd been feasting on till that point.
High protein shakes, biltong (beef jerky) and Mars Bars came to the rescue and with his body temperature returning to normal he got a second wind and continued on for the final 50km phase. Increasing cramps and decreasing power meant increasing amounts of falls and missed runners as the power to get on them was lacking. Chris was despite this still maintaining over 10.0km/h and still on target for his 120km goal in 12 hours.
Chris was riding his 17' SIC Bullet and was on the rudder approximately 80% of the time, linking runs and trying to let the ocean do the work. No doubt the hundreds of downwind hours spent chasing runners in these waters were beginning to pay off. After 10hours and 53 minutes Chris passed the 120km mark – the new world record was his and the goal achieved, but the initial plan was to paddle for 12 hours straight, so Chris persevered and managed to add another 10.1km's, meaning his new 12 hour record stands at 130.1km! That's 10.9km/h ave speed and a pace of approx. 5min.30secs per km.
Fantastic effort and once again proof that you can achieve the impossible! Chris Bertish living legend – congratulations!!!
This was all done in aid to raise awareness for The Lunchbox Fund-Feed a hungry Child and Laureus: Waves for Change foundation.
Chris Bertish is not only a wild adventurer and waterman, but also a motivational speaker who shares his inspirational stories with others. You can find out more about this living legend on ChrisBertish.com.
As a footnote, here's Chris' own post from Facebook…
Yesterday was a magic day, I had dreamed for years of trying to break 110km paddle from V&A to Langebaan, as I new it could be done, even tho many told me it was Impossible..The past 2 years I have been training & working towards that goal..110km over 2 days, 2 months ago, a solo unsupported 70km paddle, then decided I was going to try the 110km I had dreamed of, only to find there was an existing record of 120km in 12 hours..
We all have dreams..If you have a dream, find the courage to follow it and have the self belief to know you can follow it through..as Nothings Impossible, unless you believe it to be..
Yesterday we had a rising full moon, pods of pilot and Humpback whales, two types of schools of dolphins, giant ships, 30knt breeze, 12ft seas, fatigue, sunstroke, hyperthermia and sheer, bliss, joy, stoke..and achieving far beyond my greatest expectations..What more could you ever want in one day..The pain was temporary, the memories will last for ever..There's no such thing as failure in life, only the failure to try..
Thanks to my Support Team, Franco Veeotie, Jen Koopman, Maleen Hoekstra, Darren Maconovits & Brandon Kilbride, couldn't have done it without my dream team.
*****
*****
SUP Downwind World Record 
// Chris Bertish
// 12 hours (7am-7pm)
// 130km
// West Coast, South Africa
// December 17th 2013
// Official GPS Stats