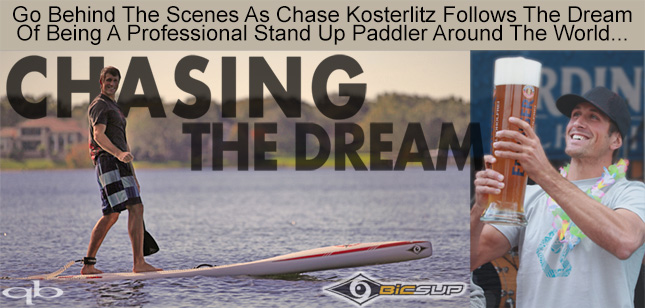 November 15, 2013
by Chase Kosterlitz
Follow The Adventures Of A Pro Paddler Around The World: Chase Kosterlitz Is "Chasing The Dream"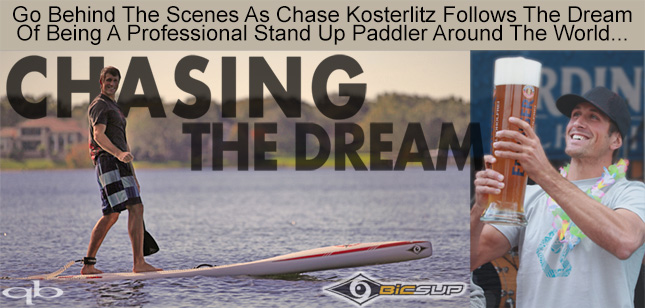 Boss Man's note: I'm stoked to announce that Chase Kosterlitz is the latest pro to offer us insights into the world of professional stand up paddling. Chase joins an elite group of guest columnists here on SUPracer.com that includes Jim Terrell, Steve West, Dave Kalama, Bart de Zwart, Travis Grant, Peter Petersen and more.
Chase's regular new column "Chasing The Dream" (see what we did there?) will give us a peak at what it's like to travel around the world from race to race, chasing the adventure and all that comes with it, both good and bad. The big guy from Florida is one of the strongest paddlers in the world, dominating the East Coast and cementing his reputation as one America's top performers. Chase also gets around: This year he raced across three different continents and found plenty of fun along the way. This… is his story.
Chasing The Dream
SUPracer.com has given me the opportunity to share some insight into the world of the professional stand up paddler. I hope to give you a realistic and entertaining picture of what it means to pursue this unique lifestyle, with stories and adventures not just from my own travels but from some of the other paddlers who race around the world as well.
The first race I ever participated in was a local race in St. Pete Beach, Florida that I helped to organize. It was 2009, and my main goal for the barely 3-mile course was to not lose to Florida's fastest female, Helga Goebel. I ended up working hard to beat her and finished 3rd place on an 11 ft SUP surf shape. My next objective was to stop picking on girls and beat the best paddlers in my own gender. I started my SUP business, Water Monkey, and began training hard to get a board sponsor and win races.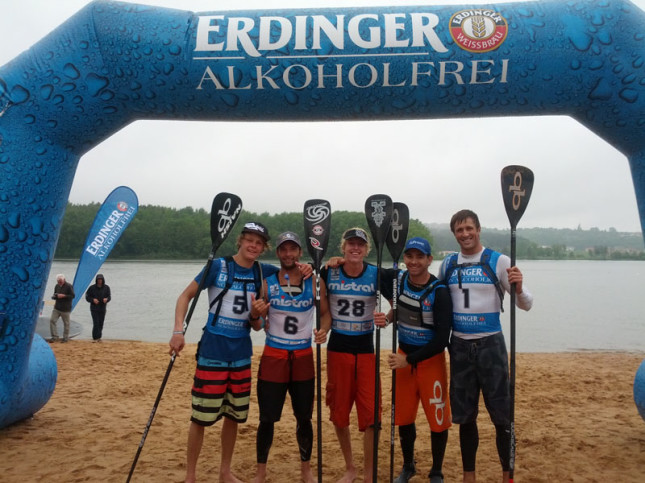 Four years and about 90 stand up paddle races later, I am fortunate to be a sponsored international paddler. Most of the men and women dedicating themselves to racing full-time have other jobs and commitments outside of stand up paddle racing. I think professional paddlers could be described as someone who has given up a 'normal' lifestyle and dedicated themselves to the pursuit of competition, travel and adventure.
A large part of a professional paddler's season is made up of travel and logistics, with even the smallest, most minor little details often having a huge impact on your trip.
The manner in which you simply walk up to the airport check-in counter, with an absurdly large bag by your side, is just as an important a skill as learning how to draft. Knowing how to pick the friendliest face that will agree to let your giant, oversized 'canoe' or 'kayak' onto the plane is essential. Many paddlers have been turned away at airports and had to leave their equipment at home, forcing them to either race on a borrowed board or not race at all.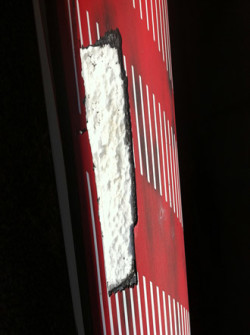 After successfully checking in with the nicest gate agent we can find, it's time to sit back, relax and pray the airline doesn't impale our boards with a forklift…
Smashed, cut, splintered and missing paddles and boards are all a part of the journey: The timid unwrapping of our precious cargo follows each arrival. Tipping the baggage handlers might help, but it still won't put you on the good side of TSA…
Apparently stand up paddle boards look like great vehicles for the smuggling of drugs, exotic pets and artillery. Not much can be done to prevent security from doing a SUP version of a cavity search.
I guess it's better the board than me.
Long flights and car rides are also a common part of our paddle trips. The Aussie paddlers are geographically disadvantaged when it comes to traveling to SUP events, with 40+ hours of travel not uncommon to get to any major event outside of Oz.
Once we arrive from wherever our home country is, we still have to travel around to each event. This past summer in Europe, Belar Diaz, Paul and Angela Jackson, Jake Jenson, Beau O'Brian and I managed to drive over 2,500 miles with 12 boards and 6 inflatables strapped to a borrowed homemade trailer.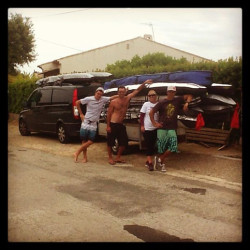 Did I mention a little ingenuity and craziness is also a requirement of a pro paddler?
Just this year alone I've carried my paddles and boards from the subways of Paris to the streets of Bangkok. The looks I get from puzzled bystanders are priceless.
It's not all hard work though, this really is an awesome lifestyle…
Through our travels we get to meet great people and see amazing places. Many times it is the hospitality of the local paddlers and race organizers that helps us make our trips a lot easier.
Not only do these paddlers help, but it is other pros who are the first to bend over backwards to assist each other. I think our shared experiences help us feel like a small club. A small club that has some very weird initiation rituals for joining…
'Travel with a ridiculously large board for 2,500 miles through foreign lands. Along the way you must paddle in races with rain, cold and wind. When you are done you might have been awarded money or a small trophy for your efforts. However, more than that, you will be rewarded with the knowledge that you have sacrificed much to get to your destination.'
Yeah, professional paddling is something like that.