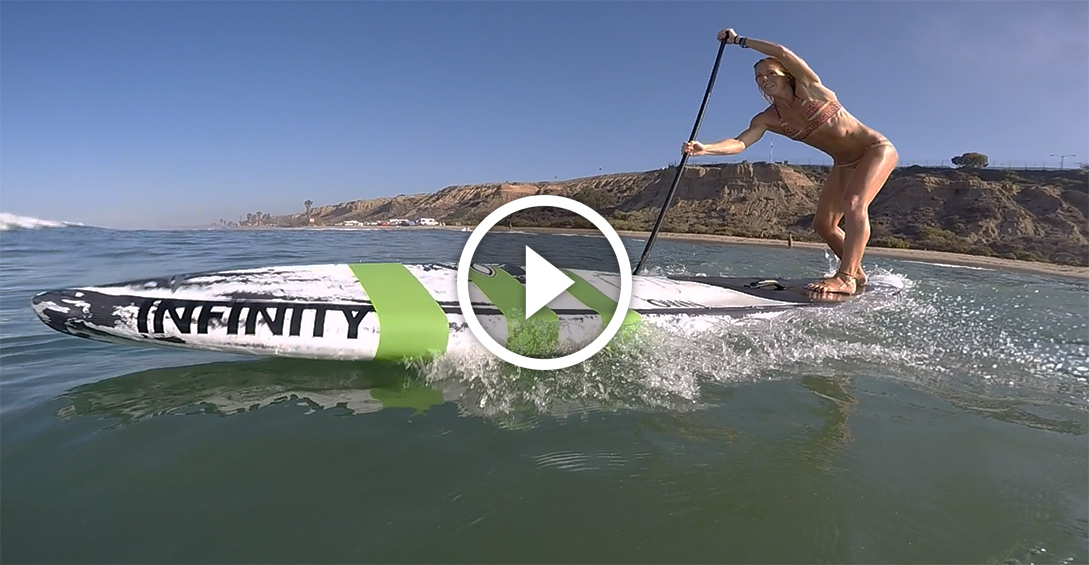 September 1, 2015
by Christopher Parker (@wheresbossman)
Major Move: Candice Appleby Joins the Infinity "Speed Freaks" Racing Team


So there's some rather big news out of Southern California today: Candice Appleby, one of the most recognisable names in the sport of stand up paddling, is joining the Infinity Speed Freaks racing team.
Candice will start racing the Dave Boehne-shaped race boards immediately, in a move that instantly makes Infinity one of the more prominent race teams going round. In addition to Candice, the brand has long been home to champion paddler/bearded warrior Slater Trout, along with Anthony Vela and a host of promising juniors.
Candice joined the Infinity surf team earlier this year, however she's now 100% on board (pun intended). This would be a big move no matter what the circumstances, but it's particularly significant when you consider Candice has never raced for any other brand besides Bark.
Candice will unleash her new Infinity weapons at a few major races over the next six weeks, including the World Series events in Japan this weekend and Huntington in early October. That'll be followed a week later by "the new BOP" aka the Pacific Paddle Games, where Candice will look to add yet another chapter to her storied surf racing career.
Known as the original "Queen of the Battle," Candice has won 6x BOP Elite Race titles in years past, though she's looking fitter than ever right now and will be a prime contender when we return to Doheny State Beach (aka the spiritual home of SUP racing) on October 10 & 11.
Candice sounded very determined when we asked her about the move:
"I joined the Infinity Speed Freaks racing team to be part of the most innovative and unique brand in our sport. Team Infinity not only has the most cutting edge designs coming out of their factory, but a solid family of dedicated water athletes who are genuinely stoked on our sport designing, testing and building their products.

The team camaraderie within Infinity is second to none, and I am excited to be "all-in" with the brand. What Dave Boehne has done with the branding of Infinity is exciting and fresh. Simply put, Team Infinity has more fun!
Dave Boehne, Infinity's head designer and hipster-in-chief, added that Candice is in prime form right now, with an eye on some more big titles over the next 12 months.
"Candice is feeling very strong and looking incredibly fit. In 2016 she's planning on racing the Stand Up World Series and all the usual big name events as well as competing on the Stand Up World Tour in SUP surf. I am sure she is also looking forward to returning to the ISA World Championships as well."
Infinity has always struck me as a very interesting brand. It's led by one of the most colourful and engaging characters in the sport and always seems to be on the cutting edge, both with its products and its image.
But while they get a lot of attention, Infintiy has never been a big international company; they've stayed close to their roots to become entrenched as that hip and edgy boutique brand. I've always been intrigued about the Infinity back story, so in addition to the major news about Candice joining the Speed Freaks team, I asked Dave about the company's origins and how it's managed to punch above its weight so well.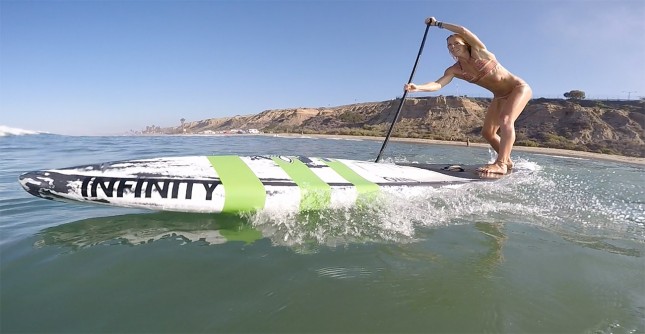 Hey mate, could you please give us the brief history of Infinity (and which surfers you guys have shaped for?)
My Dad Steve started Infinity Surfboards in Huntington Beach, CA with my Mom Barrie in 1970. We've always just been a progressive surf label with an open mind wanting to try everything that can ride a wave. We still make everything shortboards, longboards, retro stuff, tandem boards, waveski, tow boards, basically if it has the word "board' in it chances are we've made one at one point or another.
My Dad, brother Dan, and I all make boards so between the three of us we've made boards for all sorts of folks. Pat O'Connell, Shaun Thompson, Christian Fletcher, Jamie O'Brien, Chris Ward, Martin Potter, Brett Simpson, Adriano de Souza, list goes on… pretty neat when i sit and think about it.
What year did you (or your dad) shape the first Infinity race board?
My Dad started offering a single fin SUP in our line in 2004. I think he started making race boards in about 2006
Tell us how stoked you are to have Candice on the team, and what's this mean for the brand in your opinion?
Candice is the biggest name in women's SUP and one of the sport's biggest stars guy or girl. If there was a Mount Rushmore of SUP she's on it with whoever else Kalama, Laird, Gerry, etc. You can make an argument of "who would go on the Mount Rushmore of SUP" but Candice is the only woman at this time that is in that argument. What she's done for women's SUP and the sport in general is amazing, and no one is a double threat like her as far as being so well rounded surfing an SUP and racing one.
Candice joining the team and racing on my race boards is a big deal and i'm completely honored! I feel like we are a brand people keep an eye on but Candice validates everything we've been doing. The world's best is not going to ride boards they are not confident on, period.
[notdevice] [/notdevice]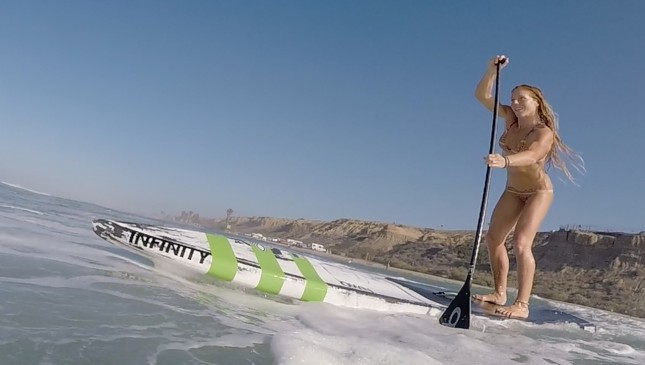 [notdevice] [/notdevice]
What board will she be paddling at the Pacific Paddle Games? Dimensions? Style? Insights!
I've made her a little custom 5 pack with all the current designs and theories we are running with including some 2016 sneaky stuff. She's got a 2016 Blackfish proto already and she's gonna take it to race in Japan next week. I made her a couple needley displacement style boards and a few Blackfish planing hull designs. I wouldn't be surprised if she chose one over the other depending on the conditions at Doheny that day.
She's specific on things she wants on boards like a completely flat deck, handles in specific spots, where she wants her traction etc, but giving me free reign design wise. It's been super fun. My goal as a designer is to make her even faster. Really pay attention to how she paddles and her tendencies cadence wise and her style. I want to match the design to compliment her talent. Candice rides anywhere from 25-26″ wide. I made these boards all 25″. I should have her on 24's by the end of the year.
Who else is on the team?
Our pro team is Slater Trout, Anthony Vela, myself and Candice. We have a solid crew of elite paddlers and juniors who all play a big part in the whole thing.
Infinity is definitely one of the coolest (dare I say 'hip') brands in the world of stand up paddling. What drives the unique style of you and your brand?
Haha i consider the word "hip" a compliment so thanks for that! I just try to keep a fresh perspective on things and above all else have some good clean fun. Be true to the brand. What it is and what it stands for. Every once in awhile do something weird like run a full page ad of Slater Trout's beard.
You've got Slater and Candice, two of the most recognisable names in the sport, racing your boards now. How did a boutique brand compete for talent with the big international teams?
Honestly don't know. Freaks me out a bit. I think it speaks volumes in the product we are making. Which is awesome. More than that, being a small brand i am forced to keep the team tight. I am able to focus more direct on my team and work closer with them, build a culture and get them dialed.
You (and the brand) have deep roots as free surfers, whereas SUP racing often seems the complete opposite; very competitive and usually without any waves at all. What's the appeal of SUP racing for you?
For me personally it's just another reason to get on the water. I love feeling fit and competing just like anyone else. Fortunately being a business owner, father, husband, and 39 i don't have too much pressure to race. Simply competing in a race or in a surf event on equipment i made myself is a big enough thrill for me.
What are your favourite events of the year?
I like anything with elements. I can enjoy a flat water race but nothing over 6-8 miles i just get bored with it. Races like the Gorge, any downwind race, any sprint / surf style race with beach starts etc i really enjoy.