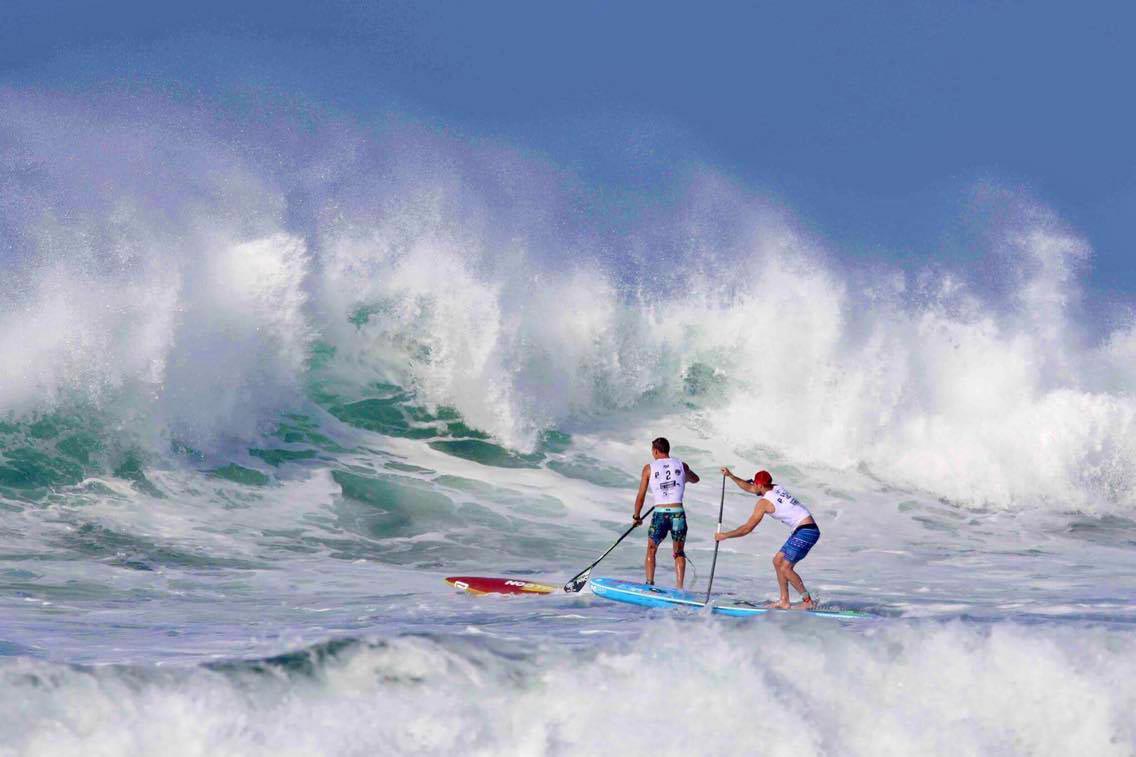 Brekkie Bites #007: Tennessee, France and borrowed boards in Brazil.
Good morning and welcome back to Brekkie Bites, your daily dose of SUP news that I loosely aim to publish at 7:07am GMT every single day (have you figured out the symbolism of 707 yet?).
Here's the latest.
(You can also play catch up on our Brekkie Bites hub.)

THIS WEEKEND'S HEADLINER: CHATTAJACK
It's hump day, which means it's time to look ahead at what's happening this weekend.
There are two events worth following on Saturday: The infamous Chattajack river marathon in Tennessee and the hyper-competitive French National Titles in the waves of Hossegor.
There are also smaller events in Spain (national sprint titles), New Caledonia (Bluescope Downwinder), Greece and pretty much everywhere else (who says the sport is slowing down?), while the gnarly Red Bull Heavy Water event in San Fran continues its "red flag" holding pattern (not expected to run this week).
CAN LARRY CAIN WIN FIVE STRAIGHT?
Chattajack has become the most popular race in the United States thanks to a combination of a unique challenge, grassroots vibe and tremendous organisation. In what must be any race director's dream, all 500+ spots sold out within hours of registration opening.
The 31-mile "Inland Molokai" is held in Chattanooga, Tennessee, and this year Olympic gold medalist Larry Cain will be chasing an incredible fifth-straight title.
Though regardless of the result, Larry will collect his prized belt buckle — a very special souvenir given to those who finish five Chattajacks in a row.
In the women's, I can't see anyone getting past defending champ and world number four Seychelle. Her victory at the 11 Cities showed that "ultra" races are her bread and butter.
---
WORLD'S MOST COMPETITIVE NATIONALS
With the exception of Australia, it's hard to find a national titles that even comes remotely close to France in terms of talent on the start line.
The Frenchies have always rolled deep, but this year "Les Bleu" seems to be stronger than ever — they have half a dozen guys ranked top 20 in the world plus two of the top 10 women.
Titou, Noic, Arthur, Tom, Martin, Clement, Olivia, Amandine and Melanie. That would be a damn solid field at any race anywhere in the world. So no matter who qualifies for the squad, France will surely start favourites at the ISA Worlds in China (which begins in just 30 days).
After two frustrating years of finishing runner-up to the Great Australian Firewall (aka prone paddlers; France would have won both titles if the ISA was a SUP-only event), I'm putting my money on the blue, white and red to finally take home the trophy. I mean c'mon, even their presumed junior representative is ranked number five in the world…
Apart from holding a confusingly-large number of national qualifiers (I *think* this is the 14ft national titles; there's also a 12'6 nationals plus a season-long national cup series), the French seem to be the only major surfing federation that really have their shit together. The team is well-organised by Surfing France and, critically, it's also relatively well-funded.
With the Americans trying to figure out their marriage to Hawaii and the Aussie athletes still scraping together travel money (because their own well-funded national body can never seem to find any funding), the Frenchies offer a little ray of hope that maybe, just maybe this whole ISA-based surfing model could actually work one day.
---
THE HERO OF BRAZIL
One of the big stories from California earlier this month was the sensational performance of young Brazilian dark horse Guilherme dos Reis, who came oh-so-close to taking the title (and gate-crashing Lincoln Dews' title fight).
The craziest part of the story? He's not even sponsored — Gui did it on a borrowed board (Jade Howson's board, to be exact).
Read this great interview with Guilherme dos Reis over on TotalSUP to find out more about this name-to-watch.
TotalSUP is also doing great things to send more paddlers to Tahiti via their tie-in with the Waterman Tour; 14 athletes just got selected to compete in the year-ending survival-fest known as IRONMANA (aka "five days of pain in paradise." They'll be flown to the tropical islands courtesy of Air Tahiti Nui.
That's it for today; check-in tomorrow morning for another delicious serving of Brekkie Bites.
---