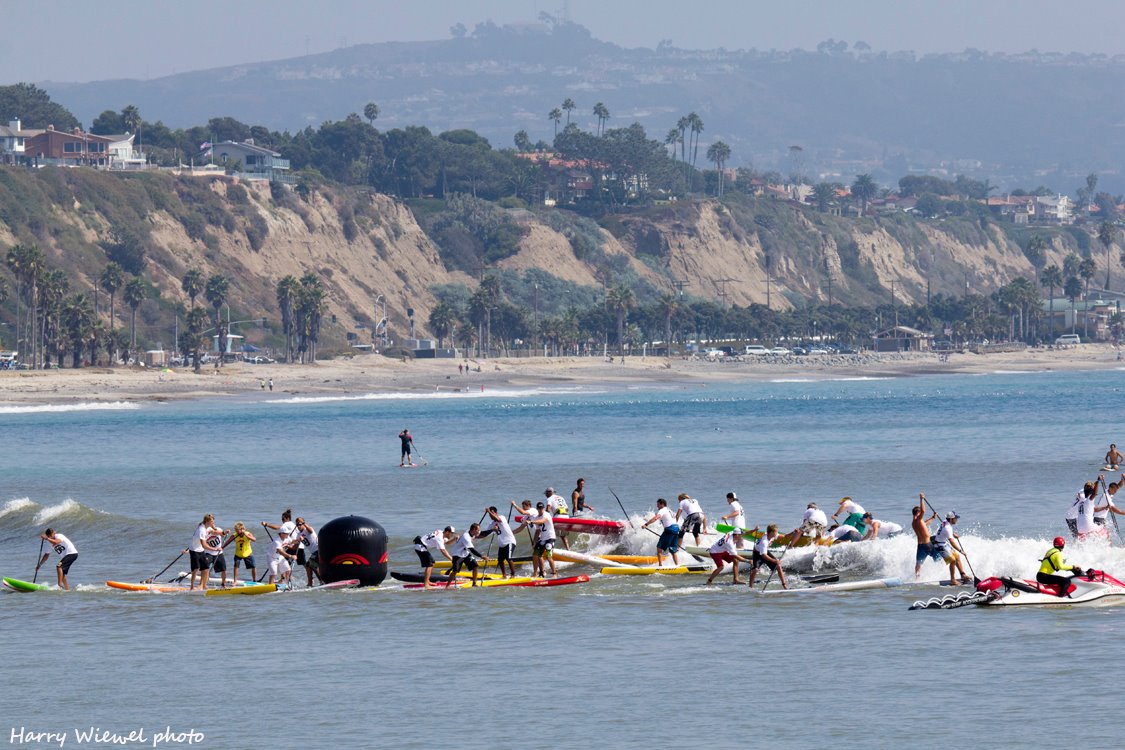 October 1, 2014
by Christopher Parker (@wheresbossman)
Battle Of The Paddle: Civil War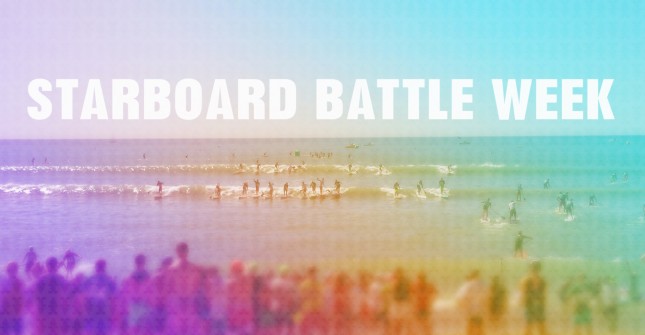 BATTLE OF THE PADDLE: CIVIL WAR
State Against State, Mate Against Mate: Country-by-country predictions for the biggest race of the year
Seeing how the Battle of the Paddle is going to be so tough to predict this year, I figured we should have some fun and look at the top contenders in each of the major countries and regions, rather than just the overall front runners. I'll still be releasing my predictions for the Top 10 on Friday morning, however with conditions looking epic (for the spectators at least) it's going to be VERY tough to get it right.
So I guess this is my way of throwing out as many names as possible and hopefully catching every contender in the net… If you take a look at all the names below you'll see what I mean: Good luck picking the Top 10 this year.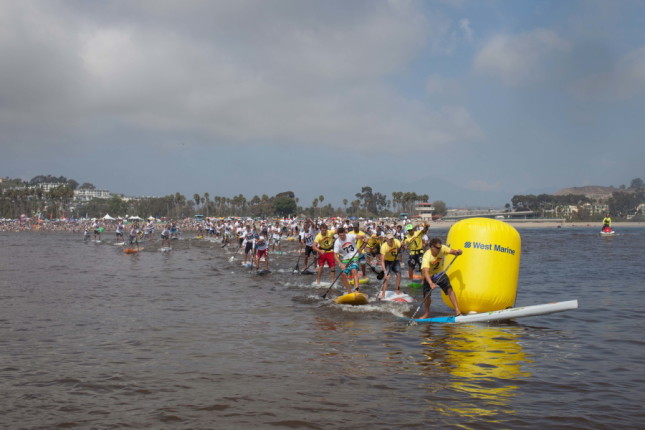 It's going to be difficult to predict this year's BOP for two reasons. For starters, the depth of elite talent on display these days is getting ridiculous. In the old days, finishing top 3 or top 5 was a big achievement at the BOP. Then we had the top 10 podium, which quickly became a very difficult and prestigious place to reach.
However in the past couple of years just making the top 20 was an achievement, let alone the top 10. This year I bet some big names won't even make the Top 30.
So the talent is more stacked than ever. That's one reason the BOP is hard to get a read on.
The other reason why the Battle of the Paddle will be so hard to predict is that conditions are going to play a bigger factor than ever this time round. We've got a solid swell forecast for the new location at Salt Creek, a spot that offers far-heavier waves than the traditional home around the corner at Doheny.
Conditions are going to seriously mess with paddlers. Salt Creek is a solid, punchy beach break. Throw in the predicted 4-5ft swell and there will be pure carnage, even for the best paddlers in the world. I think we'll almost certainly see one or two of the favourites get taken out and finish well down the order.
Actually if the conditions turn on I'm 100% certain that one or two of the REALLY BIG names will finish outside the top 10. The shorey at Salt Creek is pretty heavy with a small swell. With a solid swell it'll be chaos. It'll only take one wrong move, unlucky wave or a crash with another paddler to ruin your race.
Hell we were training there this morning and even the seaweed was playing a factor (there's currently a giant kelp bed sitting in the shorebreak right where the race is supposed to happen – it's like running into a brick wall…).
This year we could realistically see a brand new winner for the BOP on both the men's and women's side. The usual world order will definitely get mixed up a bit.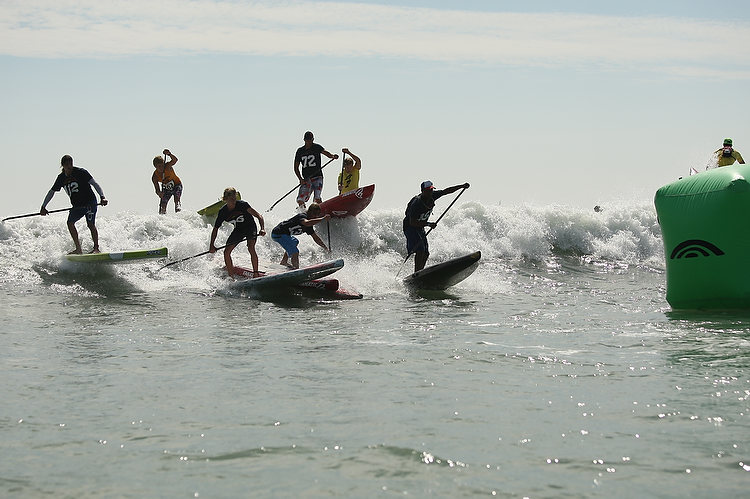 Ok so here we go. These are my predictions for each of the major regions and countries. This is just off the top of my head – pretty sure I've forgotten a couple of paddlers here or there. Oh and this is only for the ELITE RACE – the Distance Race on Sunday is another question entirely…
As you can see I'm not entirely certain about any of these predictions. The only thing I'm sure of is that there will be upsets this year.
There are a stack of dark horses in town that'll throw a spanner in the works. There are guys from Tahiti that I've never seen before that are paddling scary fast. Brazil has a solid team. Europe's line-up runs deep. There are juniors from all along the coast of California standing up. There are even some ultra dark horses that have flown in from Oz.
This year's Battle of the Paddle will be next level. And as the headline act of Starboard Battle Week, you'll be able to follow the action as it happens with our Battle of the Paddle LIVE BLOG, which will be running all day Saturday and Sunday here on SUPracer.com.
HAWAII
The Hawaiians could have their own Battle of the Paddle just for themselves and it'd still be one of the most competitive races of the year.
The islands are home to a whole stack of young superstars that will no doubt fill several spots on the BOP podium. The fact I couldn't find a spot for Kody Kerbox inside the top 5 of just one single, relatively small state of America shows how insanely strong the Hawaiian team is (on a side ntoe: How awesome would it be if the Hawaiians rounded up a squad for the ISA Worlds?).
The top 5 below all have the skill and talent to win the Battle of the Paddle Elite Race this year. They're all super fast and they're all super comfortable in the waves. And they're all evenly matched: You could throw a blanket over these five.
Connor Baxter has been in ridiculously fine form the past few months – right now he's the best paddler in the world hands down and deserves the title as top contender. Meanwhile Zane Schweitzer's conversion from surfer to all-rounder is complete – I wouldn't be at all surprised if Zaniac took out the overall win on Saturday afternoon.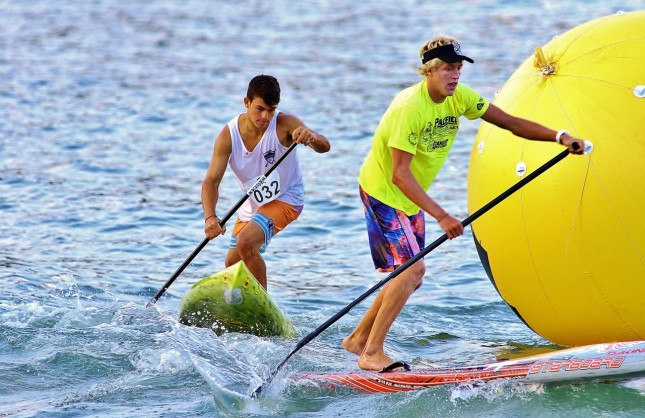 Mo Freitas finished 5th last year and will no doubt see himself as a legitimate contender for the Elite Race title this year. The kid is super, super fast in the sprints and handles the surf better than just about anyone. That'll be a powerful combination if conditions turn on this weekend.
One thing you might find surprising about this list is where Kai Lenny ranks. Kai has had a couple of shockers the past two events (Huntington and the Gorge), finishing well down the order and behind guys you'd expect him to beat. This could be a sign that his pre-season lack of race-specific training (he basically went surfing all winter) is catching up. Or it might just be a random blip on an otherwise perfect radar. He's the defending champ and he loves the big stage, so I guess we'll find out where his form's at this weekend.
Though one reason I listed Kai 4th is to give the young superstar some motivation. I know Kai looks at these predictions, so I'm hoping it spurs him on to do something great. The kid truly is a superstar and is an integral part of our sport. His slip in form over the past month is an interesting sub-plot, however I don't want to see that become permanent. We need guys like Kai near the top of our sport.
Oh and then when you throw in Riggs Napoleon, who has really come of age this year and is another legitimate contender for the top spots, you can see just how stacked Hawaii is.
The Hawaiian youngsters are very evenly matched right now. I wouldn't be surprised if Riggs and Mo finish ahead of Connor/Zane/Kai and vice versa. And again, I couldn't find room for Kody, Josh, Noa and all the other Hawaiian whipper snappers, which underscores just how hard it's going to be to stop one of these young guns from taking home the crown.
This Hawaiian contingent sums up just how impossible the BOP is to predict this year.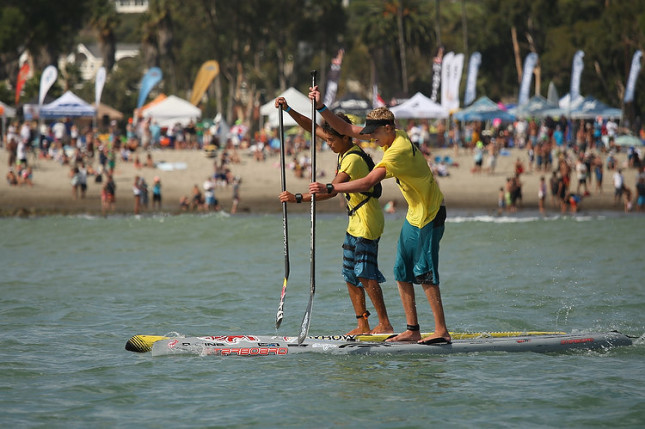 1st: Connor Baxter (Maui)
2nd: Zane Schweitzer (Maui)
3rd: Mo Freitas (Oahu
4th: Kai Lenny (Maui)
5th: Riggs Napoleon (Oahu)
Other names to watch: Kody Kerbox, Josh Riccio, Noa Ginella and pretty much anyone else from Hawaii.
Hawaii had two of the top 5 females last last year with Jenny and Mariko, though I'm not sure which of the women are coming over this weekend (I know Jenny will definitely return while Talia is in town already).
Jenny famously battled paddle-to-paddle with Annabel Anderson last year, falling agonisingly short. I often refer to Jenny as the perennial bridesmaid of this sport, though I'd love for her to go one better this year and add to her Elite Race trophy that she won way back in 2008.
1st: Jenny Kalmbach (Big Island)
2nd: Talia Decoite (Maui)
AUSTRALIA
The mighty Aussies. If you can be the top ranked Australian this year you'll be going a long way towards winning the Battle of the Paddle. There's such a ridiculous concentration of talent down under that just making the domestic top 5 will be a huge mission.
Australia is the only country that can rival Hawaii in terms of raw talent (another reason I'm dying to see the Hawaiians compete at the Worlds) and I think this year will be a showdown between the two nations.
Just look at the names below. There are ten very fast paddlers right here (plus one other dark horse that I can't name), so finishing Top 10 just for Australia would be well worth putting on your resumé .
Travis Grant starts as a legitimate contender in any race he lines up in, however this year I think one of the young guns could take out the top spot. The two biggest threats to Trav's Aussie dominance will be Jake Jensen and Lincoln Dews. Nothing really separates these two, but I have a gut feeling this could be Lincoln's year. I wouldn't be surprised if the Sunshine Coast young gun beats not only his fellow Aussies but also everybody else in the race…
Kelly Margetts is almost eligible for the Masters category, yet he's been on the BOP podium the past three years in a row. If there's surf he'll be absolutely frothing.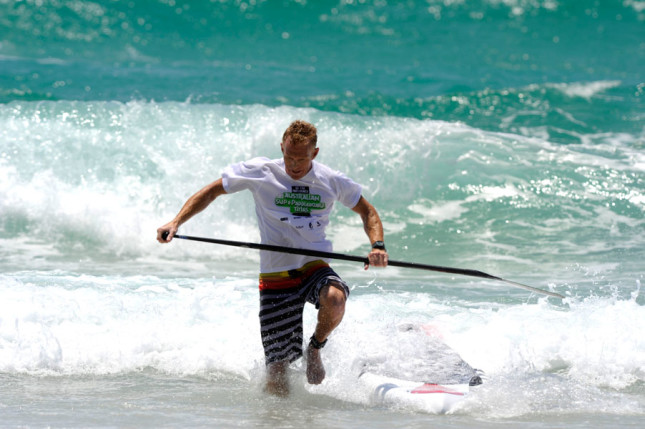 In fact if there are big waves all of the Aussie crew will be licking their lips. They train in punchy beach break conditions on a weekly basis, so the waves at Salt Creek won't intimidate them one bit. Guys like Beau O'Brian, Paul Jackson, even Jake's dark horse older brother, Jayden, will all be names to watch if the surf is pumping.
Paul Jackson always seems to get unlucky, however this might just be the time that luck falls on his side. The more waves there are, the more random it'll be. And guys like Jacko train in the waves every day or two back home, so they'll be able to manufacture their own luck.
The completely unknown Michael Booth is another name to keep an eye on. This guy is one of the fastest kayak and surf ski paddlers in Australia and within the space of just six months has transitioned to SUP racing pretty well. I guarantee he'll beat a lot of established names.
On the women's side we've got a few contenders for the podium. In fact if there are waves, I wouldn't be surprised if an Aussie stole the show this year in both the men's and women's Elite Races.
Karla Gilbert is a surf-life-saving Queen who feels right at home in the waves. I remember watching Karla on national TV every Sunday morning when I was growing up, surfing prone paddleboards in 10ft plus surf. She was a national hero in the late 90's early 2000's and has transitioned very well to the world of SUP. Angie Jackson has been training hard and looks to be in the shape of her life – I'm tipping both Ang and Karla to finish top 5 overall and give the likes of Candice, Jenny and Annabel a serious shove. Plus there are a couple of other wave-loving dark horses Aussie wahines that'll no doubt upset some of the bigger names.
And yeah, in case it wasn't clear: The State of Queensland kinda dominates the racing scene in Oz…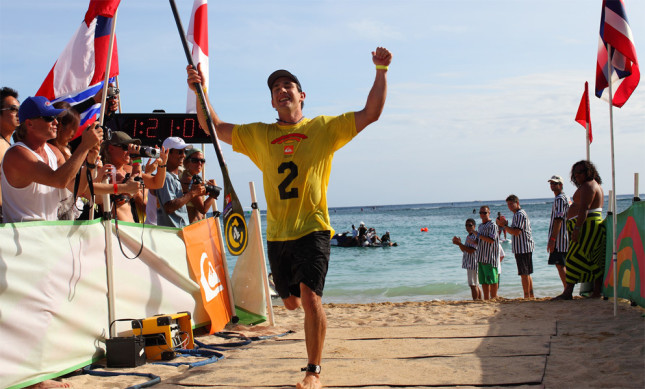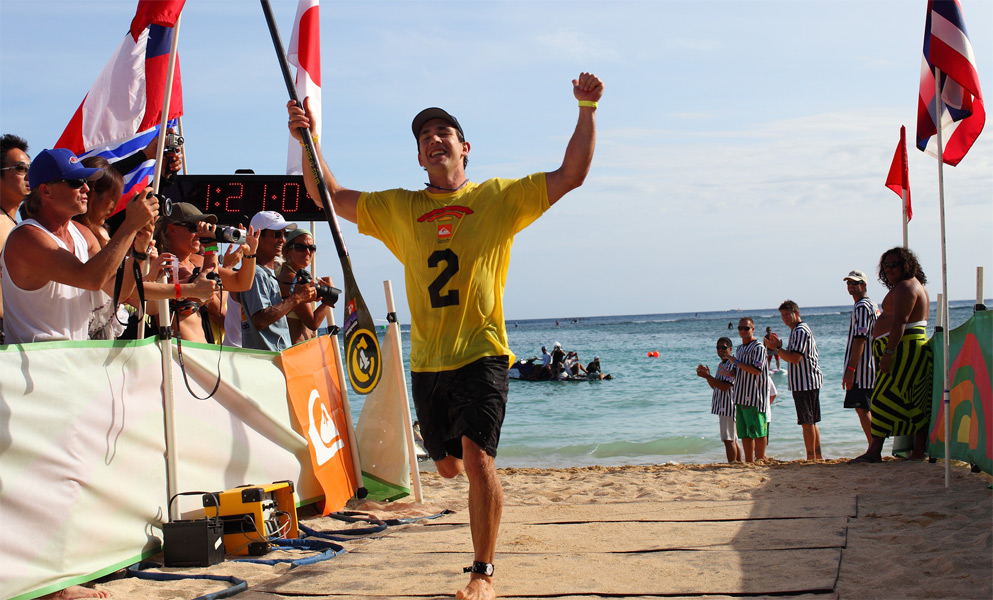 1st: Lincoln Dews (Queensland)
2nd: Travis Grant (Queensland)
3rd: Jake Jensen (Queensland)
4th: Kelly Margetts (Queensland)
5th: Jayden Jensen (Queensland)
Contenders: Beau O'Brian, Paul Jackson, Toby Cracknell, Kai Bates, Michael Booth, plus The Man Who Can't Be Named
1st: Karla Gilbert (Queensland)
2nd: Angie Jackson (Queensland)
3rd: Terrene Black (New South Wales)
Other names to watch: Sondra Purser, Ke'ale Dorries
USA
Predicting who's going to be the highest placed American isn't the hardest job in the world. If anyone can get close to Danny Ching I'll be very impressed. Waves are the great equaliser though and despite the fact Danny Ching is far better in the surf than most people realise, if there was ever going to be a time for an upset, this is it.
Slater Trout has been training hard while nobody knows the surf better than Ryan Helm. Chase Kosterlitz has a better chance in the distance race and he knows it, though if he can get a good start in the Elite Race anything is possible. Chuck Glynn is one guy who always loves proving my predictions wrong – I love the guy and the way he goes about his business, so I sincerely hope he does.
Throw in a few big names I couldn't even find room for in the Top 5 and I'm sure we'll see the Americans do proud on their home turf.
In the women's I don't think anyone will match Candice Appleby. After sitting out last year's Battle, the former Queen of the BOP will be super hungry to regain her crown. However Morgan is very adept in the surf and Fiona is getting faster and faster with every race.
And yes, following the tradition from the surfing world, Hawaii and mainland U.S. are separate nations…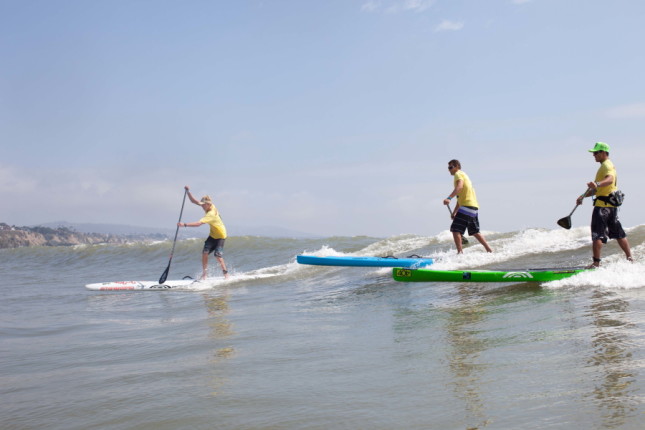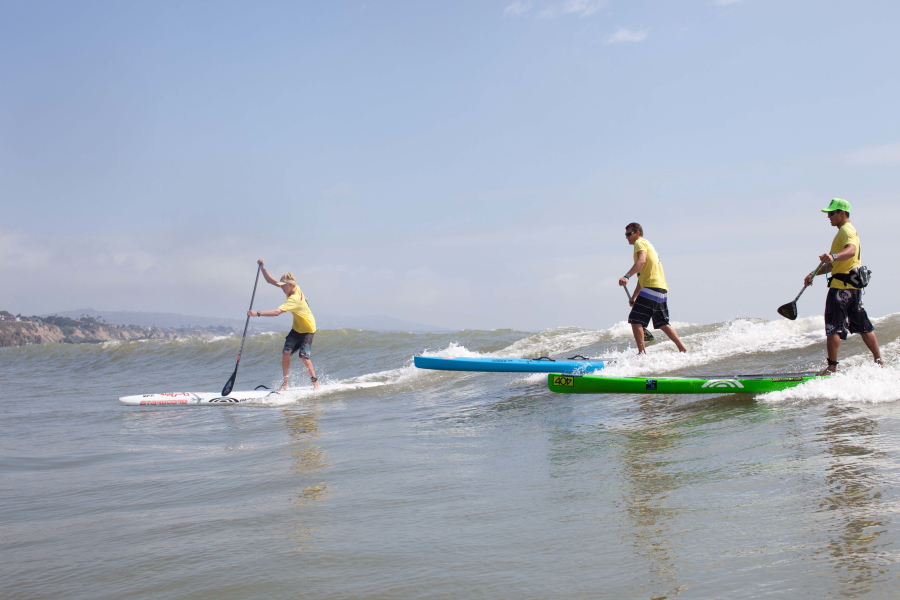 1st: Danny Ching (California)
2nd: Slater Trout (California/Florida)
3rd: Ryan Helm (Florida)
4th: Chase Kosterlitz (Florida)
5th: Chuck Glynn (California)
Other names to watch: Noa Hopper, Matt Becker, Jay Wild, Brennan Rose, Ryan Murphy, Anthony Vela if there's waves and a dozen other local guys I'm probably forgetting
1st: Candice Appleby (California)
2nd: Morgan Hoesterey (California)
3rd: Fiona Wylde (Oregon)
Other names to watch: Pretty much all the SoCal crew.
CANADA
Apologies for ignoring the Canucks in the first draft of this article, however I'm not entirely sure who they're sending down this year…
One name that certainly is on the list is Lina Augaitis, who has been in fine form this year and will start as one of the favourites in the Distance Race. The Elite Race, especially if the waves are big, won't be her specialty, but keep an eye out for her on Sunday.
SOUTH AFRICA
As with Canada, not sure who the Saffas are sending. I do know that Dylan Frick is in town and will be right up there with some of the big names. Not sure he has the endurance to go Top 10, however this kid loves to surf and knows how to sprint, which are going to be two very important skills on Saturday afternoon.
EUROPE
The Euro contingent runs deep this season. The fact I've listed Eric Terrien in position #3 tells you just how far the Continent has come in the past few years.
I don't think anyone can get past Casper Steinfath though, who's BOP placings seem to get twice as good every year: 15th in 2011, 8th in 2012, 4th in 2013 (so 2nd this year and 1st in 2015?). However the Danish Viking will be chased hard by Team France, who are definitely one of the Top 5 stand up paddling nations (Australia, Hawaii, Tahiti, USA, France).
I think some of the lesser-known Euro boys will step it up this year. Arthur Daniel goes like a rocket off the line, while his namesake Arthur Arutkin has the silky smooth skills to pull off a very high finish. Greg Closier mentors both of those kids and knows his way around the buoys himself.
If there are waves, look no further than Sonni Honscheid to be the top Euro girl. Sonni is an incredible surfer and has the muscles to power her way through the Salt Creek surf. Manca Notar will be a superstar in a few years, however she can't match Sonni's pure strength just yet, which will be vital if the conditions turn on.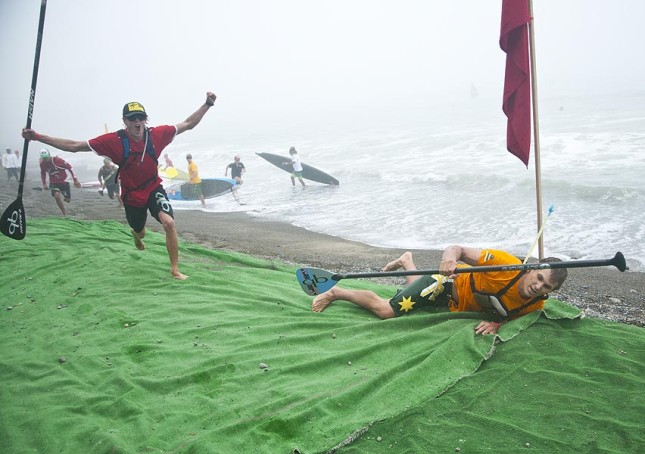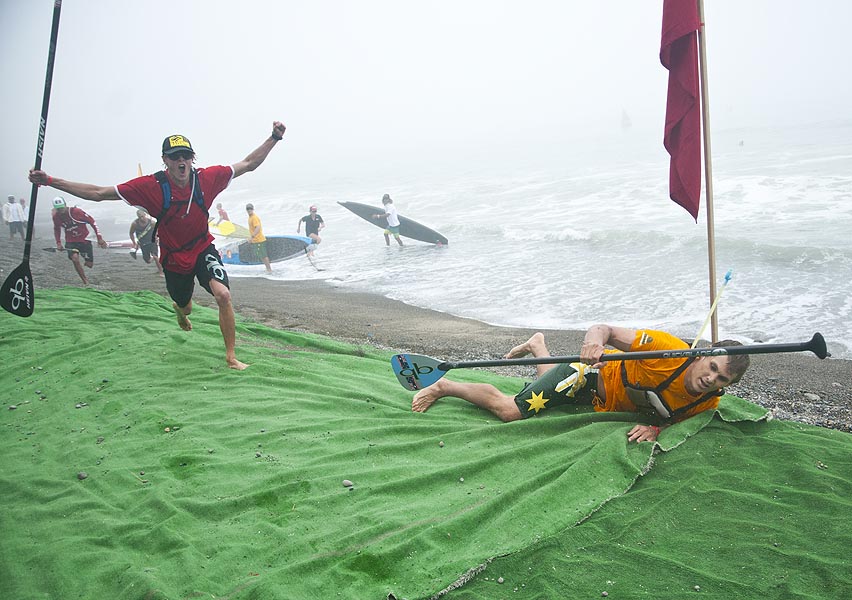 1st: Casper Steinfath (Denmark)
2nd: Arthur Daniel (France)
3rd: Eric Terrien (France)
4th: Arthur Arutkin (France)
5th: Greg Closier (France)
Other names to watch: There are a few more good Frenchies in town (eg. Martin Letourneur, Vincent Verhoeven), the UK has sent a big squad, while the rest of Europe has a smattering of representation as well.
1st: Sonni Honscheid (Germany)
2nd: Manca Notar (Slovenia)
3rd: Celine Guesdon (France)
PACIFIC
New Zealand, Tahiti, New Caledonia, Japan…
While the Pacific Ocean makes up a huge part of our planet, its paddling team gets a relatively tiny percentage of the participation in the biggest SUP race of the year. But despite the small size of their entourage, the Pacific has some very serious contenders.
I wouldn't be surprised if we see three of them in the men's Top 10: Georges Cronsteadt is one of the strongest paddlers in the world, period. He defeated Travis Grant, Jake Jensen and Danny Ching at the Gorge last month, though I've never seen him in the waves so that could be a bit of a question mark.
Likewise Titouan Puyo from New Caledonia is almost impossible to beat in a head-to-head contest, especially if there are bumps, however I don't think the Elite Race is his best chance. Look for Titou to focus on the Distance Race instead.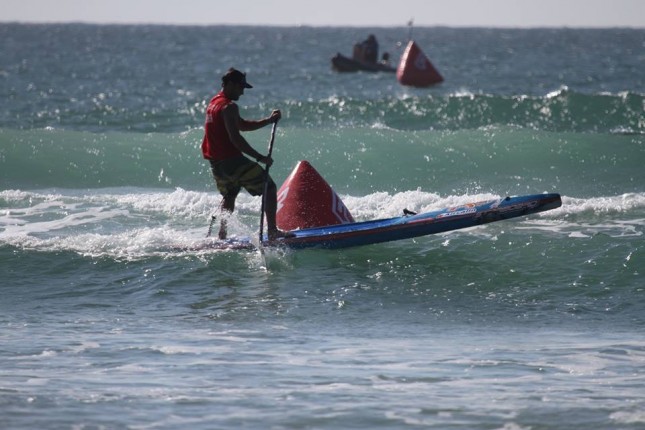 One name to seriously watch out for is young Trevor Tunnington from New Zealand. He's kind of like the Kiwi version of Australia's Lincoln Dews, not least of which because Trev actually lives in Australia and trains with Lincoln's crew on the Sunshine Coast.
There are also a handful of elite young Tahitians in town that I haven't met yet. This nation is steeped in paddling history and has dominated the outrigger scene for the past 15 years. Once the big companies such as Shell, EDT and OPT (which sponsor the professional outrigger teams) get interested in the world of stand up: Look out. Everyone at the Gorge last month saw Bruno Tauhiro come out of nowhere to beat a dozen big names. Except he didn't come out of nowhere – he was the lead paddler for the universally unbeatable Shell Va'a outrigger team for the past eight years. Bruno followed the path of Georges Cronsteadt from outrigger to SUP and there are probably another 50 or 60 guys who could do the same.
Yes, Tahiti is stacked full of incredible talent. Will this be the year they stand up en masse?
1st: Georges Cronsteadt (Tahiti)
2nd: Titouan Puyo (New Caledonia)
3rd: Trevor Tunnington (New Zealand)
Other names to watch: Tomoyasu Murabayashi (Japan), the Tahitian Dark Horse Brigade
The top female from the Pacific is a bit of a formality. Annabel Anderson. New Zealand. I'd be a brave man to bet against this all conquering superstar taking her third straight Elite Race crown. Even if the surf is big, Annabel has come a long way as a surfer in the past few years and should be able to mix it with the Aussies, Californians and Hawaiians.
I gave Annabel the title of "Double Double" champion last year, after she won the 2x BOP events (Elite Race + Distance Race) 2x years in a row. Nobody else has ever achieved that feat. Can the Kiwi make it a Triple Double in 2014?
I still haven't made up my mind who I'll pick as the top woman on Friday morning, however I am certain that Annabel will be right near the front and will easily be the top female finisher from the Pacific group. In a flat water drag race, Annabel simply can't be matched. Waves are the equalising/randomising factor in SUP racing though, so anything could happen this weekend.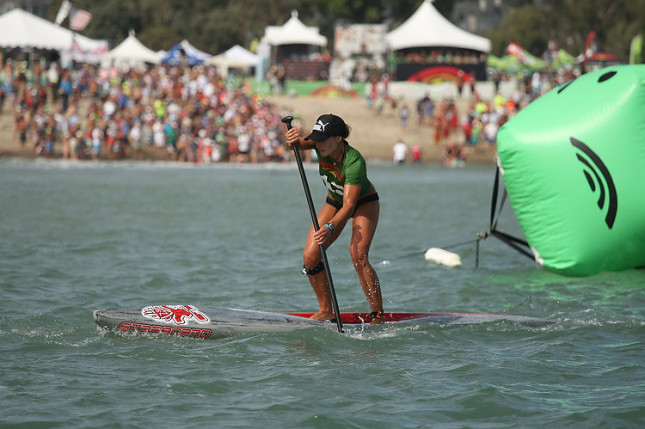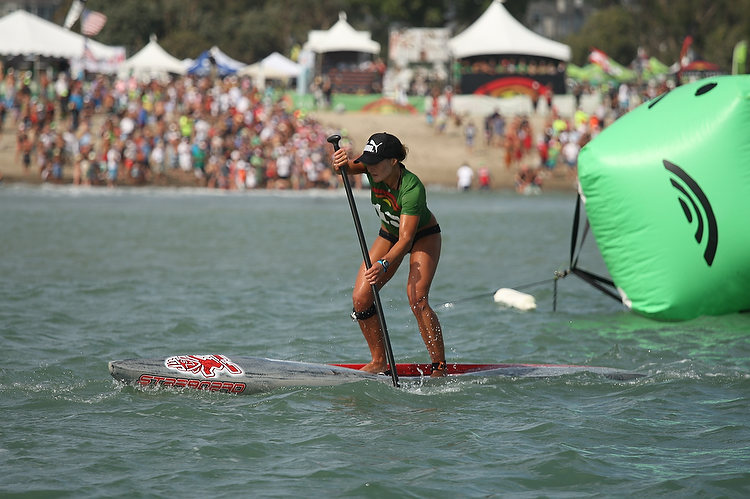 "LATIN" AMERICA
Every time I say Mexico is part of Latin America somebody give me shit about it. Brazil doesn't really belong there either, as their Portuguese-speaking culture is the odd one out in South America. But whatever you wanna call this final grouping, one thing is for sure: There is some serious talent south of the border.
Fernando Stalla scored a top 10 spot last year while his Sayulita training partner, Bicho Jimenez, has been in fine form the past six months, often finishing ahead of his mentor. Throw in the fast-rising Brazilian, Vini Martins, and you've got a very strong team. I think Fernando will have the experience to claim the highest placing for the Latinos, however you could probably throw a blanket over these guys.
I spotted a couple of other Brazilian and Mexican guys down the beach this week as well, so I'm sure both nations will be well represented in the Elite Race final.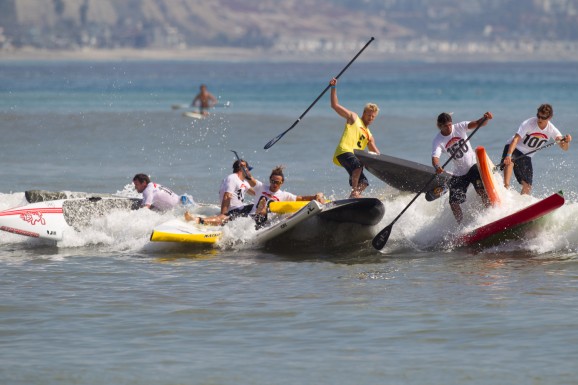 1st: Fernando Stalla (Mexico)
2nd: Vinnicius Martins (Brazil)
3rd: Javier 'Bicho' Jimenez (Mexico)
Other names to watch: Luiz Guida (Brazil). Actually I'm pretty sure Luiz is in town and if so he'll no doubt make a mockery of my predictions – Luiz was very strong last year, taking second behind Danny in the first qualifying heat and being unlucky not to get a podium spot in the final.
So there you go. Those are my Battle of the Paddle predictions for each major country and region.
I'll try and come up with an overall prediction for exact order of the Top 10 men / Top 5 women on Friday, but for now I'm hedging my bets and listing as many names as possible.
Conditions could be all time this weekend, which means picking the winners will be harder than ever… If you wanna be the first to know who wins the big one, tune in to our Battle of the Paddle LIVE BLOG all day Saturday and Sunday. We'll have live, play-by-play updates of the Elite Race Qualifiers and Finals on Saturday, before the Distance Race and Team Relays take over on Sunday.
Take a look at the Battle of the Paddle schedule to find out when it's happening in your time zone.