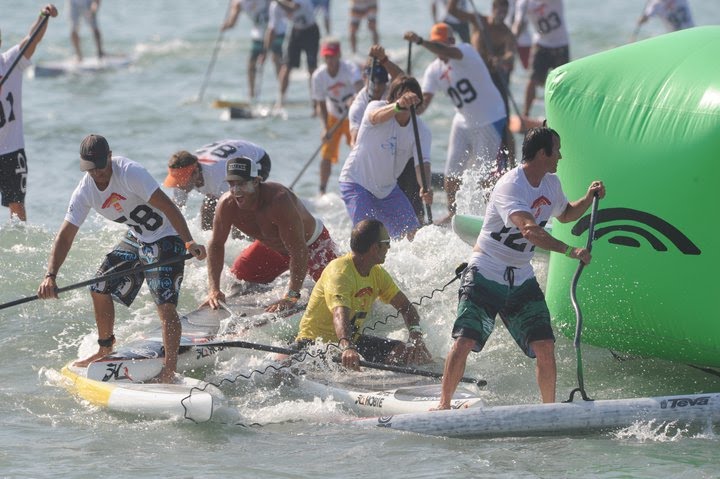 September 17, 2012
by Christopher Parker (@wheresbossman)
Battle Of The Paddle Pic 'O The Day: Chuck Patterson's Buoy-Turn Carnage (…12 Days And Counting To Dana Point!)
There's something about Chuck Patterson and the Battle of the Paddle that just seem to go together. Chuck's made more highlight reels than just about anyone at the BoP. From winning the first ever event in 2008, to being in the middle of the mayhem at just about every buoy turn, the big guy always seems to be there.
I love this shot from the 2010 Battle of the Paddle. It shows the infamous inside buoy turn, where all the great carnage pics originate. That's Chuck Patterson, sans t-shirt, spearing his board through the legs of Paul Jackson.
Look at Chuck's face; he's totally got that crazy-excited-mad-man look in his eye… And poor Jacko, it's not enough that a crazy hulk of a guy is trying to take out his legs, he's also got Dan Gavere's leggy wrapped around the nose of his board.
Meanwhile the guy in yellow sitting on his board looks like Byron Kurt, one of the first big names in SUP racing and Mr. WPA himself. So yeah, not only is this Battle of the Paddle photo awesome purely because of the chaos it captures, but it's also full of big name paddlers… epic.
Let's hope there's more waves and more fun at the buoy turns in 12 days time, when the world's best stand up paddlers head back to Dana Point and Doheny State Beach for the Battle of the Paddle 2012.