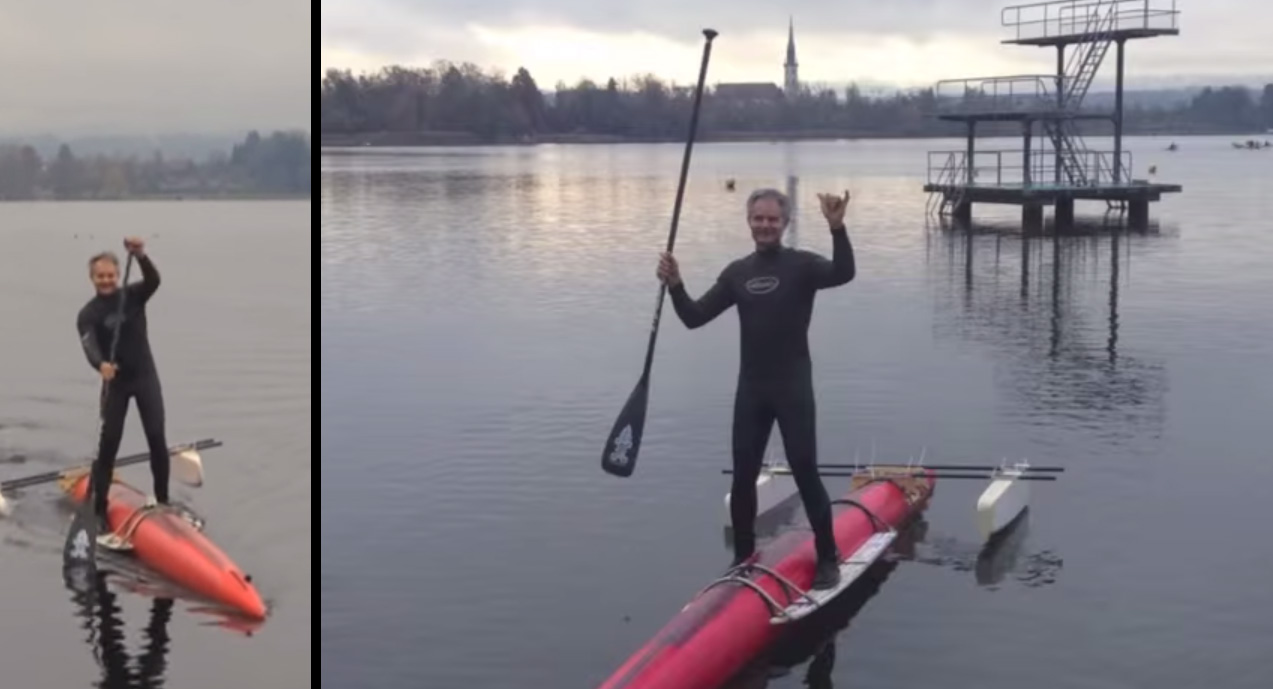 January 2, 2015
by Christopher Parker (@wheresbossman)
VIDEO: This Is The Most Batshit Crazy Stand Up Paddle Board You'll Ever See…
I'm really not sure what to make of it… Is this the most brilliant thing you've ever seen? Or the most ridiculous?
Last week I received an email from a Swiss guy, Kurt Bodenwinkler, who claimed to have invented a unique new SUP board that was, in his words: "Absolutely new."
And after watching the video above, I don't doubt that claim for a second. This board is definitely new. It's definitely unique. And it actually looks rather fast as well. But I'm still not sure what the hell it is…
It's called the "Raceflate" concept board and it's a cross between a traditional SUP and an outrigger. As the name suggests, this thing is an inflatable. It's also quite obviously designed for pure flat water races only (and preferably flat water races that have minimal buoy turns).
It kinda looks like a carrot with a rope ladder strapped to its back. Or a top-secret military torpedo that's been fashioned into a paddleboard with a couple of outrigger parts on the side.
The prototype that Kurt's paddling above is apparently 6 metres long (just over 19′) and, here's the most incredible part, less than 14 inches wide…
(By comparison, most elite race boards today are almost double that.)
Though of course it does has very wide, stabilising arms (or "amas" if you're from the outrigger world) that make this thing possible to stand on without it turning into a log rolling exercise. Kurt told me he has a lot of refining left to do and that eventually this thing could be on par with an OC-1 (one man outrigger canoe) in terms of speed. He's also looking for investors…
But what do you think? Is this thing amazing or awful? Rad or ridiculous?
Either way, my hat goes off to Kurt for his innovative and progressive thinking. This is the kind of batshit crazy stuff that pushes the boundaries, even if it is totally weird. So while the Raceflate board looks crazy and will probably never pass the concept stage, it's definitely thinking outside the box. I'm sure everyone thought Laird looked crazy too, back when he started paddling giant surfboards with an oversized outrigger paddle all those years ago.
So I really don't mean for the "Batsh*t Crazy" title to deter innovation in stand up paddling, I just seriously, really, truly have no idea what the hell I just watched…