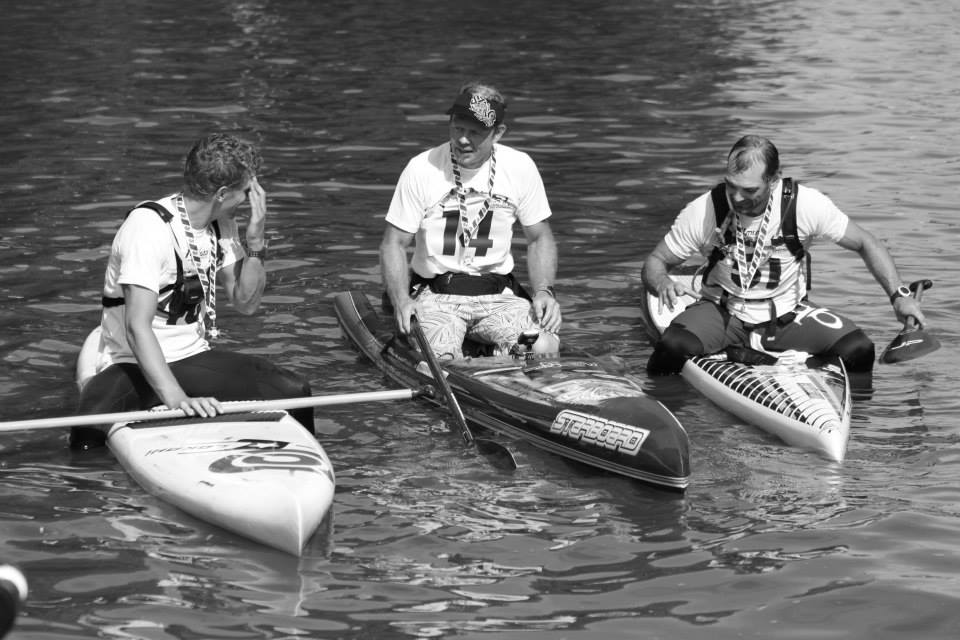 October 17, 2013
by Bart de Zwart
Rise Of The Young Guns: Bart De Zwart's Reflections On The 2013 Stand Up World Series
The 2013 World Series came to an end this weekend. It was all there: The drama, the waves, the fierce competition and the companionship. It made me appreciate that this sport of ours is developing fast and so are the competitors…
Only two years ago I met Jake Jensen when I was racing the 11-City Tour and on the first day, in the first few hours of the race, we had four men in the lead: Jake , Jacko (Paul Jackson), Ryan James and myself. We were doing a good pace when suddenly youngster Jake started to sprint even though there was 30 kilometres still to go. Five kilometres later he fell back and couldn't keep up with us.
I couldn't help smiling at this young kid from Australia, who showed the courage to go to the front and paddle hard to prove what he was worth, only to pay the price later that day… Now two years later, he is the one smiling after winning the World Series Finals on Oahu. The last two years Connor Baxter and Kai Lenny have been dominating the World Series (and many other races) but there is some new talent coming up and Jake is certainly one of them.
Another racer who has been around for while but has been improving a lot is Zane Schweitzer. His board skills, starts and sprinting are hard to match. Zane is definitely a racer to watch in the future. His 5th place overall in the World Series could easily have been a 3rd yesterday. It was that close.
Casper Steinfath (Denmark) is another great racer and just a really nice guy in general. I met him a couple of years ago at the first Hamburg race (the old Jever World Cup) and then last year we spend most of the 5 days together in the lead during the 11-City Tour in Holland. Casper really wanted to win that race, but fortunately for me it didn't happen. However I told him right after that race (I got 1st, he got 2nd) that he was just starting and shouldn't worry, because there were still so many races to win for him. Just one year later he proved, with his 4th overall world ranking, that now he is the one to beat.
The last rider I have to mention is Riggs Napoleon (Hawaii). For many years he has been the smallest kid in the biggest races. This year you could see his potential. Solid on his feet and getting very very fast. The top 5 overall in the World Series were all between 17 and 21. Riggs is still younger than that but is already breathing down the necks of all the guys mentioned above.
Still dominating any women's race (and many men's races too) is Annabel Anderson. For me she is the single most dedicated, serious and hard training competitor of all racers, both men and women. It is for a reason that she is that fast: Hard work and many hours of training. She takes her sport very serious and improved a lot in the waves recently, which had been her weak spot in the past. During the Battle of the Paddle she showed us all that she has also mastered that part of SUP racing.
Connor and Kai are still the stars of the World Series. Connor has shown with all his wins this year that he was the man to beat. He has very good skills in flat water and bumps and always finds that little extra to get ahead. Kai is still the man to beat in the waves and has perfect board skills even in the most difficult conditions and he has shown once again that when it mattered most, he was there.
Although both of these amazing young watermen have a rivalry going on, dating back to when they were small kids, they also respect each other a lot more than some of the people in the media likes you to believe. This is one thing I have encountered after all those races in many places and countries. Although the competition is fierce on the water, there is never a bad word on the beach between Connor and Kai – they are part of one big group of friends traveling and racing the world. I haven't seen that in many other competitive sports I have done.
The World Series is becoming an established organization. More and more racers are joining the Series and, with an interesting six-race schedule next year, is promising to be the most serious of all the world rankings. The media coverage is extending all over the world right now, covering most sports channels. All that is missing are a few names like Danny Ching, Travis Grant and Candice Appleby and the Series would be complete.
Looking at the SUP racing scene in general, I believe 2013 was the first year that there were more big races than a person could compete in. Not long ago there were not many big events and we all went to everything we could get our hands on. That has certainly changed. Next year there will be even more races in more countries for all skill levels and ages. It is truly becoming a sport for all ages and more and more accessible.
The year is not over yet but most of the big races are done and it is time to wind down. Here in Maui we have the winter waves, board testing and soon we will be planning the new 2014 racing season again.
I have already set my goals and will be training hard but also looking for a few new adventures next year… and I advise everybody to do the same.
– Bart