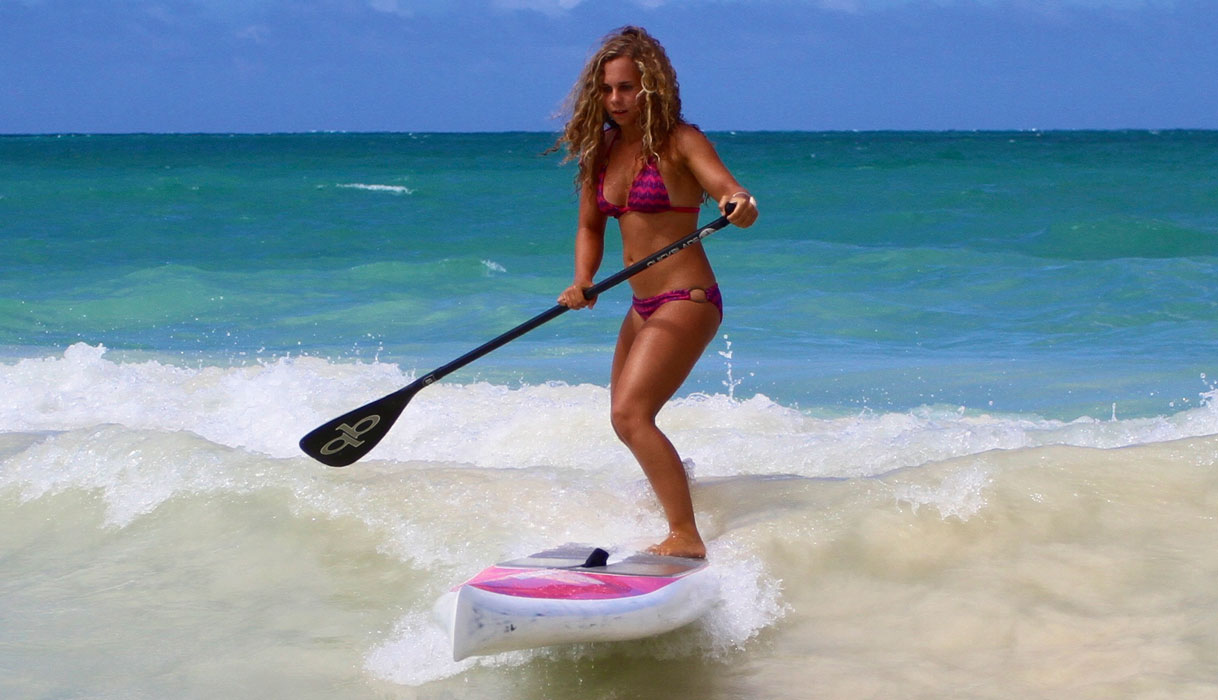 July 31, 2014
by Christopher Parker (@wheresbossman)
Fresh From Her Molokai Crossing, Bailey Rosen Signs Board Sponsorship Deal With KM Hawaii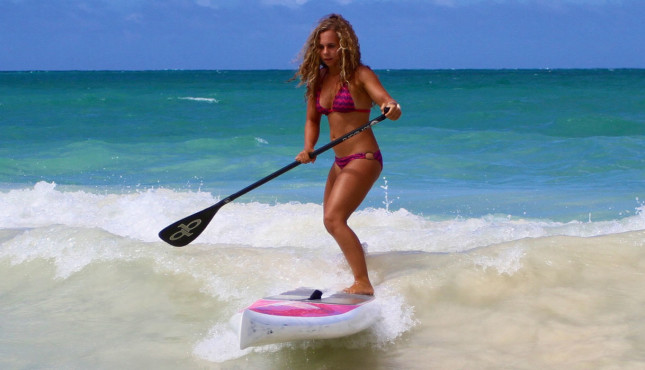 Just days after paddling from Molokai to Oahu and with her infectious smile as big as ever, Bailey Rosen has signed with a new board sponsor: KM Hawaii.
It's quite appropriate for the signing to be announced this week, when Bailey has been in Hawaii recovering from her epic Molokai race. I was there on the weekend and saw the youngster cross the line in a very solid time, finishing only one spot behind former champ Andrea Moller in the unlimited division.
After taking up paddling in 2011 at home in Florida, Bailey quickly became one of the most recognisable young women on the SUP scene. It's amazing to think she's now 18-years-old and heading to college; we'll always remember Bailey as the pint-sized kid running around with her endless energy and extreme levels of stoke.
KM Hawaii doesn't have the brand recognition of the big boys but has actually been around longer than most of them. Founded by Aussie-turned-Oahu-local Brett Huf, the first KM boards were produced way back in 2007. Since then the KM crew have put a lot of focus into their design and manufacturing and the brand is now very confident their equipment can match it with anyone. That's one of the reasons Bailey was so happy to join the team, where she told me she's excited to be part of a growing brand that produces quality boards. Bailey adds the KM Hawaii deal to her existing sponsorship with Quickblade Paddles.
KM has plans to expand their athlete roster over the next 12 months and make a big push with their race board range. Though she's yet not on the level of the Battle of the Paddle champions, Bailey has always been a shining light in the stand up world. Her positive attitude is impossible to miss and she's also become a role model for dozens of young paddlers through her Junior Florida SUP Team.
I'll never forget Carolina Cup earlier this year, where Bailey and her big following of juniors were running around photobombing the pros and generally looking like they were having an awesome. Even though she's about to transplant herself to the West Coast for college, Bailey will keep the Junior Team alive with the help of others and regular trips back home.
I'm stoked for Bailey, she's an incredibly smart (crazy smart) and hard working kid that deserves the recognition. And after having met with the KM founding family this week, I can see they're committed to promoting paddlers such as Bailey and driving forward with a sustainable race brand.
Although Molokai is done and she's on a plane back to the mainland right now, Bailey will return to Hawaii in a couple of weeks for the Ultimate SUP Showdown, where we'll get to see the new KM boards in action.