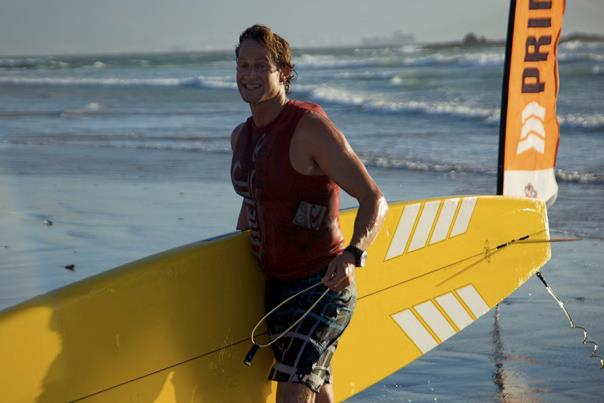 December 5, 2012
by Peter Petersen
The Wind Never Stops Blowing In South Africa: Another Epic Downwind Race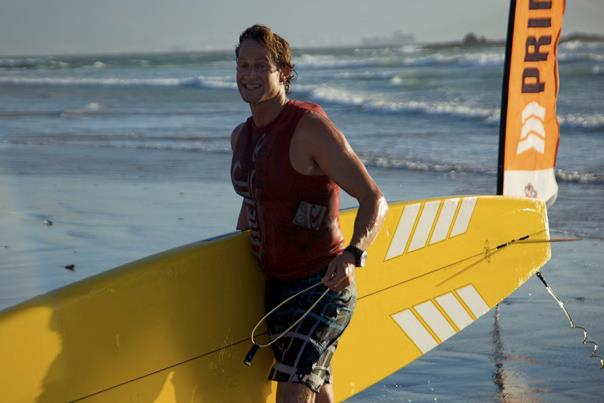 The wind just doesn't want to stop blowing this year!
For 8 out of the last 9 weeks we've had solid wind and great downwinding conditions in Cape Town, South Africa, for the PRIMI Naish Downwind Dash race series. Tonight we were greeted by 20-30knots of steady SE wind with a tinge of South – perfect angle for a straight 10km run up to Big Bay. Great turn-out as well with 44 surfskis and 39 SUPs.
The first starting group saw a few casualties in the 1 metre surf, including Guy Bubb who delayed his departure after a couple of dismounts.. The second start group, which included the Elite paddlers, also faced a nice little set on the way out, which kept things interesting. It was impressive to see the big wave boys Chris Bertish, Greg Bertish, Francois Frick and James Taylor making it out the back first – they just put their heads down and punched through the waves, while others deliberated and got left behind.
Chris Bertish was on a mission to seal the series overall win and he was very fast out of the gate. If he had been a roadrunner the "meep meep" sound would have sprung to mind. The pursuit team consisting of Colin Heckroodt, Ivan van Vuuren and Greg Bertish were battling to keep up and it was only at the halfway mark that Colin Heckroodt started making some inroads. Colin was paddling like a man possessed, pure power and grit – I estimate that the kW output he was producing would have lit up a small city had he been hooked up to the grid…
So I can only imagine his despair when he finally caught up to Chris and all he heard was another "meep meep" as Chris put the hammer down and left him standing once more.
Chris then cruised onto victory while Ivan van Vuuren once again took a very wide line, which paid dividends coming into Small Bay. He caught and passed Colin and actually made the beach first – but Ivan had come in on the wrong side of the finish buoy and had to run back out to get around it the right way, and in doing so, just allowed Colin to sneak past with 2 seconds to spare to take second. Chris' brother Greg Bertish came in 4th – which now sees him take over Dylan Frick's 2nd place in the overall series rankings. Dylan tried a different board tonight which didn't work out for him and he had to settle for 8th in this race, which wasn't bad considering he stopped and did a board swap with his dad at the halfway mark!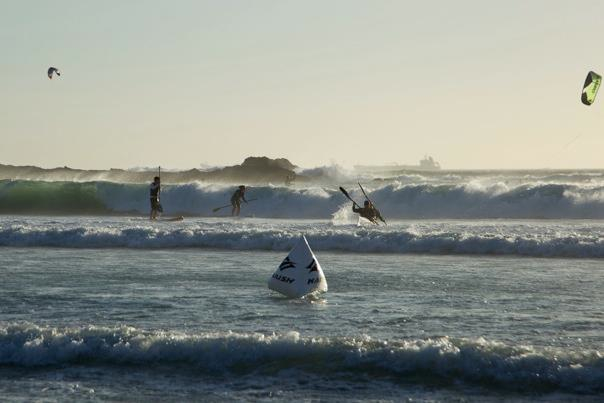 In the ladies section Brigette van Aswegen and Mishka Steyn continued their total domination with 1st and 2nd while Tammy Robarts managed to take a fine 3rd. In the juniors Joshua Robertson very nearly got the better of series leader Ethan Koopmans, but in the end Ethan did just enough to sneak ahead to take 1st while Matthew Maxwell once again came third.
Next week is the final edition of this year's PRIMI Naish Downwind Dash Series – wind forecast is currently looking promising so lets see if we can make it 9 out of 10!
We'll have a x-mas theme for our last race, so we encourage everyone to dress up in a x-massy fashion + we'll have a massive prize-giving with trophies for our winners + some surprise awards + a big raffle for some great SUP and Ski paddles – all monies collected will go to support Richards Kohlers charity in conjunction with Paddling for Smiles.
So not only do we encourage you to dress up and take part next week – we insist you stay on for the prize-giving – it's going to be huge! After next week we take a break and then we resume on the 9th of Jan until 13th March with another 10x races for the PRIMI Naish Downwind Dash Series 2013!
– Peter
PRIMI Naish Downwind Dash Series – LEADERBOARD

PRIMI Naish Downwind Dash Series – Race #8 RESULTS
Date: 5th December, 2012
Wind: SSE 20-30 knots
Swell: 1 metre
Course: 10.1km
Sponsors: PRIMI, Naish, SUPHQ, Vitaminwater, Coreban/Xpression, SWOX, BulkSMS, Buchulife, Watersports Warehouse
| # | Name | Time | Class | Division | % of 1st | Grade | km/h | min/km | Board |
| --- | --- | --- | --- | --- | --- | --- | --- | --- | --- |
| 1 | Chris Bertish | 0:49:36 | 14' | Open | 100.00 | Elite | 12.22 | 0:04:55 | Naish 14 Glide |
| 2 | Colin Heckroodt | 0:50:21 | 14' | Open | 98.51 | Elite | 12.04 | 0:04:59 | Starboard 14' OO |
| 3 | Ivan van Vuuren | 0:50:23 | 14' | Masters | 98.45 | Elite | 12.03 | 0:04:59 | Coreban 14 Dart |
| 4 | Greg Bertish | 0:51:41 | 14' | Open | 95.97 | Elite | 11.73 | 0:05:07 | Coreban 14' Dart |
| 5 | Andrew Cillie | 0:52:35 | 14' | Open | 94.33 | A | 11.52 | 0:05:12 | Starboard 14' Ace |
| 6 | Peter Petersen | 0:53:11 | 14' | Masters | 93.26 | A | 11.39 | 0:05:16 | Naish 14 Glide |
| 7 | Pietro Muscas | 0:53:42 | 14' | Masters | 92.36 | A | 11.28 | 0:05:19 | Naish 14 Glide |
| 8 | Dylan Frick | 0:54:05 | 14' | Open | 91.71 | A | 11.20 | 0:05:21 | Starboard 14' Ace Pro |
| 9 | Brad Adams | 0:54:53 | 14' | Open | 90.37 | A | 11.04 | 0:05:26 | Fanatic Falcon 14' |
| 10 | Nicky Carstens | 0:55:15 | 14' | Masters | 89.77 | B | 10.97 | 0:05:28 | Carstens Custom 14' |
| 11 | Francois Frick | 0:55:35 | 14' | Open | 89.24 | B | 10.90 | 0:05:30 | Starboard 14' Ace Pro |
| 12 | James Taylor | 0:55:56 | 14' | Open | 88.68 | B | 10.83 | 0:05:32 | Naish 14 Glide |
| 13 | Ethan Koopmans | 0:56:05 | 14' | Junior | 88.44 | B | 10.81 | 0:05:33 | Naish 14 Glide |
| 14 | Joshua Robertson | 0:56:42 | 14' | Junior | 87.48 | B | 10.69 | 0:05:37 | Fanatic 14 Falcon |
| 15 | Matthew v d Linden | 0:56:47 | 14' | Open | 87.35 | B | 10.67 | 0:05:37 | Naish 14 Glide AST |
| 16 | Nico Pfitzenmaier | 0:57:39 | 14' | Open | 86.04 | B | 10.51 | 0:05:42 | Naish 14 Glide AST |
| 17 | Tyran Cooper | 0:59:23 | 14' | Open | 83.53 | C | 10.20 | 0:05:53 | Coreban 14 Dart |
| 18 | Gavin Dace | 0:59:51 | 14' | Open | 82.87 | C | 10.13 | 0:05:56 | Naish 14 Glide AST |
| 19 | Rob Munro | 1:00:12 | 14' | Masters | 82.39 | C | 10.07 | 0:05:58 | Fanatic 14 OO |
| 20 | Brigette van Aswegen | 1:00:15 | 14' | Women's | 82.32 | C | 10.06 | 0:05:58 | Starboard 14' Ace Pro |
| 21 | Michael Fiet | 1:00:47 | 14' | Open | 81.60 | C | 9.97 | 0:06:01 | Coreban 14' Dart |
| 22 | Dawid de Villiers | 1:02:16 | 14' | Open | 79.66 | D | 9.73 | 0:06:10 | Naish 14 Glide AST |
| 23 | Neal Esterhuyse | 1:03:12 | 14' | Open | 78.48 | D | 9.59 | 0:06:15 | Halo Custom 14' |
| 24 | Guy Bubb | 1:03:34 | 14' | Open | 78.03 | D | 9.53 | 0:06:18 | Coreban 14 Dart |
| 25 | Dave Maxwell | 1:03:53 | 14' | Masters | 77.64 | D | 9.49 | 0:06:20 | Naish 14 Glide |
| 26 | Matthew Maxwell | 1:03:59 | 14' | Junior | 77.52 | D | 9.47 | 0:06:20 | Naish 14 Glide AST |
| 27 | Francois Ferrera | 1:04:08 | 14' | Open | 77.34 | D | 9.45 | 0:06:21 | Naish 14 Glide AST |
| 28 | Jimmy Pappas | 1:04:58 | 14' | Open | 76.35 | D | 9.33 | 0:06:26 | Coreban 14 Dart |
| 29 | Mishka Steyn | 1:05:27 | 14' | Jnr women's | 75.78 | D | 9.26 | 0:06:29 | Starboard 14' OO |
| 30 | Bruce Tedder | 1:07:21 | 14' | Masters | 73.65 | D | 9.00 | 0:06:40 | Coreban 14 Dart |
| 31 | Rory Smith | 1:07:27 | 14' | Open | 73.54 | D | 8.98 | 0:06:41 | Starboard 14' Ace Pro |
| 32 | Tammy Robarts | 1:07:33 | 14' | Women's | 73.43 | D | 8.97 | 0:06:41 | Fanatic 14 Fly |
| 33 | Steve Tripney | 1:08:07 | 14' | Masters | 72.82 | D | 8.90 | 0:06:45 | Coreban 14 Dart |
| 34 | Monika Wohlgemuth | 1:08:07 | 14' | Women's | 72.82 | D | 8.90 | 0:06:45 | Naish 14 Glide |
| 35 | Wayne Robertson | 1:10:14 | 14' | Open | 70.62 | D | 8.63 | 0:06:57 | Coreban 14 Dart |
| 36 | Roland Kugelman | 1:17:46 | 14' | Open | 63.78 | D | 7.79 | 0:07:42 | Naish 14 Glide AST |
| 37 | Craig Girdlestone | 1:20:06 | 14' | Open | 61.92 | D | 7.57 | 0:07:56 | Naish 14 Glide AST |
| 38 | Matthew Bloemberg | 1:23:42 | 14' | Women's | 59.26 | D | 7.24 | 0:08:17 | Naish 14 Glide |
| 39 | Oliver Potgieter | 1:26:42 | 14' | Women's | 57.21 | D | 6.99 | 0:08:35 | Naish 14 Glide AST |