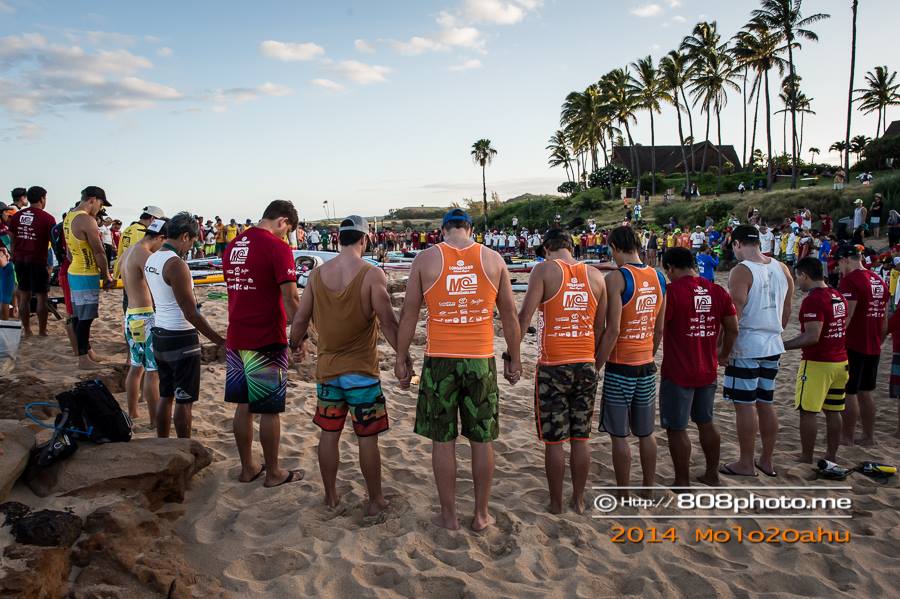 August 4, 2014
by Christopher Parker (@wheresbossman)
35 Awesome Photos That Tell The Story Of The 2014 Molokai 2 Oahu Race
The 2014 Molokai 2 Oahu Paddleboard World Championships were pretty darn epic. So much action, so much excitement, so many grand stories.
They say a picture is worth a thousand words. Well, seeing I went a little overboard and typed about 35,000 words about this race over the past week or two, I figure these 35 photos will tell the story a little more concisely. So here it is. Molokai 2014 as told by the camera.
These photos tell the story of 300 odd bold paddlers lining up on the start line. Of Kai Lenny taking off like a rocket and leading the first half of the race. The story of Connor overaking Kai, before Travis caught Connor and the two engaged in an epic duel almost right to the line.
They'll tell the story of Dave Kalama keeping pace with young guns, despite pushing 50 years of age. The story of guys like Livio Menelau, Kaeo Abbey and Armie Armstrong, none of which get the attention of the big names but all of whom crossed the Ka'iwi Channel at a blistering pace.
These pics tell the story of Sonni Hönscheid's sterling effort to defeat a brave Jenny Kalmbach. The story of Scott Gamble showing he's perhaps THE most under rated paddler in the world with yet another top 3 finish at Molokai. The story of Kai, Travis Baptiste and Dave crossing the line almost together (and of Baptiste doing so despite being in the stock class).
The story of the young, pint-sized paddler from Slovenia, Manca Notar, winning the mixed team relay with her Naish mentor Michi Schweiger. The story of Riggs Napoleon smashing the team relay record with his dad Aaron. They'll also tell the story of the unheralded Kiwi, Penelope "Pea" Strickland defeating two former champs to claim her spot on the podium.
These weren't the only stories of course. There were countless moments of action and drama out in the Channel of Bones last weekend. So if you want more cool photos from this crazy race, try these galleries…
MORE PHOTOS:
– StandUpMagazin.com's Molokai gallery
– Official Molokai 2 Oahu gallery (action shots)
– Official Molokai 2 Oahu gallery (finish line pics)
– 808photo.me's epic gallery (start line and action shots)
– Sweet Waterwear's finish line gallery
– 619 high quality finish line photos from Angel King
– Surftech's M2O album (lots of cool prone shots)
Oh and these pics will also tell the story of Chuck Patterson having big, beautiful and perfectly white teeth. You keep on paddling big guy…