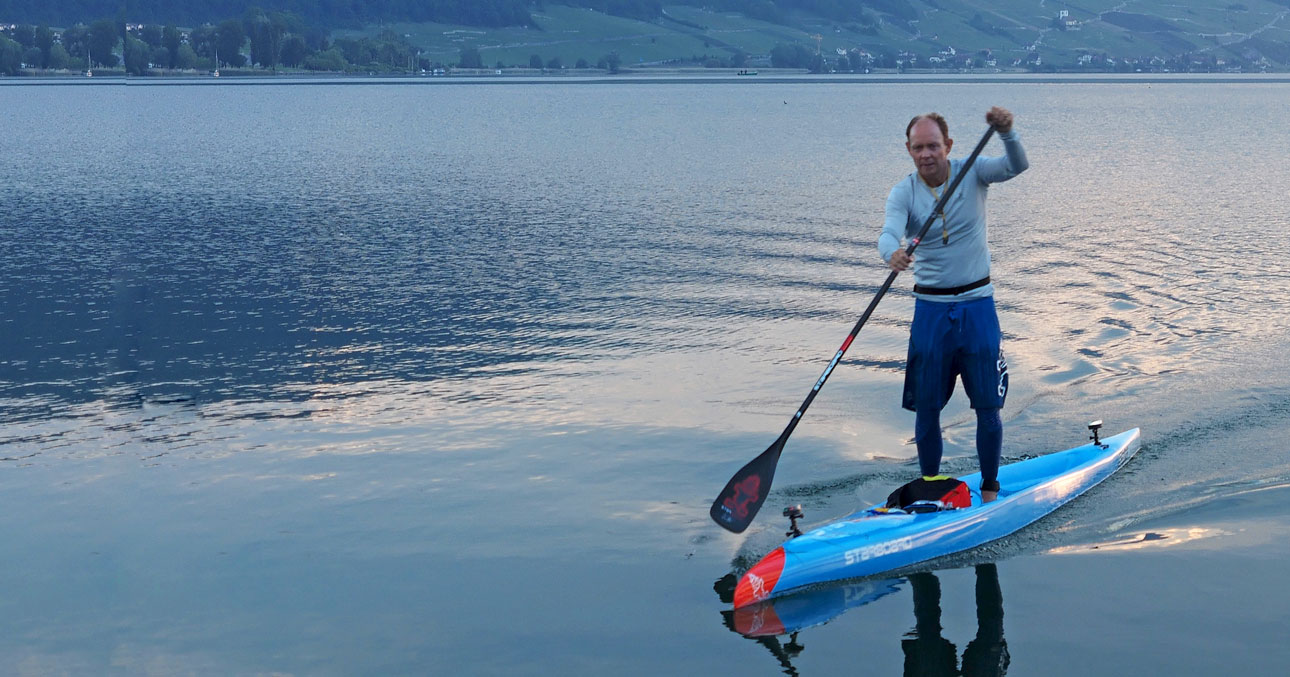 June 1, 2017
by Christopher Parker (@wheresbossman)
The King of Endurance Paddling: Bart de Zwart Sets New 24 Hour World Record
The long-reigning king of endurance paddling, Bart de Zwart, has achieved another major milestone in his extraordinary paddling career, setting a new 24 hour world record in Switzerland this week after overcoming a late-night storm and strong winds that almost forced him to abandon his quest.
The humble Dutchman, famous for his incredible paddling expeditions and crossings (not to mention winning virtually every endurance race in the sport), completed a mammoth 193.8kms (123.4 miles) after paddling all day and all night around a lake near the Swiss town of Erlach.
Starting at 5pm Monday and finishing a few minutes before 5 on Tuesday evening, Bart did roughly 19 laps of a 10.5km loop on what was supposed to be a calm, flat water venue. The weather didn't cooperate though, with a storm rolling through at 11pm that brought thunder, lightning and wind from all directions.
TUNE IN: Bart will be the special guest on our EuroTour Facebook Live preview show @ 5pm Friday
The tough headwind sections prevented Bart from reaching his ultimate goal of 200km, but the wild weather couldn't stop him setting a new record: Bart continued paddling all night and all day to surpass the previous mark of 179.99kms (set by good friend Joanne Hamilton-Vale in April) after 22 hours.
One of his first comments back on land was: "Considering the wind, I'm really stoked that it worked out."
I chatted with Bart on the phone Tuesday evening and got some additional insights into just how tough this attempt was, with the new world record holder generously sharing his time with me despite not having slept in over 36 hours (he also had a good interview with TotalSUP right after he finished).
The four-time 11 City Tour champion told me he chose the lake beside Erlach after using Google Earth and weather charts to scout a location that would offer calm, flat water conditions. But far from being flat, the wind turned out to be unseasonably strong and at times Bart was paddling well below record pace.
"The wind was changing direction every 20 minutes, the conditions were really strange. About 6 hours into the attempt, just before midnight, the wind was so strong that I was worried I wouldn't make it. If the wind had continued like that I probably would have been forced to abandon. When you are focused on paddling 9km/h to reach the record but can only manage 6km it becomes quite stressful."
Bart explained that while his thoughts tend to become philosophical during his famous SUP expeditions and crossings – contemplating the meaning of life while paddling the entire length of the Hawaiian Islands non-stop for five days and nights, for example – with this particular attempt he was almost solely focused on how fast he was going.
"I basically just kept looking at my speed the whole time. It's not like my crossings where I go at my own pace, and it's not even like a race where you can take a break at the back of a draft train or slow down if you have a big lead. With the 24 hour record, every second you lower your pace or stop paddling is going to hurt you at the end. You're literally racing the clock and you really have to stay focused."
I joked that perhaps he attempted the 24 world record "Because it's there," a mock retort often used by mountaineers when asked why they climb Mount Everest, however it turns out this wasn't far from the truth.
"Well I didn't want to say "Because it's there" but yes, I did this because it was there. Or more precisely because all of my paddling is focused on endurance expeditions and races, and this is kind of the standard ultra long distance benchmark now, so it seemed like a logical thing to do. I've actually been thinking about the twenty-four hour record for quite a while, but the logistics involved are more complicated than you might think so it took some time to attempt it."
Quite fittingly, the previous record holder, Joanne, was on hand in Switzerland leading Bart's support team. Jo still holds the women's world record of course, and this follows previous 24 hour record-setting paddles from Seychelle Hattingh (177km miles in December 2015) and Robert Norman (179kms in January 2017).
So who's going to attempt it next?
I think it would be really cool to see the "24 Hour Record" become a standard in our sport. Perhaps reaching 200 or 220km in 24 hours will become stand up paddling's 'Four Minute Mile'.
But just how far can someone paddle in a day? Could anyone average 10km/h and reach 240km? No doubt the bar will keep getting raised.
I asked Bart if he was eager to attempt the 200km mark again, but lacking sleep and having just endured a night of wild weather, he simply replied "I think I'll let someone else give it a go first."
For the board aficionados, Bart was paddling a modified 14×21.5 production Starboard Sprint. He added about 2 feet to the nose and tail to make it an 18×21.5 unlimited, telling me that the main benefit wasn't so much additional speed but superior efficiency.
The board glides so well that Bart's power output is significantly lower than on a 14 footer even though his top speed is only marginally faster.
If you're as curious about this board as I am, then tune in to our EuroTour Preview Show tomorrow (Friday June 2nd) direct from the shores of Lake Geneva, where Bart de Zwart and his magic 18 footer will be our special guests.
We'll be throwing down some predictions for the big Thonon race on Saturday, but we'll spend most of our time having a good chat with Bart to hear more about this crazy record.
So if you've got any questions for the man himself, jump on to our Facebook Live stream and we'll try to answer as many as we can.
The plan is to go live from 5pm Friday (French time), which is 5am Friday morning in Hawaii, 8am California, 11am Florida, 4pm in the UK, 10pm in Thailand and really late in Australia (Google "What's the time in France?" to calibrate your own time zone).
Until then, let's congratulate Bart on another incredible paddling accomplishment. Truly inspiring.
A brief history of Bart de Zwart's inspiring paddling adventures:
Ultra-endurance races:
2010, 2011, 2012, 2014 champion of the 11 City Tour (220km)
2014, 2015, 2016 Muskoka River X champion (220km)
2016 Yukon River Quest champion (715km)
2016 MR340 Champion (547km)
Crossings:
Paddled the length of the Hawaiian islands (5 days/nights non-stop)
Paddled from Tahiti to Bora Bora (3 days/nights non-stop)
Paddled the coast of Greenland (after being forced to abandon his crossing from Canada)