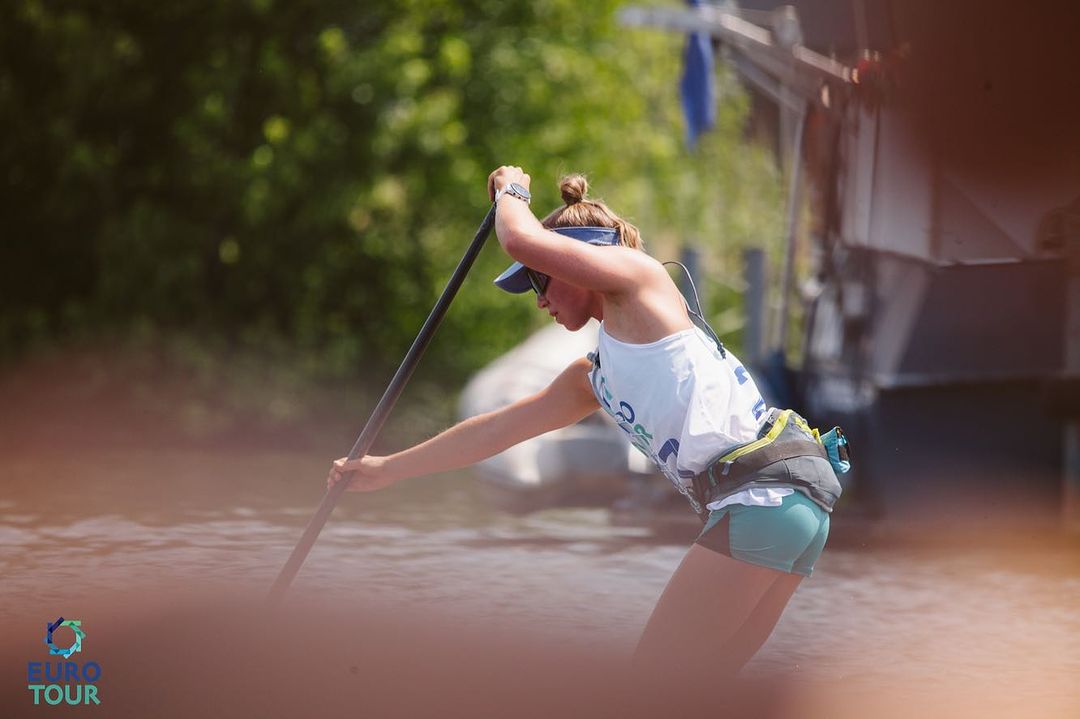 July 17, 2023
by Christopher Parker (@wheresbossman)
Swiss Miss Anna Tschirky beats the field in Berlin to claim first Euro Tour win of the season
photo credit @loicmichelphotography via @eurotoursup
The "Swiss Miss" Anna Tschirky claimed victory in Berlin on Saturday, finally standing atop a Euro Tour podium after a strong, consistent season that sees her sitting just six points outside the Tour's illustrious top three after 10 out of 13 events.
While Anna has earned victories in several other European leagues starting with the massive GlaGla Race in January, Berlin is her first win on the 2023 Euro Tour. The avocado enthusiast has been in fine form but the four-lettered Spanish Galleons of Espe, Duna and Alba have proved hard to outmaneuver.
With the "Big Three" taking a break this week, Anna was the strong favourite in Berlin and didn't disappoint. Germany, Denmark and Poland filled the rest of the top five as Susanne Lier finished runner-up and Emma Freja Pedersen claimed third step.
Anna's win puts her painfully close to an overall third-place Tour finish, which would be put her in very elite company. And she's been working hard for it, too. No other woman has raced as often this season — Anna has been standing on 7 of the 10 starting lines. Showing incredible consistency, five of those results have been podiums while the other two were fourth-place finishes.
The free agent – Anna's paddled half a dozen different boards this season – sits just six points behind Alba on the Euro Tour leaderboard after picking up 40 points in Berlin, and one more victory would see the Swiss Miss break the almighty Spanish stranglehold on this year's Tour.
On top of the table, Espe is in a league of her own with 220 points from her best-four results (and her two discards have been victories too — she's undefeated). The Queen of Europe cannot be caught not even by second-placed Duna Gordillo who is the only one to finish ahead of her all year (at the non-Euro Tour national titles and again at the APP in Portugal on the weekend). Alba and Anna can mathematically reel in second place but that's looking unlikely with only three events left. The battle for third is where it's at. Italy's great hope Cecilia Pampinella currently sits fifth and will likely stay there unless she can pull off some big wins in September.
The Euro Tour takes a break for the next six weeks before reconvening for races in Italy, the Greek Islands and France to wrap up the 13-race season. As always, @eurotoursup on IG has the regular updates — and give @a_n_n_at a follow while you're there.
2023 Euro Tour Rankings
– after 10/13 races
– best four results count
1st: Espe Barreras (Spain) 220
2nd: Duna Gordillo (Spain) 160
3rd: Alba Frey (spain) 136
4th: Anna Tschirky (Switzerland) 130
5th: Cecilia Pampinella (Italy) 109.5
(official rankings will be updated this week)