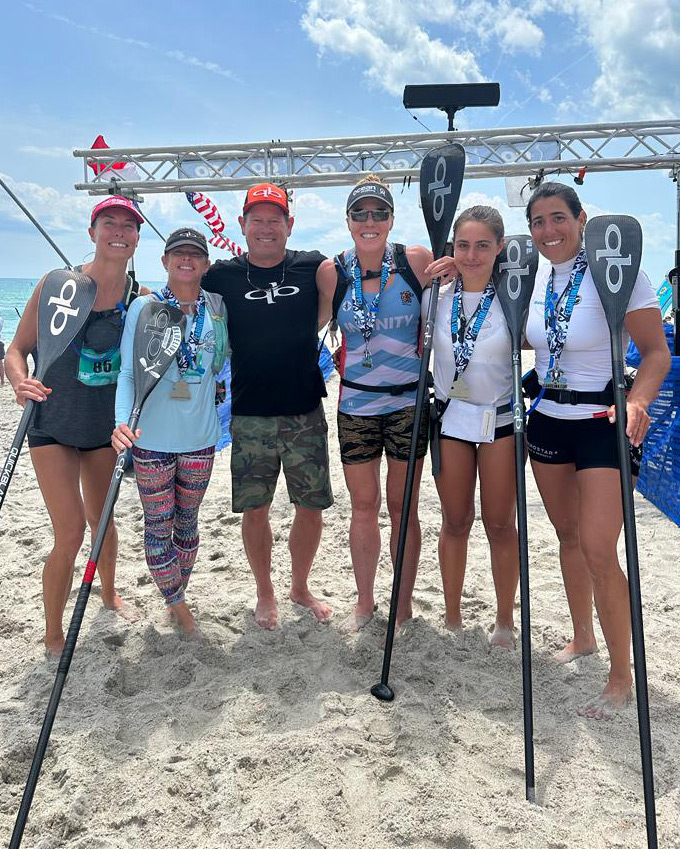 April 30, 2023
by Christopher Parker (@wheresbossman)
Queen Kim Conquers Carolina; Boothy wins fourth title by six minutes
In brief: Team Quickblade sweeps the women's "Graveyard" race as Kim Barnes wins the 2023 Carolina Cup ahead of Candice Appleby, Duna Gordillo, Laura Quetglas and Stephanie Shideler.
Kim is one of the most underrated paddlers on the planet and finally gets the Carolina victory she deserves after years on the lower steps of the podium.
It was also a big day for Kim's squad, Team Flying Fish, who filled about half of the top finishers in the men's race.
Aussie powerhouse Michael Booth was in a league of his own today, winning by six minutes ahead of Danny Ching and Bodie von Allmen.
But it was actually Eri Tenorio and Aaron Sanchez who crossed second and third — they both looked strong but were each penalised two spots, controversially, for capitalising on one of the many rogue boat wakes.
Here are the final finishing times…
1st: Kim Barnes (2:18:55)
2rd: Candice Appleby(2:19:04)
3rd: Duna Gordillo (2:19:55)
4th: Laura Quetglas (2:26:40)
5th: Stephanie Shideler (2:29:35)
6th: Seychelle (2:32:10)
7th: Victoria Burgess (2:35:21)
8th: Emilie Fournel (2:37:00)
9th: Regal Littell (2:41:29)
10th: Alex Ostrowski (2:43:04)
1st: Michael Booth (2:01:13)
2nd: Danny Ching (2:07:59)
3rd: Bodie von Allmen (2:09:25)
4th: Eri Tenorio (2:09:35) *penalty
5th: Aaron Sanchez (2:10:00) *penalty
6th: Steve Miller (2:15:31)
7th: Campbell Carter (2:15:45)
8th: Tim Warner (2:16:20)
9th: Jake Portwood (2:16:20)
10th: John Batson (2:19:53)