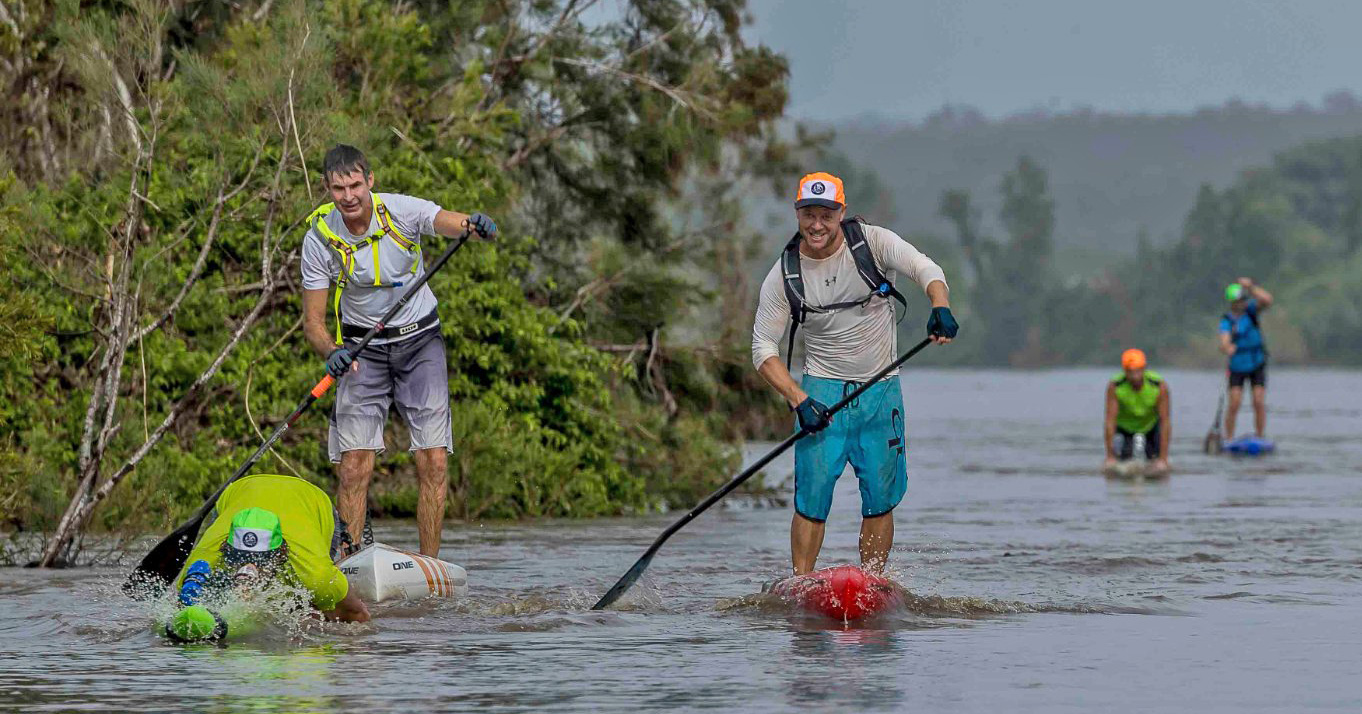 May 15, 2022
by Christopher Parker (@wheresbossman)
Floods, fields and those bloody fences: The 'Big Clarence' was a big river adventure
Have you ever paddled a flooded river? Have you ever navigated barbed-wire fences, dodged submerged trees and paddled around a farmer's shed? Well after this weekend, competitors of the inaugural "Big Clarence" can tick all those items off their bucket list.
The Clarence River is a long, wide and rather beautiful waterway in Australia. The local indigenous name, Breimba, literally means "Big River" and it often lives up to that title. Sometimes with deadly effect. The region was devastated by floods a few months ago where many people died and thousands lost their homes. This weekend's race was supposed to pay respects to them — it wasn't supposed to recreate similar conditions.
In an eerily-similar scene, the Clarence rose 10 metres in the 48 hours before our race on Saturday. The bridge at the halfway mark – which we were supposed to paddle under – was completely submerged. And not just submerged: It was the length of a 14ft race board under water.
We couldn't safely paddle the planned 40km route down river, so organisers worked overtime and created a unique 18km loop of painful proportions: Starting and finishing in the town of Grafton, we would be heading 9km *upstream* and then 9km back down. Yes, upstream against a raging, flooded river.
The water in the main part of the river was flowing 7km/h against us. In search of eddies and calm water, we hugged the bank like it was a long lost friend …except there was no riverbank by that point. The Clarence had burst and was flooding into the surrounding farmlands. We were paddling through fields.
It was extraordinary how much difference the current made — paddlers sitting just a board length or two further out in the main stream would see competitors zip past them. The eventual race winners, prone legend Mick Di Betta and new ultra warrior Lincoln Dews, were 200 metres ahead of our chase pack at one point, but when the duo veered left at a small group of trees and we all shortcutted right, the gap was completely closed in the span of two minutes.
Every now and then someone yelled "Fence!" as we approached another partially-submerged barbed-wire crossing. Mick got a bit unlucky, catching his hand on one of the submerged wires and scoring a nice little gash. Swanny from the BrisSUP club nailed his fin on one of the fences and went for a swim. At one point we sent Mike Hayes – who eventually finished third behind Lincoln and Mick – to navigate a particularly dodgy-looking shortcut to see if it was navigable. The guinea pig made it through so the rest of us followed.
It was a bizarre race. Almost like an orienteering mission on water.
We were trying so hard to escape the current that at one point I accidentally beached myself in a corn field. We even paddled behind a farmer's shed that had become little more than a roof. Though perhaps the most surreal moment came when we paddled through a paddock gate. We didn't see it 'til the last second such was the height of the river. Fortunately it had been left open.
Race pace slowed to 4km/h in parts — for the leaders. At times, the backmarkers were barely moving at all. Rounding the halfway turning buoy felt like reaching the finish though — the second half was a leisurely stroll back downstream at god-like speeds of up to 18km/h.
We were utterly exhausted after battling the torrent of floodwater for two hours, but thankfully we finished right beside the pub in Grafton and that helped ease our pain.
According to the water monitoring station just upstream, half a TRILLION litres flowed down the Clarence River on Saturday. That's about 50x the normal rate. It's a minor miracle we paddled at all, and a big thank you goes to the organisers for pulling off this one-of-a-kind adventure.
The inaugural Big Clarence will certainly be remembered.
This event was actually a warm-up for the much bigger Clarence race, the 'Clarence 100' three-day ultra. We'll be part of that one in October, and hopefully the gate will still be open.
---
Join the "Big Clarence" Facebook group to see more photos