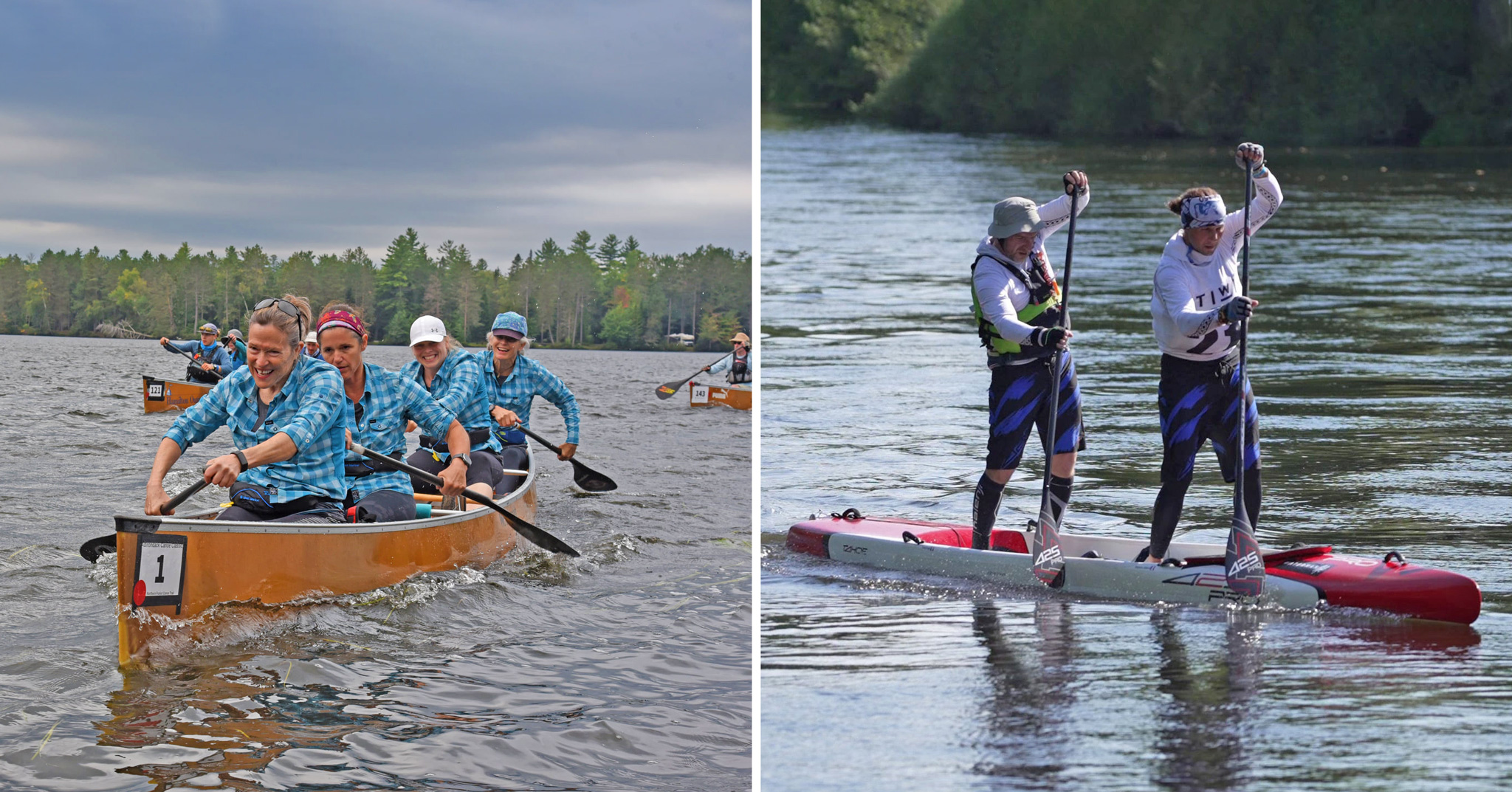 September 16, 2021
by Christopher Parker (@wheresbossman)
Ultra Month: 715 kilometres down, 1248 to go…
Niek van der Linde paddled 23 hours through the fields of Friesland, Emmanuelle Marcon flowed down the Dordogne river in France for 11 hours, and somewhere in the remote wetlands of upstate New York, canoe teams completed their own 145km quest in times between 12 and 22 hours.
September is "Ultra Month" with seven adventures in four countries totalling almost 2,000 kilometres across the span of just 22 days. Four "races" were completed last week, so we've already paddled 715km yet still have a mind-boggling 1,248km to go (or, for our American friends that refuse to adopt metric: "444 miles down, 775 to go…").
There's something addictive about the ultras. While they're physically punishing and mentally torturous, they're also exhilarating, exciting and simply inspiring. Many paddlers have found a rewed love of the water by completing an ultra-marathon adventure. I'm one of them. Or as a finisher of the Adirondack Canoe Classic put it simply:
"I can't stop thinking about how fun this last weekend was. It's hard getting back to "normal" after such an intense experience. Thanks to all of the great people we met along the way, and to the crew that ran the race. I'm already so pumped for next year!"
But while the 11 City Tour, Dordogne and the Adirondack are in the books for another year, we've still got the Great Glen Challenge in Scotland, Canada's infamous Muskoka River X and the gargantuan granddaddy of them all, the 1000km+ Alabama 650. And I'll be covering all these adventures over the coming days as we get ready to announce the 2022 Ultra Paddle League season on 1 October.
---
#1: SUP 11-City Tour NON-STOP
Friesland, Netherlands
4-5 September
220km (137 miles)
Men's champion: Niek van der Linde (23 hours, 32 minutes)
Women's champ: Margriet Koeman (33 hours, 34 minutes)
full results
#2: SUP 11-City Tour FIVE-DAY
Friesland, Netherlands
8-12 September
220km (137 miles)
Men's champion: Joep van Bakel (21 hours, 50 minutes)
Women's champ: Ella Oesterhelt (25 hours, 27 minutes)
full results

#3: The Dordogne Integrale
France
11-12 September
130km (81 miles)
Men's champion: Dode Florent (9 hours, 59 minutes)
Women's champ: Emmanuelle Marcon (11 hours, 15 minutes)
full results

#4: Adirondack Canoe Classic
New York, USA
10-12 September
145km (90 miles)
Winning time: 12 hours, 0 minutes (unlimited canoe)
full results
---
#5: The Great Glen Challenge
Scotland
18-19 September
92km (57 miles)
Facebook
Welcome to the land of the Loch Ness Monster. Over the course of 92km, paddlers will quite literally paddle across Scotland from coast-to-coast through rivers and lakes (or "lochs"). One of the most popular ultras in the SUP world, the Great Glen takes paddlers on a scenic, sleepless voyage through the Scottish Highlands, complete with whisky and haggis at the after-party.
This may be the last Great Glen due the cost and logistics of pulling it all together, but I'm hoping it continues in the future as it should be on every paddler's bucket list.
---
#6: Muskoka River X
Canada
18-19 September
110km (68 miles)
Facebook
A "sprint race" compared to the traditional, 220km Muskoka course, this year's "Huntsville 110" is short enough to sound doable but long enough to trip up any overconfident paddler.
Arguably one of the most picturesque of all the ultras (and that's saying something), this year's odyssey will see 7 stand up paddlers attempt the course alongside scores of canoes and kayaks.
---
#7: The Great Alabama 650
Alabama, USA
18-28 September
1046km (650 miles)
Facebook | Insta
Currently the longest paddle race in the world (until the mythical Yukon 1000 is held again), the Great Alabama 650 (or "AL650" for short) is so far off the scale that it's hard to put into words. It's quite simply an odyssey, one that takes upwards of 10 days to complete (the record is just under six days) and requires equal parts stamina and stubbornness.
While the other ultra-ultra-marathons have mandatory downtime to preserve a paddler's sanity, there are no such rules on how much you have to sleep in Alabama. You can paddle all day and all night if you want to. One former winner got through with an average of 2 hours sleep every 24 hours. But as with every multi-day ultra, having a solid support crew is key. Race organiser Greg Wingo summed it up by saying that if someone makes a documentary about this event it should follow the support crew not the racers.
In an interesting twist, there are no categories at the Alabama 650. There's an award for the first man, first woman and first tandem crew across the line, but you can paddle whatever you like — SUP, canoe, kayak, surfski. You can even switch craft mid-race if you please.
Only 20 people are allowed to enter.
There are no stand up paddlers this year, and in fact only one has ever attempted it (Scott Baste in 2019, he made it about half the way). Bart de Zwart has said he'd like to tackle it standing up in the future, but for now it remains the domain of canoes, kayaks and certifiably-crazy people.
---
Love a long paddle? We're launching the 2022 Ultra Paddle League season on 1 October. The goal of the Ultra Paddle League is pretty simple: To highlight and help grow this wild part of the paddling world. Because it's more than a race.