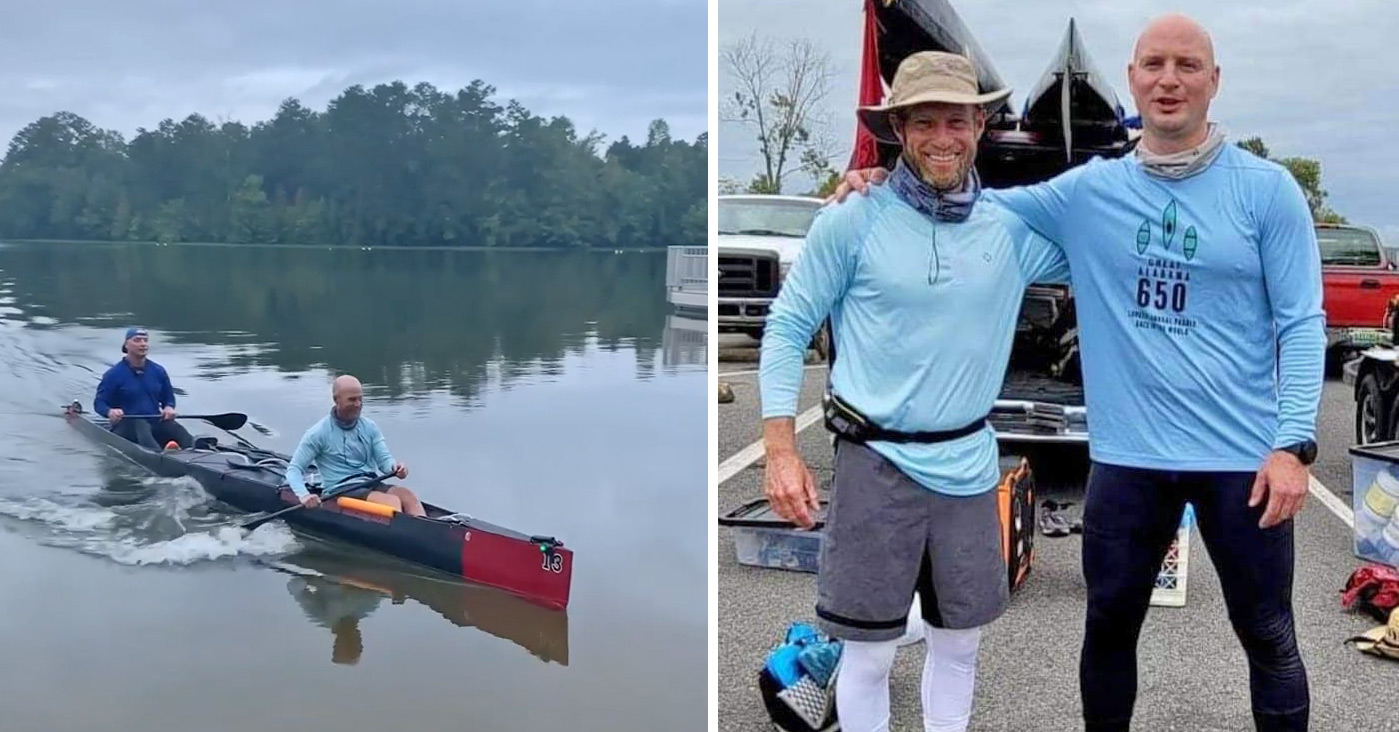 September 23, 2021
by Christopher Parker (@wheresbossman)
ULTRA CHAMPIONS: Paul Cox, Joe Mann win the 'Great Alabama 650' in record time of 4 days, 17 hours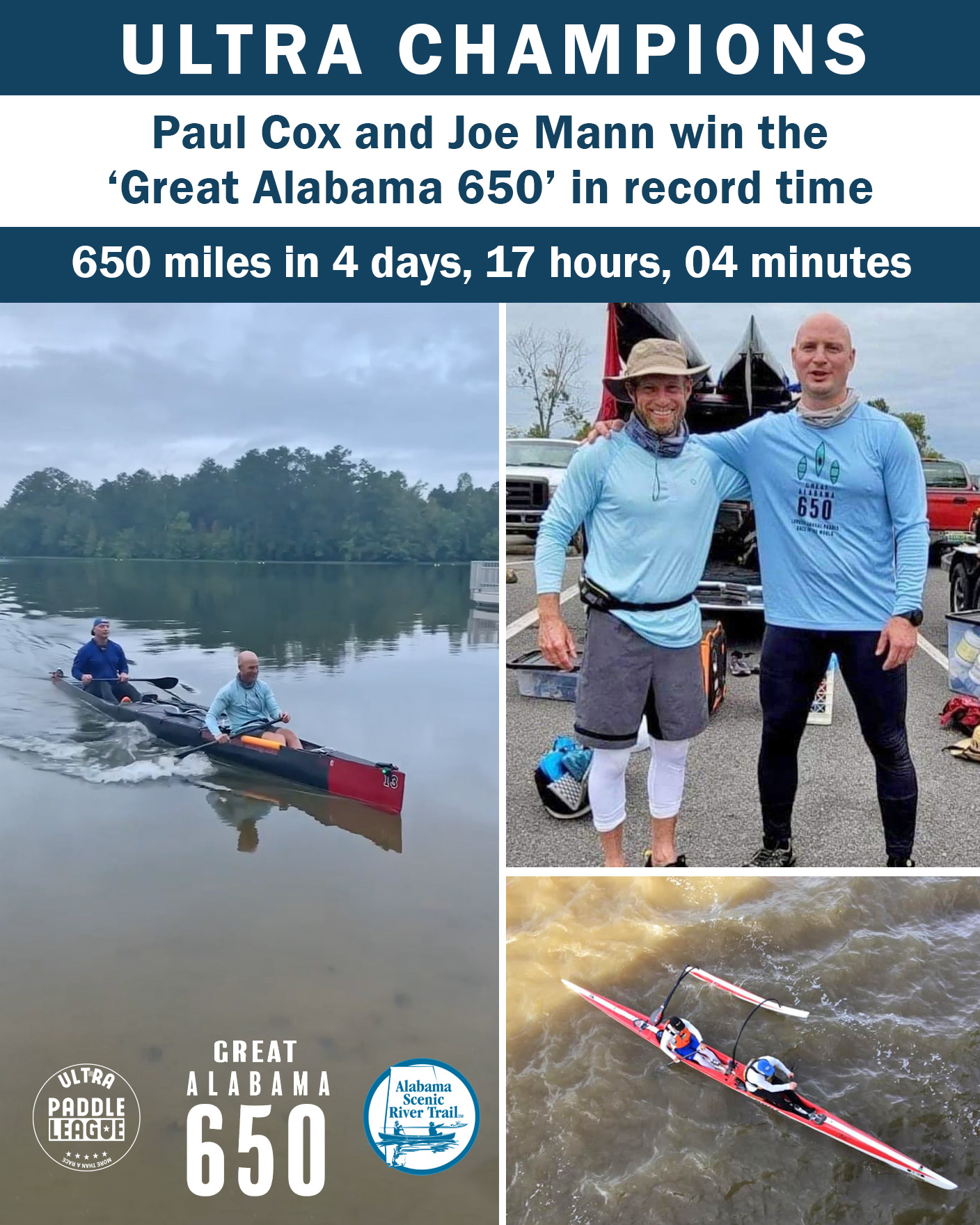 Atlanta's Paul Cox and Joe Mann from Kansas City have conquered this year's wild, crazy, beautiful Great Alabama 650 to defend their event title and set an extraordinary new race record of 4 days, 17 hours, 04 minutes.
As the sun rose over the finish line at historic Fort Morgan on the edge of the Gulf on a windy Thursday morning, Paul & Joe took their final strokes to complete a victory that will take a Herculean effort to better.
These guys led from start to finish in a masterclass performance, opening up a 10-mile gap on day one (Saturday) and spending as much time racing the clock as their rivals. But in a climactic finish to a wild race, the leaders were almost overtaken on the home stretch by two-time solo champ Bobby Johnson and his new tandem partner Rod Price who roared back into late contention.
Paul & Joe spent several hours on shore Wednesday evening (at the 610 mile mark) after strong winds whipped up angry seas in the bay where the final leg runs. Bobby and Rod rolled the dice and paddled late into the evening to close the gap from 40 miles down to just 4 before the lead duo surged back into action and shut the door.
But Paul and Joe simply wouldn't be caught, paddling clear and paddling home through the pre-dawn darkness as the bay raged around them. The race clock stopped at 4 days, 22 hours, 49 minutes, and once the portage downtime is subtracted (4 hrs 45 mins), the official time stands at mind-bending 4 days, 17 hours and 4 minutes.
The GPS officially ended at 651.9 miles or 1,049 kilometres.
Paul and Joe break their old record by more than a day, and they've completed the odyssey in less than half the allowed time — competitors have 10 days to paddle the entire course from the north of Alabama to the edge of the ocean in the south of the state.
Their GPS tracker calculated a moving time of about 81%, meaning Paul and Joe had around four hours each day to eat, sleep, recover and prepare for their next session (they actually paddled more than 24 hours non-stop at the beginning of the race to establish their lead). The duo also changed between at least three craft: kayak, canoe and outrigger (there are no rules against switching craft; there's also no rules saying how much or how little you have to stop and rest).
The Alabama 650, currently the longest annual paddle race in the world, includes stretches of remote wilderness in the Alabama delta, several dam portages and a few historical towns along the way. It's a voyage of Odyssean proportions, and this year it began in pouring rain as if Mother Nature was reminding paddlers what they'd signed up for.
The race certainly isn't over though — the rest of the teams are still on the water, including Bobby & Rod who are locked in a classic arm-wrestle for second overall with the lead women's solo competitor (and lead solo competitor full stop), the incredible Salli O'Donnell. Those two teams have been trading places over the past two days, and they're closely followed by renowned adventure paddler West Hansen. All three of the chase teams have set amazing times that would have beaten the old record.
Further back in the field are another eight teams (seven of them solo) all committed to finishing before the 10-day cut-off. It's been a determined field this year: only one of the original 13 teams was forced to abandon in a race where only about a third of the field usually make it.
Jen Fratzke is at mile 483, Mirko Pruefer from Germany @ 458, Cyndi Wilsdorf and Dan Voss are both at 438, Chuck Scheidt at 406 miles, tandem team Joe Deutsch & Julie Ardoin are at mile 401, Jim Lewey @ 399 and a resilient Martha Avila-Adame is currently at mile 360. The final finishers aren't expected until Sunday or Monday…
Special mention goes to the tireless event crew who pull off this mad week, and also all the support crews without whom each team would have virtually no chance of finishing.
– – –
– view the GPS tracking map and live leaderboard
– follow the Great Alabama 650 on Facebook for all the updates, photos and video
– – –