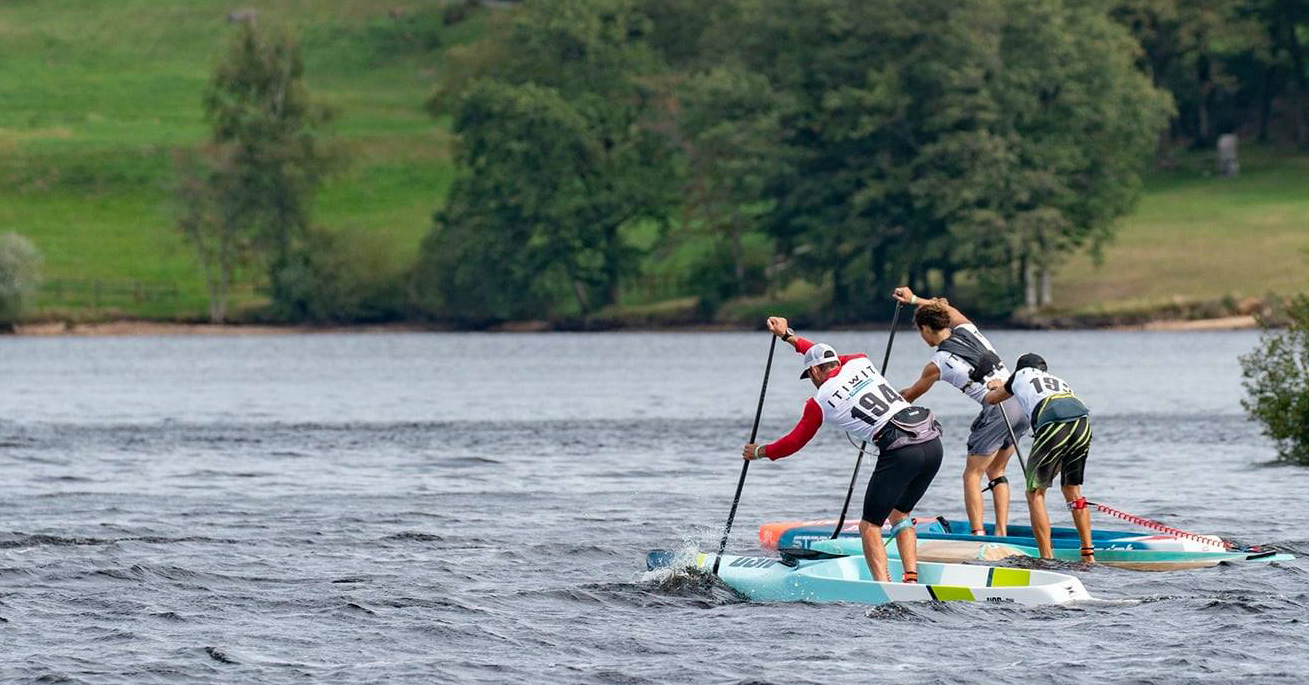 October 4, 2021
by Christopher Parker (@wheresbossman)
Flight of Les Cagous: Noic, Titou and Clement on top as New Caledonia dominates French Championships
The 'kagu' is a bird native to the islands of New Caledonia. Known as cagou in French and nicknamed the "ghost of the forest" due to its ash-white coat, it has become the symbol of the island's sporting teams who often compete under the banner of 'Les Cagous' ("The Kagus"). It's a somewhat ironic mascot though — the cagou is almost flightless, yet three of the island's athletes have reached such great heights.
On a chilly Saturday in the French region of Creuse, on an artificial lake more than 200km from the nearest ocean, the New Caledonian trio of Noïc Garioud, Titouan Puyo and Clement Colmas finished 1, 2 and 3 at the French Distance Championships. The race was held 17,000 kilometres away from the postcard-perfect lagoon that surrounds the main island of New Caledonia (which is an overseas "collective territory" of France), but Les Cagous looked right at home on the water.
In an utterly dominant and rather symbolic performance, the three broke away from the other contenders and formed a collective of their own in the final kilometres — only an exhausting sprint to the line could separate them after 18km of racing, and only by a couple of seconds.
(France's junior dark horse Ethan Bry and ever-dangerous Ludovic Teulade deserve credit for sticking with the cagous for much of the race.)
This is hardly the first time we've seen these guys dominate, and it's not exactly news that New Cal is home to exceptional paddlers, but to the best of my knowledge its the first clean sweep of a podium by "Les Cagous" at a French championship race.
And it's not just France that New Caledonia is dominating, they've basically taken over the world of men's paddling. At last month's ICF World Championships in Hungary (the only truly competitive event this season), Titou claimed the first of the three major men's gold medals on offer–his good friend Noic crossed the line a few seconds after him to claim silver. Over the next two days, the remaining two golds went to Noic while Clement was never far off the pace.
Not bad for an island nation with just 270,000 inhabitants (less than half a percent of France's total population).
The New Caledonia/France relationship is a tricky one politically, as most colonial relationships are, with two recent independence referendums being narrowly turned down (a third and final referendum will be held in December). Most athletes are neutral, and it's worth noting they fly the sporting flag of New Cal, not the one of independence.
But politics aside, when it comes to paddling New Cal clearly stands above the rest of France.
History was supposed to be different. It was another French Pacific territory that was destined to dominate our sport. Tahiti and their warrior paddlers were seen as an inevitable tsunami of talent in the early days of SUP racing, but while they've shown flashes of brilliance it's been the Caledonians that have flown to greater heights (interestingly, Titou was actually born on a Tahitian island and could have easily been flying a different flag on the podium had his French parents not decided to continue sailing to New Cal when he was a baby).
How long will this dominance last? Given that Noic is only 19 years old, Titou is in career-best form and Clement has rediscovered his love of racing (in the early days it was he, not Noic, who was seen as Titou's likely successor), New Caledonia can expect to remain in the paddling headlines for many years to come.
The real "cagou" might not spend much time in the air, but its paddlers are flying.
---
Full recap and results on the French Surfing Federation site (Google Translation)
WATCH: Highlights from the French long distance championships
(click here if the video doesn't load)
---