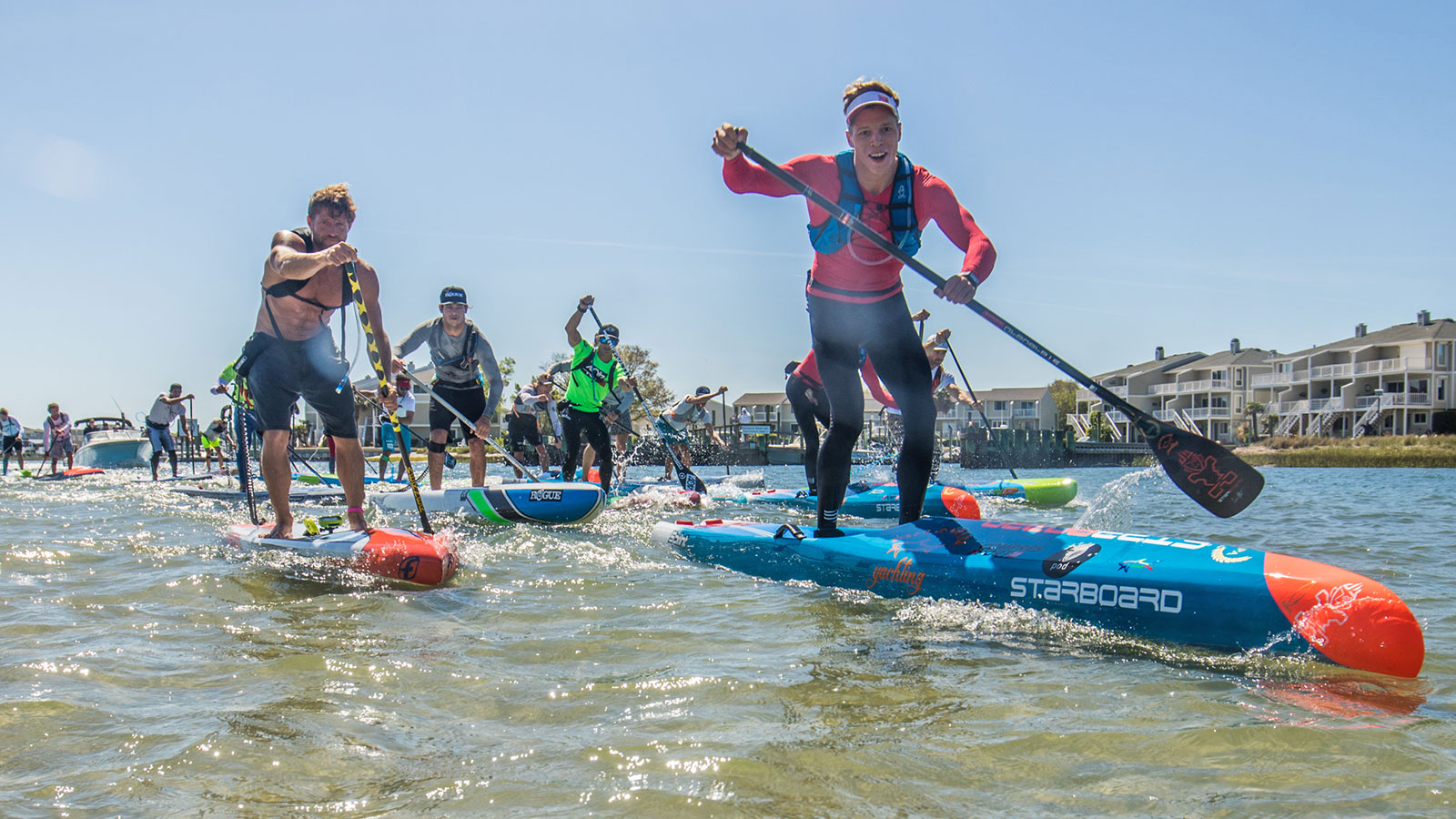 November 4, 2021
by Christopher Parker (@wheresbossman)
923 days later, the Carolina Cup finally returns (and so do my bold predictions)
Incredibly, it's been almost a thousand days since the last Carolina Cup.
A lot has changed over the past couple of years (an understatement), and in certain ways our sport is unrecognisable from what we had just a few years ago. Many new names are on podiums while many former champions aren't even on start lines. New events are capturing our attention while old favourites aren't even happening.
The pandemic, combined with a cultural shift in the paddling world has reorganised our sport in both good and bad ways, and while change should be embraced it's always nice to see a friendly, familiar old face. That's why I'm excited to have one of the true classics on the SUP racing calendar finally making a return to celebrate its 10th anniversary.
The Carolina Cup has a special charm. The annual pilgrimage to Wrightsville Beach, North Carolina was always a highlight of my year. The first chance to catch up with the community after a long winter, Carolina was the traditional season-opener. But while it won't have the springtime sunshine and massive field of competitors that we're used to (it was canceled in 2020 and moved from April to November this year), it will still feature one of the most iconic races in the sport: The brutal, 13-mile "Graveyard" race around the long sand island of Wrightsville Beach this year.
The Graveyard has become one of the most prestigious titles in the sport, and in many ways it's also become the greatest test of all-round paddling strength and stamina. I don't exaggerate when I say to win this race you've basically got to be the best paddler in the world. Just look at the Carolina champions over the years: Annabel Anderson (5x!), Danny Ching (3x), Sonni (2x), Titou (2x), Boothy (2x), Travis (1x). That's not a list of winners, that's a hall of fame.
So, who's going to win the 2021 Carolina Cup Elite Graveyard Race? Of course, the Carolina Cup is about much more than just the pros — it's our traditional "gathering of the tribe" that draws beginners, weekend warriors and all-stars from around the world — but I'm going to focus this piece on a preview of the pointy end.
While the elite field is much smaller than previous years – Carolina was the biggest, most-competitive race in the world in 2018 (that crown belongs to the ICF Worlds this year, an event that didn't even exist in 2018) – we've still got enough international names, young guns and dark horses to make it a cracking contest.
According to the official start list, we'll have Seychelle, April, Danny, Connor, Titou, Arthur Arutkin, Daniel Hasulyo, Josh Riccio and the next generation in Christian "Polar Bear" Andersen, Shuri "Shrimpy" Araki, Rai Taguchi, Tyler Bashor and Jack Seymour. It'll be a competitive top 10 for sure. (EDIT: I just saw that Itzel Delgado is in town but not on the start list, he's always one to watch. I also forgot to mention the supremely talented Ryland Hart)
But there's one more name I'm particularly excited to watch: Kaelan Lockhart.
SUP Racer's official dark horse pick for 2021 is going to his first international event. He's the only Aussie at this year's race. And like an excited kid on their first day of school, this is going to be a big lesson for Kaelan. While he's crushed the Aussie domestic season, he hasn't competed against the world's best. So can he match it with the big boys? In terms of raw power, hell yes. He's got the strength, speed and stamina to beat anyone. This guy could realistically be world number one in the next few years, I kid you not. But I don't think he's there yet, and I think the conditions will be against him this weekend.
The conditions…
Before we get into predictions, we've gotta understand that Carolina is as much about the conditions as the competitors. It's a brutal course. 13 miles (21km) that features everything from flat water to ocean to potential downwind bumps, waves, tidal currents and boat wake. The forecast in this part of the world is even harder to predict than the podium but right now it looks like it'll be a pretty rough day (the "Graveyard" is gonna live up to its name!).
Saturday in Wrightsville Beach is set for a chilly top of just 17 degrees (62 for the Americans) with 90% chance of rain. Ouch. We've also got a moderate-to-strong wind forecast, which will play a huge role in the race. Windy.com is saying 15-18 knots north-east by 10am Saturday, about when the race will finish on the ocean side of Wrightsville. That direction lines up for a perfect little downwind leg for the final few miles, which will obviously favour the ocean specialists.
But despite the weather being hard to gauge, the way this race play out is actually fairly predictable.
Presuming the wind is blowing north it'll be a clockwise course. There's a one-mile dash from the start on the beach to the safety of the torturously flat intercoastal waterway. The opening leg is long enough to split the field (if the wind is blowing nobody will be drafting for the first 15 minutes) but not long enough to decide the race. By the two-mile mark, the leaders should be back in a comfortable draft train.
Carolina is famous for its massive lead pack, and I expect to see Titou, Connor, Danny, Daniel, Arthur and Kaelan all up there. The question is whether dark horses like Josh Riccio (edit: and Itzel) and the "next generation" of Rai (Japan), Polar Bear (Denmark), Jack (Hong Kong/South Africa), Shrimpy (Japan) and Tyler (USA) can pinch a ride in that lead pack. Any of the guys who are comfortable in the ocean (I'm looking at Shrimpy and Riccio here) should be able to make it to the flat water before the grind specialists like Hasulyo and Kaelan and then get a ride on the train when the hard work begins.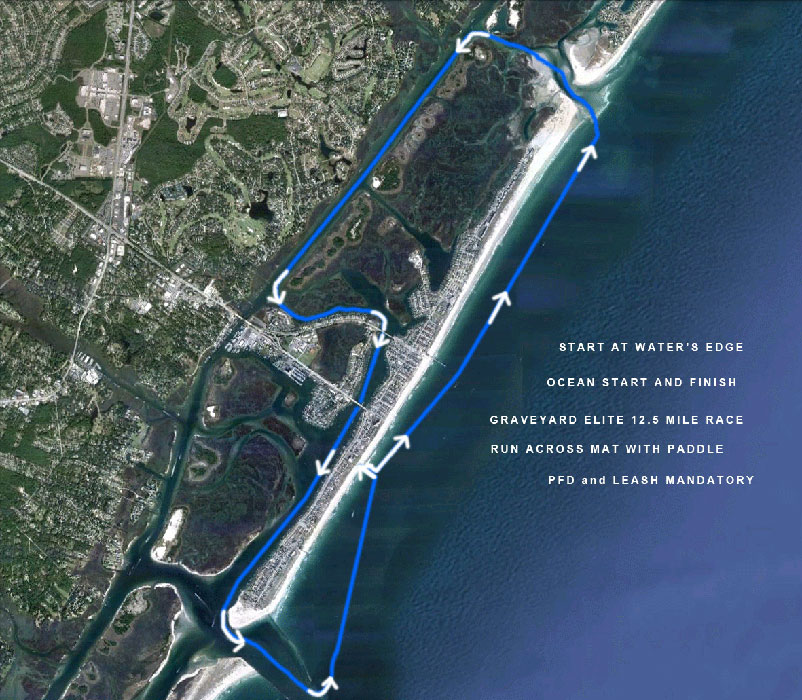 the official map (it'll probably be changed to a clockwise course)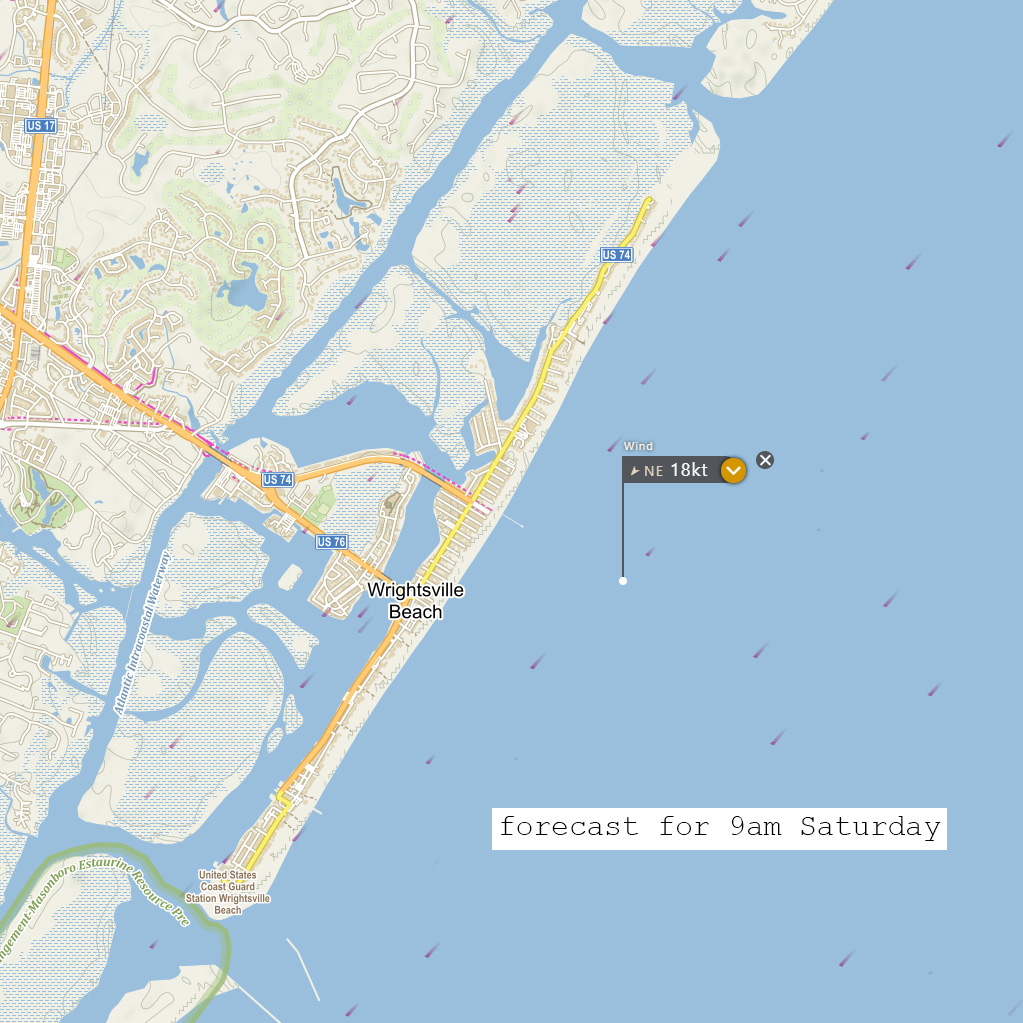 You can't win the race on the intercoastal but you can certainly lose it. It's a long, painful grind that often sees you paddling against the tidal flow and dodging recreational boat traffic (and boat wake). This is where you can burn yourself out if you don't race smart. Tactics within the lead draft train are critical to ensure you've got gas left in the tank for the "sprint" home. Because by the end of the intercoastal, there's only a tricky inlet to navigate before a few miles of ocean straight back down the coast to the start/finish point. It's these final miles that will decide the race, and it'll come down to a) whoever stayed in the lead draft pack on the flat and b) whoever loves to downwind (again, presuming the wind blows).
For those reasons it's pretty hard to go past Titou. He's already in world-beating, career-best form. He won the ICF Worlds marathon race and pretty much every other event in the European summer. If I didn't know anything about the conditions I still would have picked the "Cagou" for the win, but seeing the wind forecast it's a perfect storm and a chance for Titou to repeat his 2016 & 2017 Carolina titles to join Danny on three wins apiece.
It will take an extraordinary performance to stop France reclaiming this crown.
Connor obviously has the downwind skill to match Titou but he's not a fan of long distance events – he skipped the marathon at the ICF Worlds to focus on the sprints and short course (where he picked up a pair of silvers and beat everyone except Noic in the process). He's in good form after Hungary, so if Connor plays it smart and *if* he doesn't return to the Connor of 2018/2019 and burn out on the back straight then he should have the legs to out-surf Danny, Hasulyo and Kaelan to the finish. But there's a big if. Connor has never performed well at Carolina and he's even less interested in flat water distance races than he used to be. I have a gut feeling he'll rediscover his old love of a long, grinding paddle race, but he could just as easily finish outside the top 10.
How about Danny Ching? He's won this event three times and raced it far more than any of his rivals. Carolina is a strategic race and that strategy comes with experience, so Danny would start favourite on that one metric alone. But the former King of our sport (Danny was unbeatable a decade ago) hasn't been on top for many years. Does he still have it? There's a question mark there, but there's also a potentially exciting answer if Ching can rediscover his former glory. To borrow a cliché, it would be "good for the sport" if Danny returned to the top of the podium in Wrightsville.
Someone like a Josh Riccio (perennially under-rated to begin with) have a chance of taking a few scalps if the bumps are rolling on that final stretch. Though the biggest wildcard is probably Arthur Arutkin — I have no idea what form he's in, but on his day he can match it with the world's best with a style so graceful it almost looks like he's not trying.
It's awesome to see the next gen at this iconic race. All of these young men will be battling to be world champion in the next 5-10 years, but this weekend they'll probably just be looking to learn as much as possible from the Dannys, Titous and Connors of the world. Polar Bear won an ISA junior title, Rai claimed an ICF junior title and Jack was on the podium.
But if we're going to talk about the next generation, we need to talk about Shrimpy. This prodigy is still only 14 or 15 but he was already on international podiums as a 13-year-old (he got third at last year's 12 Towers). If it's a downwind finish he'd be stoked, but can a kid stick with the big guns on that long, tough, grinding back straight? The guys who could win a flat water race — Daniel, Kaelan and Danny — need to push the pace on the back straight to drop the young guys that will overtake them in the bumps. But if Shrimpy plays a smart drafting game and is still in the front pack when they re-enter the ocean for a downwinder to the finish, this kid could even be on the podium.
Personally I'd love to see Kaelan take the win just because it would make for a great story (and because he's a bloody nice guy). However, two things stand against the lone Aussie: The wind forecast — he's still learning how to downwind and won't match Titou/Connor in the bumps, and secondly he's never raced a big international event. Carolina requires serious race strategy, which is something you only get with experience. If Kaelan finishes top five it'll be a great learning experience to help build a future in this sport that looks extremely bright. Also don't count out Daniel Hasulyo. He was third at the ICF Worlds in his homeland of Hungary — not far behind Titou. But just like Kaelan, Daniel won't match the ocean masters if the wind whips up any serious bumps. If the forecast falls flat and it's a grind the whole way then he's definitely a shot at the win.
Making predictions is hard because guys like Danny and Kaelan haven't done any international racing this season, while the wind forecast isn't guaranteed either. We might end up with an anti-clockwise course and flat water the whole way round, which would re-shuffle this top 10 significantly (I'd still pick Titou either way).
At this point you're probably asking, "What about the women?" and I hear ya. But unfortunately the women's Graveyard field is absolutely tiny compared to the men's (just 21 entries compared to 103). It's also missing most of the big international names due to a combination of travel restrictions, new sports (I'm looking at you, foiling) and the fact this event is being held in November instead of April.
But while the start line will be slim, we do have two of the most powerful women in the world of paddling going head-to-head. There's not much more I can write about the women's Graveyard but to say it'll be a two-horse race between April Zilg and Seychelle. It'll also be an arm-wrestle, because I don't think much will separate these two. I have no idea what Seychelle's current form is like so my toss of the coin leans towards April just because we got to see her at the Worlds (though she did better in the short course than the marathon, which doesn't really help my argument).
In the end, my tie-breaker is a sentimental one: Wrightsville is April's old hometown. She'd love nothing more than to add her name to the list of legends who've saluted at this event.
EDIT: Ok, I forgot, Seychelle is pregnant. Not racing. She's probably still on the original start list from 2020… Ok, so it's April's race to lose.
Apart from the clear front-runners, keep an eye on Rika Okuaki from the famous Zamami Island in Japan. Carolina is a long way from the clear blue waters of Zamami, but Rika is an absolute pocket rocket. I definitely see her on the podium. I also rate the likes of Kim Barnes, Stephanie Shideler and youngster Abby Baker to hunt for the podium's third step. Apparently Juliette DuHaime is one to watch as well. But seriously, the forecast is terrible. And that's being polite. Just finishing this year's Graveyard will be worth a mention.
The race is happening Saturday morning local time, which is Saturday afternoon in Europe and Saturday night in Australia. I don't believe there's going to be a live stream of the Graveyard (I suppose we should be grateful this event is happening full stop) so check back Saturday evening local time for the results. (in case you're wondering why I'm not doing a live stream — I'm not there)
So without further ado, here's what I think will happen in the 2021 Carolina Cup Elite Graveyard Race.
(but can I just say that I changed my mind a dozen times before posting this; the top 10 is so full of talent that it's almost a guess at this point)
Boss Man's Bold Predictions
1. Titouan Puyo
2. Arthur Arutkin
3. Connor Baxter
4. Shrimpy
5. Daniel Hasulyo
6. Danny Ching
7. Kaelan Lockhart
8. Josh Riccio
9. Polar Bear
10. Rai Taguchi
Biggest question mark: Will it be a downwind finish?
EDIT: I just saw that Itzel Delgado is in town but not yet on the start list – he's another good bet for the top 10
UPDATE: The forecast is so bad that there's talk of finishing the race in the protected flat water section, which would dramatically alter the outcome and probably make the results look more like the hypothetical top 5 below. Final decision won't be made until Saturday morning…

1. April Zilg
2. Seychelle
3. Stephanie Shideler
4. Rika Okuaki
5. Kim Barnes
6. Juliette DuHaime
7. Abby Baker
EDIT: Seychelle isn't racing
Hypothetically, if the wind dies and it's a calm, flat race the whole way then I'd change my predictions to something like this:
Flat Graveyard Predictions
1. Titou
2. Kaelan (seriously, he's that good)
3. Daniel
4. Danny
5. Arthur
Oh and there's also a sprint race on Sunday morning for the first time at Carolina. The Viking Casper Steinfath is in town and from the looks of the start list he's not bothering with the Graveyard race (hell of a long way to go to only paddle 200 metres…). Given that he's already near-unbeatable over these distances, and considering he'll be fresh as a daisy while everyone else nurses a Graveyard (and Saturday-night-in-Wilmington) hangover, Casper will be a pretty safe bet.
Feeling bold yourself? Let me know in the comments what your own predictions are.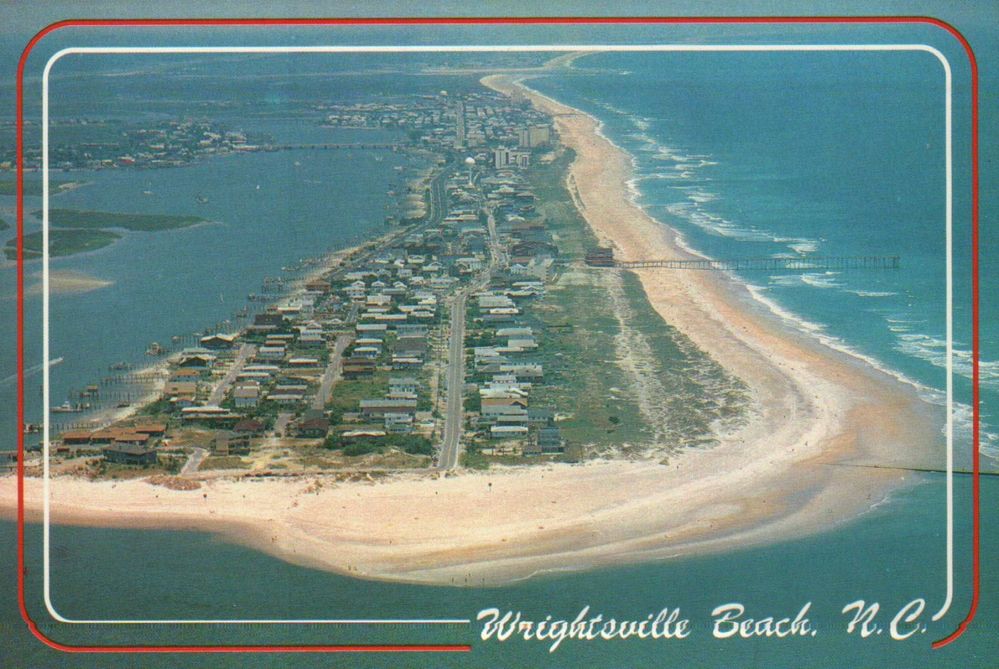 [notdevice] [/notdevice]