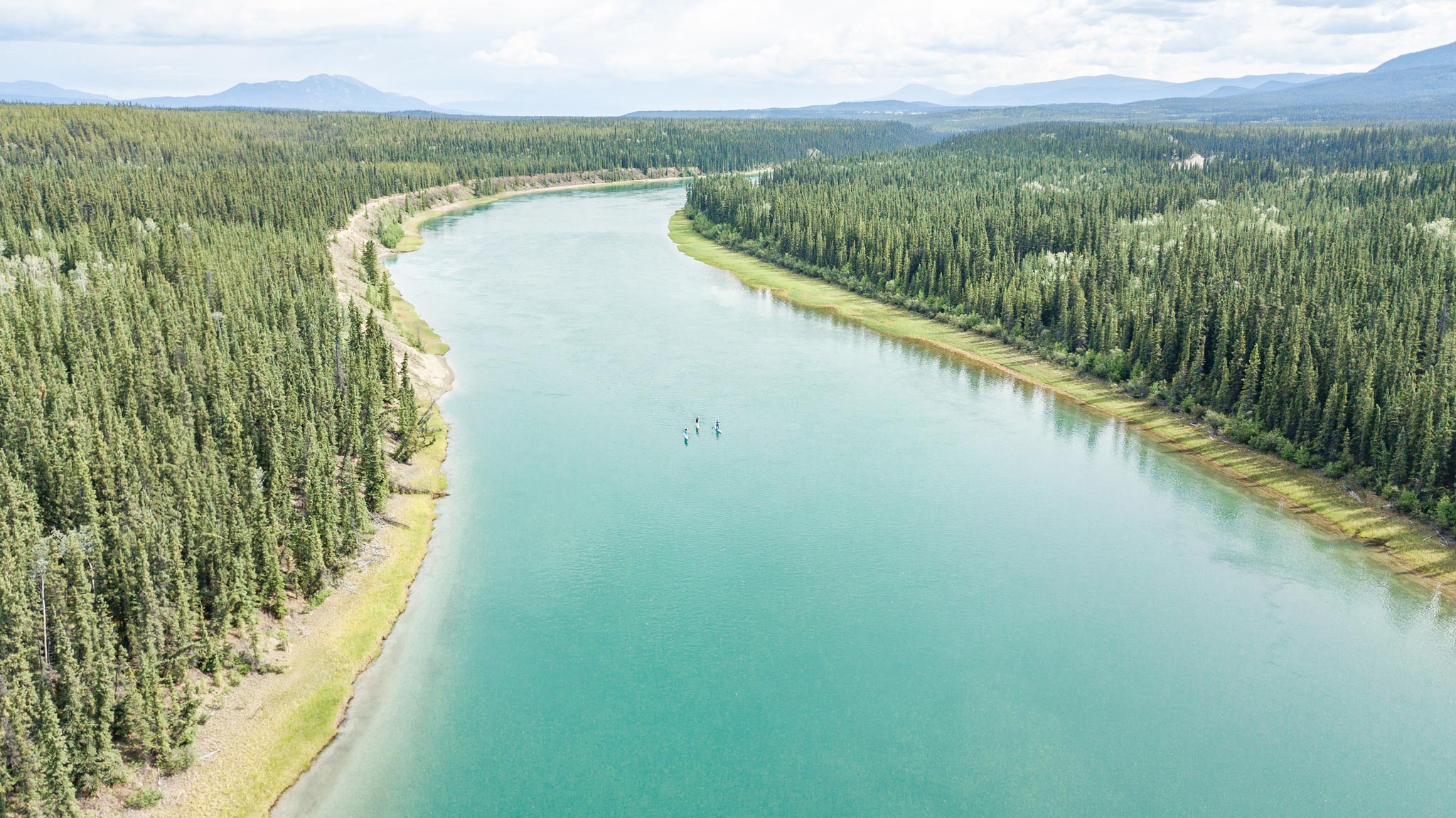 November 3, 2019
by Christopher Parker (@wheresbossman)
The 2020 Yukon River Quest sold out in just 12 hours (but you can still join the waiting list)
The world's longest* annual paddle race, the Yukon River Quest in Canada, has sold out in record time despite race day being almost eight months away.
Registration for the 2020 edition, which is happening from June 24-27, opened up last Friday and immediately attracted a flood of entries from around the world. There were 80 teams signed up after the first hour and 99 after two, with international paddlers staying up late or waking up very early to secure their spot.
The 125th and final team was registered around the 12 hour mark, which is twice as fast as last year's record. There are 75 "teams" (tandem or multi-person canoes and kayaks) along with 50 solo entries including 15 SUPs.
But if you missed your spot it's not too late to join this 715 kilometre odyssey: If you put your name on the waiting list today you'll probably still get a spot in the main event. Last year there were a few dozen withdrawals before race day as the reality of what they'd agreed to suddenly hit some of the early entrants.
If you've never done the Yukon River Quest and want to compete solo, first you'll need to send an email to info@yukonriverquest.com detailing your paddling and wilderness experience.
It's for your own safety — organisers want to ensure you're going to survive the brutal remoteness and mind-boggling length of the Yukon River. The legal waiver contains terms such as "hypothermia" and "bear mauling" — this ain't your typical paddle race.
[device]
[/device][notdevice][/notdevice]
But who did register in time?
Some of the early sign-ups include four-time Yukon champion and "King of the Ultras" Bart de Zwart along with former runner-up Jason Bennett. First-timers in 2020 will feature a couple of big names: Kelly Margetts has thrown his hat in the ring for the solo SUP division, while freshly-minted ICF World Champion Lincoln Dews and Japan's #1 Yuka Sato have both said they'll add their names to the waiting list.
It'll be very interesting to see if these famous names can match someone like Bart de Zwart over such a long distance. We've seen Bart get reeled in and overtaken in the 11 Cities over the past few years, but the Yukon is something else entirely. The Yukon River Quest is so much more than just a race, and I'd still put my money on the "wise man of SUP" going five-straight next year.
On a personal note, I'm very excited to be heading back to the Yukon in 2020 and very relieved that I'll be finishing much faster than 71 hours (my time from this year). That's because I've ditched my All-Star race board and joined an all-star, four-man canoe team alongside Quickblade Paddles founder Jim Terrell, his former two-man canoe training partner and fellow Olympian Rod McLain and living legend/four-time Molokai winner Travis Grant.
I'm completely out of my depth surrounded by such talent but also very excited for a new adventure. Now I've just gotta learn how to paddle sitting down…
---
* Footnote: The Yukon River Quest isn't actually the longest paddle race in the world. Incredibly, it's not even close. That honour goes to the "Yukon 1000" which, as the name suggests, runs for 1000 miles or 1610 kilometres. That race starts on the same part of the river as the YRQ but continues much farther downstream, across the US/Canadian border and into Alaska.
That race takes between 7 and 10 days to complete (and outside support is forbidden).
But the Yukon 1000 only happens every second year, giving the Yukon River Quest the title of "longest annual" race in the world. They'll both be happening in 2020 though — the YRQ at the end of June and the Y1000 just three weeks later on July 18. Both are traditional canoe races that now feature stand up paddlers.
MORE COVERAGE:
– Take a read of Bart de Zwart's epic recap of the Yukon 1000
– or my own story of the Yukon River Quest: 715km of dehydration, hallucinations and days that never end
– and we'll be releasing a trailer for our Yukon River Quest documentary later this week (it'll premiere on 20 November)