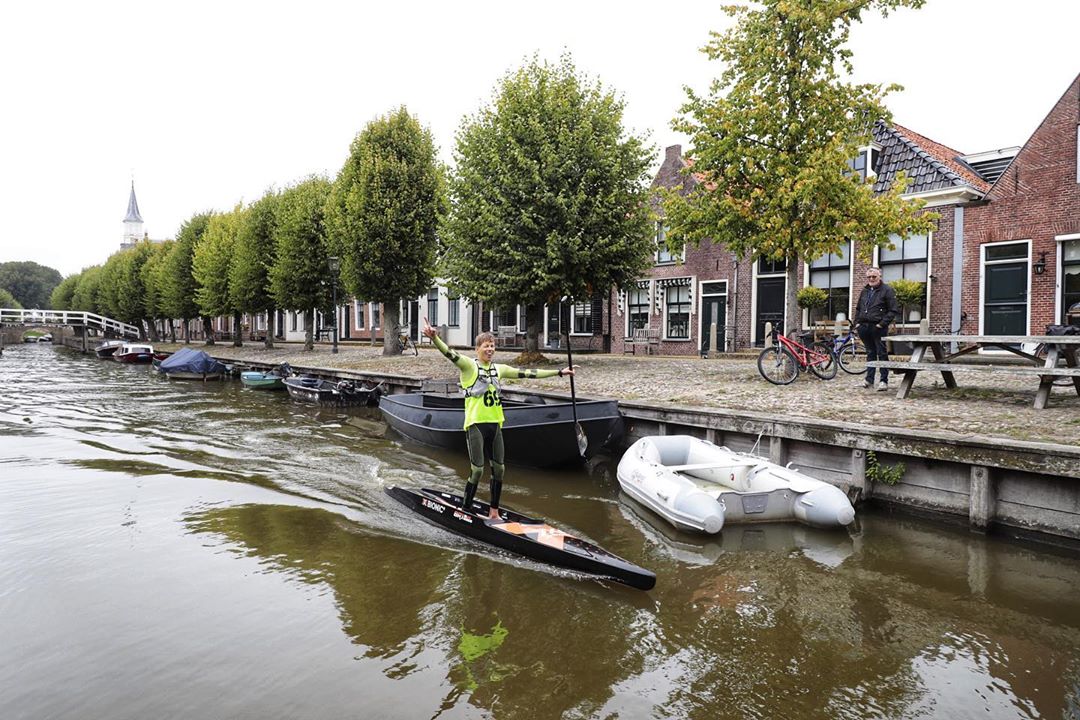 September 9, 2020
by Christopher Parker (@wheresbossman)
RECAP: Bruno Hasulyo and Petronella van Malsen reign in rough conditions on opening day of 11-City Tour ⛈️
In brief: Bruno Hasulyo has thrown down the gauntlet in his quest for a 4th 11 Cities title, an achievement that would put him on par with Bart de Zwart as the most successful athlete in the event's illustrious, 12-year history. Bruno outpaced the dangerous Dutchman Joep van Bakel by 10 minutes in today's opening stage from Leeuwarden to Sloten. Swiss darkhorse Alain Luck finished third not too far off the pace.
Home-nation hero Petronella van Malsen dominated the women's field in the wet and wild conditions. Paddlers have literally just crossed the line, but it looks like Germany's Tanja Ecker will take second spot in.
Competitors from all divisions battled wind and rain — i.e. a fairly standard 11 Cities stage — along the entire 48km route through canals and villages (even the "open race" divisions complete the entire course at this event). Stage one is punctuated by a 4km crossing off the infamous lake "Slotermeer" that often whips up conditions that wouldn't look out of place in the open ocean. Fortunately, the forecast looks better for the rest of the week.
Follow the SUP11-City Tour on Facebook and Insta for more updates and full results later tonight, along with a daily video recap. I'll be back on air tomorrow morning from 8:30am Central European Time for the SUP11 Morning Show on Facebook (8:30am Netherlands / France / Germany / Spain / Italy; 4:30pm East Coast Australia; 8:30pm Hawaii; 11:30pm California)

UPDATE: Stage one results
View the full results on Race Splitter
MEN – OVERALL
1st: Bruno Hasulyo (5:18:58) Open
2nd: Joep van Bakel (5:29:35) Open
3rd: Alain Luck (5:50:48) Open
4th: Niels Lonberg (5:52:11) Masters
5th: Guido Donze (5:55:59) Masters
WOMEN – OVERALL
1st: Petronella van Malsen (6:21:04) Open
2nd: Tanja Ecker (6:25:32) Open
3rd: Morene Dekker (6:53:39)
4th: Wietske Kuipers (6:55:18) Open
5th: Heleen Straatmaan (7:09:52) Master

https://www.instagram.com/p/CE6pgi9nEKM/
https://www.instagram.com/p/CE6wDZEnIUS/