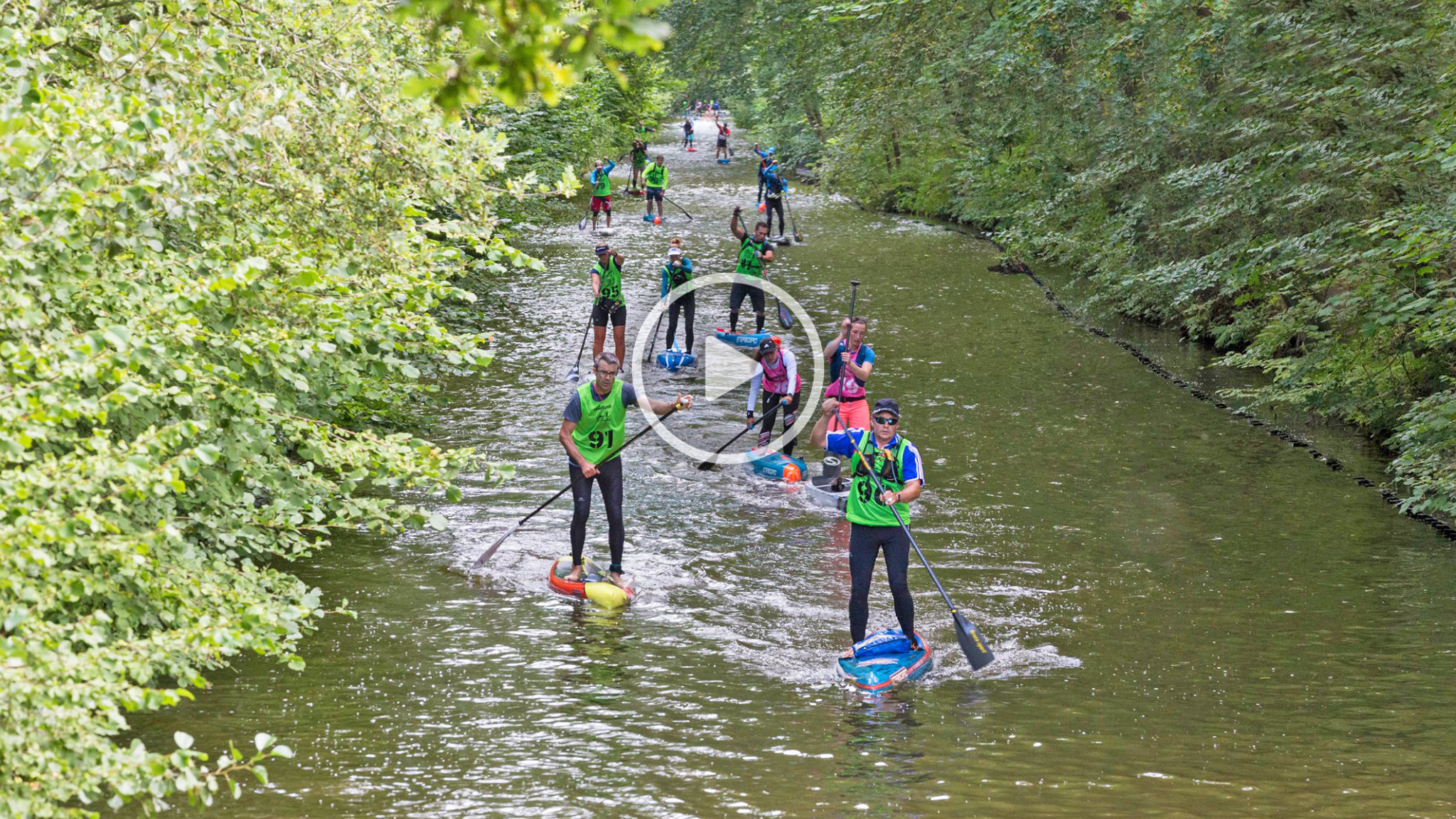 September 10, 2020
by Christopher Parker (@wheresbossman)
RECAP: Bruno Hasulyo, Petronella van Malsen cement leads on scenic second stage of 11-City Tour
After two stages and almost 100km of rollercoaster weather in the Dutch province of Friesland, Bruno Hasulyo has cemented his lead in the 12th Annual SUP11-City Tour as he vies for a record-equaling fourth title. Bruno paddled side-by-side with his main rival, Joep van Bakel, on a beautiful second stage to protect his 10-minute advantage from day one. The two main contenders crossed the line tied for the stage win after 4 hours, 49 minutes and 45km of flat water paddling. Swiss darkhorse Alain Luck was third once again.
Home-nation hero Petronella van Malsen once again saluted in the women's division, gaining an extra nine minutes on Germany's Tanja Ecker to give Team Mistral a near-unbeatable edge of 14 minutes overall. Petronella crossed the line after 5 hours and 25 minutes.
But arguably the biggest story of the day was the course itself.
The second stage was bathed in sunshine as paddlers glided through the most scenic part of the entire 200km – "De Luts" aka the Forest Jungle Ride where tree canopies drape across a narrow canal to create a theme-park-ride effect. And while Wednesday's opening stanza saw heavy wind and rain, the second leg between the "cities" of Sloten and Workum (via Stavoren and Hindeloopen) was a reverse-mirror image bathed in blue skies and sunshine.
Despite the fast pace out front, most paddlers are happy to simply finish each stage – the 11 Cities is more of an adventure than a race – with 53 paddlers completing the voyage to Workum in a year when turnout has been heavily suppressed by the global pandemic; the fact this event is happening at all is a minor miracle given how logistically complex the event is. Book-ending the back of the field was Halbe Algra, who crossed the line in Workum after almost nine hours on the water.
---
DAY TWO RECAP VIDEO
[notdevice][/notdevice][device]
(video not loading? watch on facebook)[/device]
---
Friday's third stage begins with a 12km individual time trial, which always creates some big gaps on the overall leaderboard, before continuing after the midday break with a 29km journey north to the "city" of Franeker. The 12th edition of the 11 City Tour (the event has been running every year since 2009) will conclude on Sunday in the start/finish city of Leeuwarden (gotta love these Frisian town names).
I'll be hosting another live show on Friday morning Holland time with special guest Bart de Zwart — you can watch on the 11 City Tour Facebook page from 8:30am Central European Time (3:30pm Japan, 4:30pm east coast Australia; 8:30pm Hawaii; 11:30pm California). (You can watch a replay of Thursday morning's live show ft. Bruno Hasulyo over on Facebook.)
Watch a great recap video of day two above (click to view on Facebook if it's not loading here), and be sure to follow the @sup11citytour Insta for more behind-the-scenes stories and photos from the tireless media volunteers.
---
2020 SUP11-City Tour: Stage Two – Men
1st: Joep van Bakel (4:49:54)
1st: Bruno Hasulyo (4:49:54)
3rd: Alain Luck (5:00:19)
4th: Guido Donze (5:01:07)
5th: Niels Lonberg (5:01:12)
2020 SUP11-City Tour: Stage Two – Women
1st: Petronella van Malsen (5:25:38)
2nd: Tanja Ecker (5:34:36)
3rd: Wietske Kuipers (5:45:10)
4th: Morene Dekker (5:51:57)
5th: Marion Behrens (5:56:13)
(full results stage one)
(full results stage two)
---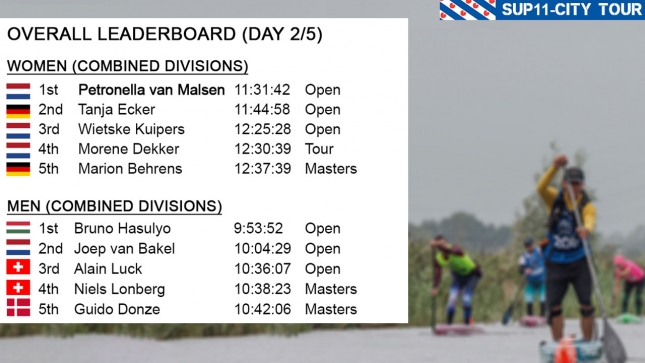 ---