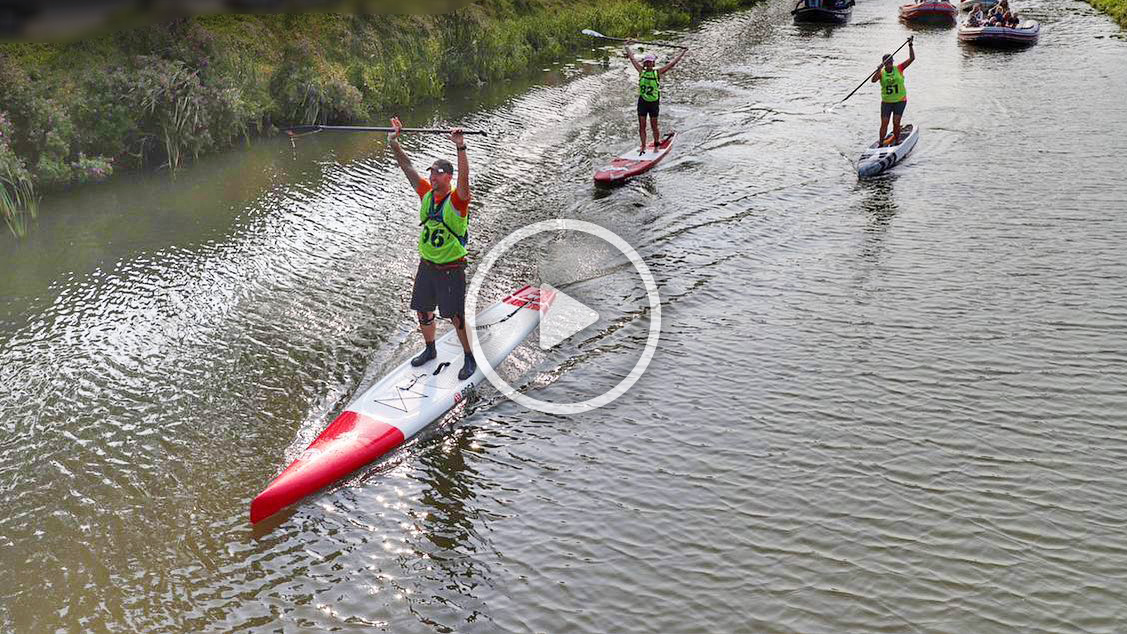 September 11, 2020
by Christopher Parker (@wheresbossman)
RECAP: Bruno and Joep go toe to toe on the time trial (11 Cities – Day Three)
In brief: Bruno Hasulyo added another minute and a half to his 10-minute lead after a great arm wrestle with Joep van Bakel during the individual time trial on day three of the SUP11-City Tour. The two front-runners set a cracking pace as light winds made for easy paddling conditions. The duo paddled side-by-side after the break to finish before a sprint to the finish saw Bruno get yet another stage win by less than a board length.
Mild weather and a merciful lack of rain once again greeted paddlers on "hump day" of the 12th Annual 11 Cities, which took the flotilla from the west Frisian "city" of Workum up north to the finish line in Franeker.
Petronella van Malsen was once again too strong for Germany's Tanja Ecker and local lass Wietske Kuipers to tighten Team Mistral's grip on the title.
For the top paddlers, day three was split between the 12km time trial followed by a standard 29km group stage to Franeker (the bulk of the paddlers completed the 41km voyage as a standard stage).
Results from stage three (time trial results not included — we'll post those separately in the morning)