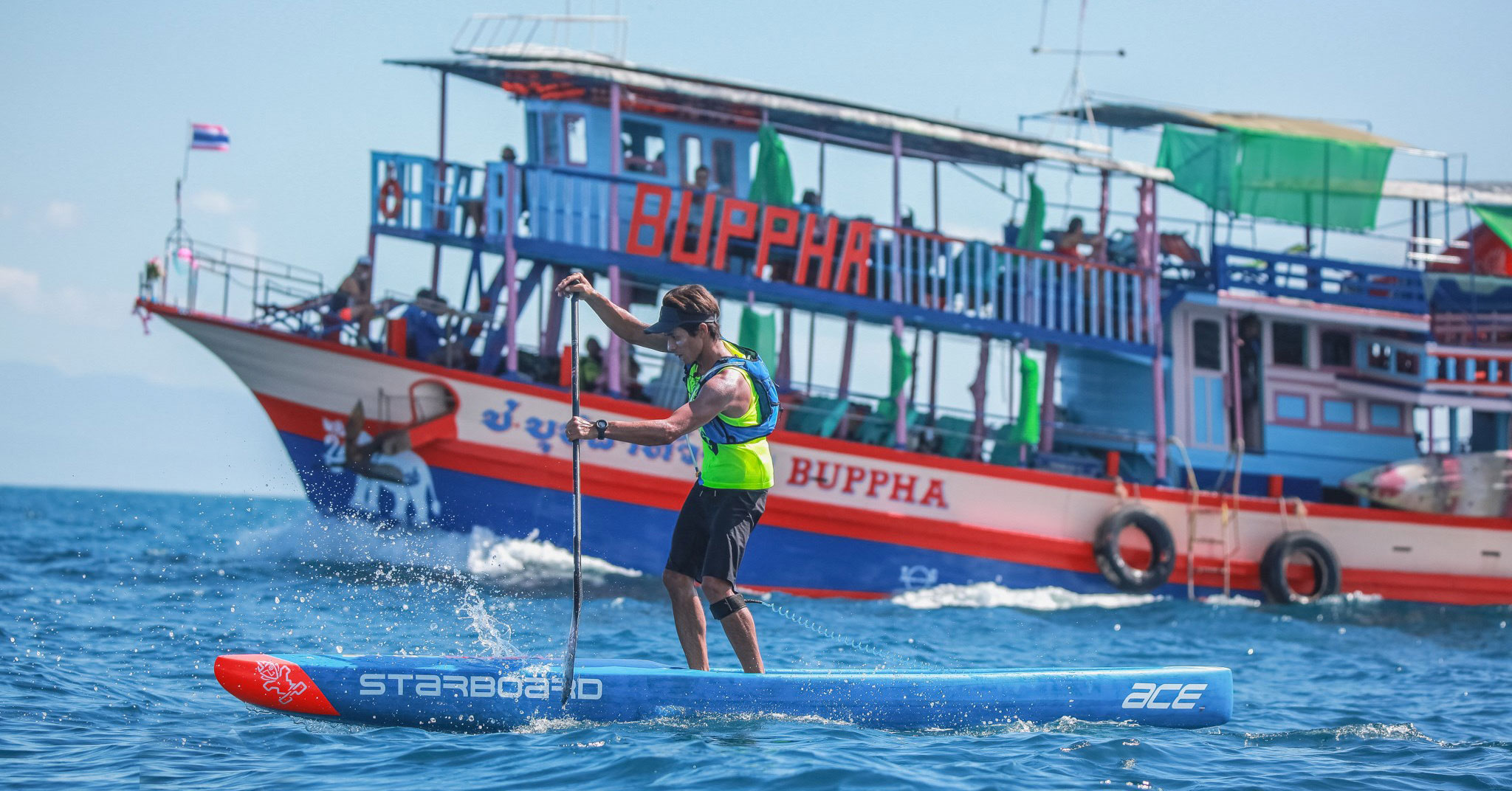 December 3, 2019
by Christopher Parker (@wheresbossman)
Why the '11 Islands' Tour of Thailand is probably the funnest "race" in the world
"Chris, do you want a beer?"
"Yeah, why not. It's bloody hot out here."
I was holding onto a rope and surfing behind the media boat when the race organiser threw me a beer. That's an instant DQ in just about any other event (for so many reasons), yet it seemed oddly appropriate here. Because while I was technically in the middle of a "race," the 'SUP 11 Islands Tour' is so much more than just a race that the term hardly applies.
So that afternoon I answered my own question: "What do you get when you cross the famous SUP 11 City Tour with a tropical paradise?"
What you get is an adventure, one you should stop whatever you're doing right now and add to your 2020 bucket list.
The 11 Islands is a bucket list-style paddle tour through the islands of Thailand that covers 130km (80 miles) in five days. It's based on the famous five-day, five-stage ultra endurance challenge in the Netherlands, but unlike the Dutch version this one isn't really a race at all. There's no official results at the 11 Islands, nor is there any real timing or pressure to get a good place. There's just a celebration of those who complete the journey.
It's not all beers and coconuts, though. It's still a serious challenge. To complete the 11 Islands (at least without cheating), you'll need to paddle five hours a day under a blazing hot sun. Some of the crossings between individual islands are 15km of open ocean.
But while it's not entirely a walk in the park, it's nowhere near as tough as the 220km 11 City Tour. The weather is also slightly different: Holland in September is famous for its cold, unpredictable climate, but Thailand in late November knows only one setting: blue skies and bloody hot (thank god for coconuts).
The 11 Islands falls under the new "SUP11X" umbrella, a spin-off from the famous ultra in Holland. The 2019 event in Thailand was essentially a trial run as two dozen pioneers tested a course set by Daniel Hasulyo (who did much of the work behind-the-scenes to make this event happen) around the islands of 'Trat' province. It was such a success that dates for 2020 have already been set: 25-29 November (registration opens next week), and several more "11X"events are planned for 2020 and beyond.
We paddled between 20 and 30km each day. Every stage featured a mass start, a (long) lunch break and a cold beer/fresh coconut/free massage combo at the finish followed by a group dinner on the sand. We usually slept in a new spot each night, and that usually meant a nice bungalow by the sea.
We had a big, old, colourful, double-decker Thai fishing boat – the "Mothership" – following us each day and transporting our lunches, coconuts, beers and luggage.
The adventure started on the bigger island of Koh Chang before heading south towards the smaller oasis of Koh Mak, where we spent two nights, and the "lost world" of Koh Rang, an uninhabited island covered by a seemingly-impenetrable jungle canopy and surrounded by Nemo-filled torquoise waters and coral reefs.
In between, the voyage featured stopovers at several smaller outposts that all offered the same thing: palm trees, coconuts and clear blue waters (plus the occasional monkey).
A snorkel and mask were just as much required items as a hydration pack and timing chip. Bruno Hasulyo stopped several times to go cliff jumping. He also wore a mini ghetto blaster around his neck, which kind of sums up the vibe of the 11 Islands–nobody takes it too seriously and everybody has fun as we explore a tropical paradise together.
We went jumping, we went snorkeling, and we sipped coconut cocktails at sunset in a little wooden bar at the end of a rickety old pier on a quiet corner of Koh Mak. We played post-paddle Uno with new friends from China, Holland, Thailand, Switzerland and Japan. We had drinks with the crew at the Bob Marley-themed 'Rasta Bar'. We had fun.
The local Thai paddlers – including the ever-smiling Nopphol "Nok" Khakay with whom I spent a lot of time on the water – were the most-stoked I'd ever seen and reminded me why I fell in love with this sport to begin with.
When I lost my fancy new phone to the ocean after the final stage, I didn't even care. I was so relaxed from my 18th Thai massage of the week that all I could do was smile as my poorly-maintained little scooter propelled me around the narrow bends of this paradisaical island in search of my next coconut.
Thanks for the adventure, Thailand. We'll see you again next year.
Footnote: I see a big trend towards adventure paddling and races that are more than just a race. The 'bucket list SUP world tour,' I suppose we could call it.
There's a clear desire for something "more" among many paddlers these days. And if that's your itch, SUP11X will definitely scratch it.
There are several editions planned for 2020 and 2021 including Thailand, Spain, Sardinia, Sweden and China. Add it to your bucket list and get ready for an epic adventure.
2020 ENTRIES OPEN NEXT WEEK
The 2020 edition of the 11 Islands is already confirmed for 25-29 November and entries will open as soon as next week. It'll probably sell out immediately because there are only going to be 50 spots available next year, so get ready. It costs a lot more than your average race, but it's also an all-inclusive package (race entry, accommodation, food, beers, coconuts, massages, etc). And besides, it's the paddling adventure of a lifetime. It's priceless.
Follow 'SUP11X' on Facebook (and join the 2020 event page) for more updates. I'll also be sure to give you a heads up at least 24 hours before the gates open.
Thank you to Ritske Merkus and the crew for organising this big adventure and inviting me over, with a special mention to Daniel and Sai for doing so much work behind-the-scenes, along with Paul and the gang from SUP Station Koh Chang for being such awesome hosts and Edwin, Chie san and the photography crew from Thailand and China plus our mates from Let's SUP Buddy for working overtime. See you all next year!