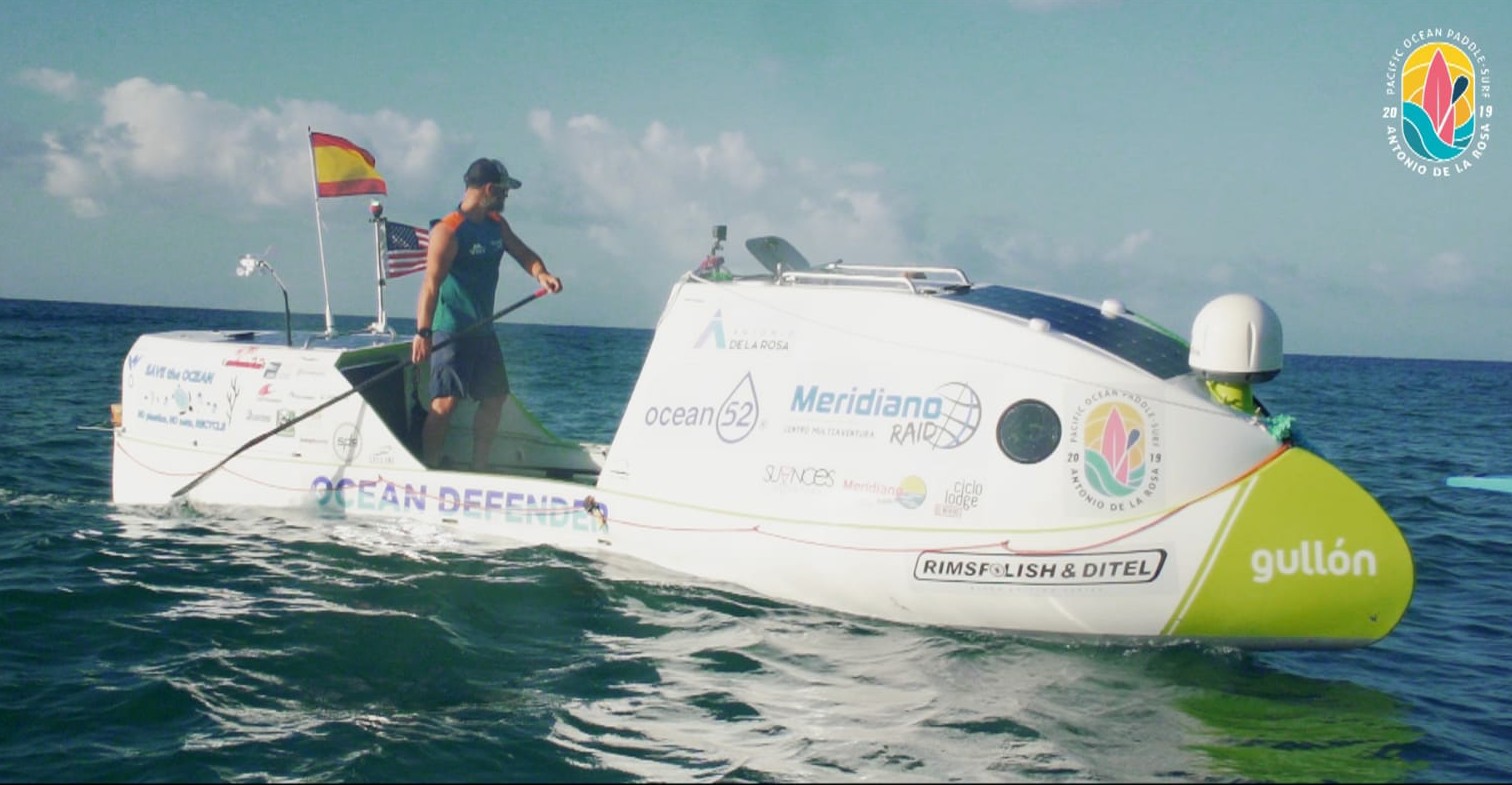 August 24, 2019
by Christopher Parker (@wheresbossman)
HE DID IT! After 77 days and 5000km, Antonio de la Rosa has paddled the Pacific from California to Hawaii
Antonio de la Rosa has become the first person to paddle across a major part of the Pacific Ocean standing up. The Spanish adventurer completed his epic voyage from California to Hawaii when he stepped onto the dock of the Waikiki Yacht Club on the island of Oahu early Saturday morning — August 24th, 2019.
We'll have to wait for confirmation of the precise distance, but the estimate is somewhere around 5000 kilometres or 3100 miles in 77 days.
UPDATE: The total was approximately 4750km or 2950 miles
Antonio departed from San Francisco, California on the 9th of June in his custom-built craft. The mission was completely solo and unsupported — the monstrous board held three months worth of supplies.
The first weeks saw Antonio get pushed south towards Mexico as the ocean currents tried to derail his quest, but he powered his way back on track and was soon heading straight for the Hawaiian islands.
The "Pacific SUP Challenge" conjures memories of Chris Bertish's successful transatlantic crossing in 2017. The time, distance and even the board all share similarities with Bertish' pioneering crossing, though Antonio and his team made a few changes to the craft.
Manufactured in Spain local by SUP brand Kundaka, the craft is officially known as "Ocean Defender" but could easily be called "The Peanut" due to its unique shape — Antonio wanted to create a board he could not only live on for three months but also paddle on both sides without shuffling his feet. That produced a fat bow and stern but a relatively narrow standing area, hence the peanut.
The other extraordinary part of Antonio's voyage is that he was sending daily updates on Instagram (must have been one hell of a satellite internet bill).
Keeping in good spirit the entire crossing, Antonio shared the daily grind of being alone at sea for almost three months straight — everything from surviving storms to cleaning his rudder. He was seemingly so relaxed that we were even chatting on WhatsApp over the past couple of weeks as he got closer to his goal.
By the time Antonio reached Hawaii he was sporting a full grizzly beard.
Epic adventures are nothing new to Antonio, a humble, humorous, larger-than-life Spaniard who famously won a 4700km transatlantic rowing race despite never having rowed in the ocean before.
He's also circumnavigated the Arctic Circle on an inflatable SUP (730km in 26 days), was the first Spaniard to complete the infamous Iditarod trail in Alaska and paddled the rivers across Spain and Portugal over the course of three weeks.
Antonio joins an exclusive club of adventurers that have crossed a significant stretch of both of the world's major oceans – the Atlantic and the Pacific – in a human-powered vessel.
Congratulations Antonio, "epic" doesn't even begin to describe this extraordinary accomplishment.
Follow @antoniodelarosa_sport and @posovisual on Insta for more