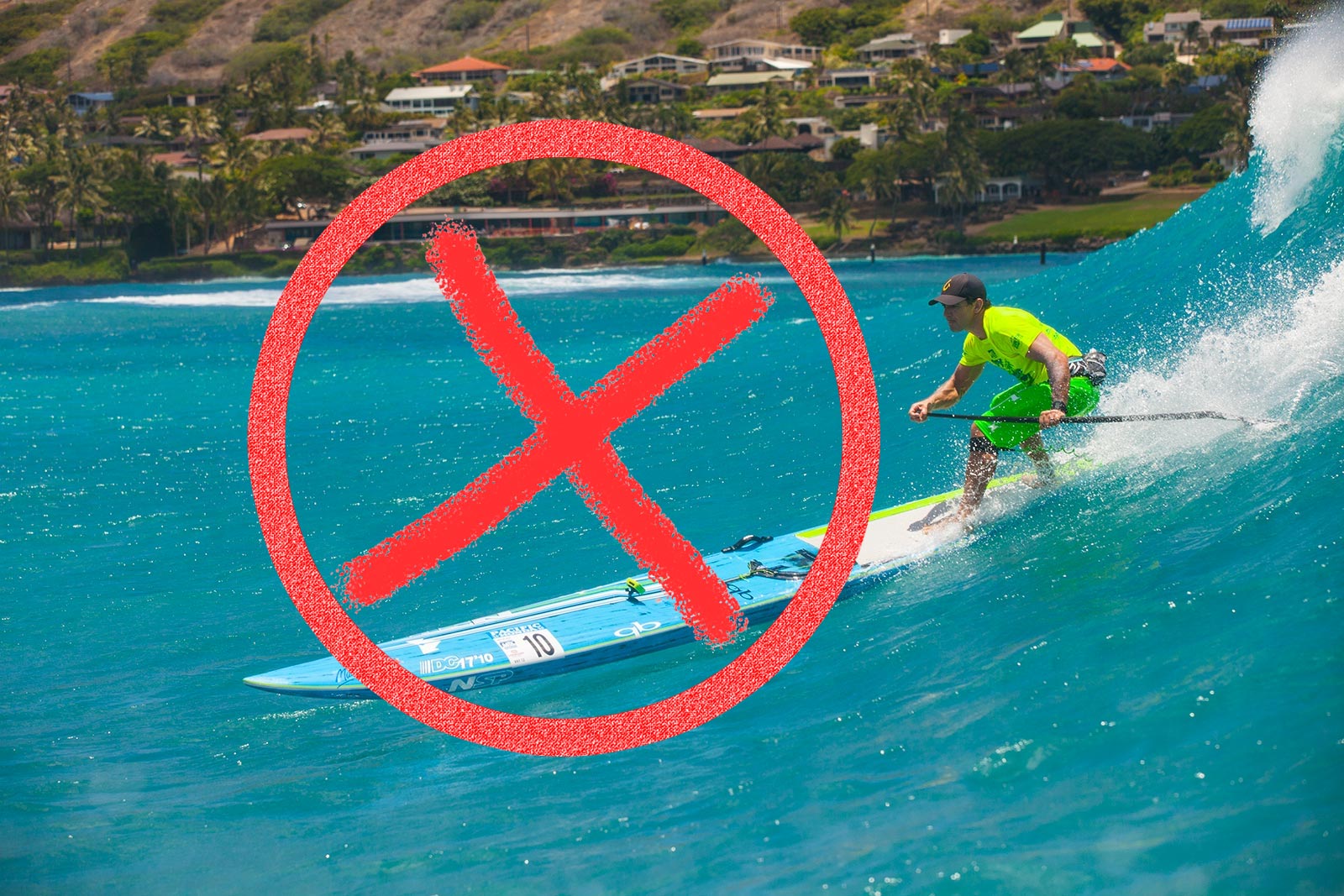 July 17, 2019
by Christopher Parker (@wheresbossman)
"Pretty bummed," defending champ Travis Grant is injured and OUT of Molokai
Defending champion and four-time winner Travis Grant has withdrawn from this year's Molokai-2-Oahu race through injury, throwing the door wide open for what is surely the most prestigious title in our sport.
Travis, the 2013, 2015, 2017 and 2018 Molokai champ and many tipsters' favourite to claim a record fifth crown next week, injured his ribs while steering a six-man outrigger canoe in the 4th of July race at Waikiki. The ever-humble Aussie gave himself time to recover but the injury wasn't improving, telling me on Messenger this afternoon that "I can barely even paddle right now let alone race a distance like that."
The crossing of the Ka'iwi Channel between the Hawaiian islands of Molokai and Oahu is 52km (32 miles), and Travis holds the current SUP record of 3 hours 59 minutes. The NSP and Quickblade team rider summed up his disappointment:
"Yeah pretty bummed hey. I usually don't rate my chances at Molokai but I was actually feeling pretty good this year. Training had been going great in the six-man which is always a good indicator for me. Then a few weeks ago I took out Maui2Molokai for the first time on a SUP. Was looking forward to Molokai. Having someone like Boothy in the field made me a little nervous if there wasn't any wind but otherwise I think it would have been a really good battle between me, him, Jimmy and Kenny."
Trav's withdrawal guarantees a new winner in the prestigious men's solo unlimited SUP division after the other recent champions Connor Baxter (2011, 2012, 2014) and Kai Lenny (2016) elected not to compete. Connor has shifted all his focus to the Pan-American Games, which will be held in Peru the week after Molokai, while Kai will be defending his Molokai foil title and has all but moved on from SUP racing. Titouan Puyo, third in 2017 and an injury retirement last year, is also sitting it out this year.
The hot favourites will now be last year's third-place finisher James "Jimmy" Casey and Aussie powerhouse Michael Booth. Both these guys would have had a shot at the title no matter who was on the line but will now have a bit of pressure on their shoulders.
Jimmy was runner-up behind Travis at M2M a few weeks ago, finishing ahead of Connor (who had never lost a race across that channel) and looking in good form as he aims to cement his status as one of the world's best ocean paddlers. And while Boothy has the name recognition plus world-beating form, many observers would probably tip the Sunova team rider if the wind is firing. Jimmy also has the experience: He's finished top five on four occasions while Boothy has never done this race (at least not standing up — he's done it a few times on a surfski).
Whatever happens, it should be a cracking contest. I spoke with Jimmy this arvo to get his reaction to Trav's withdrawal and the looming battle with Boothy and Kenny.
I'm bummed that we won't have a chance to battle Trav. You always wanna race the best guys especially in these big events. It's a bit of an unknown with the past three winners all out — suddenly there's no form guide. Definitely exciting there will be a new winner and hopefully I can improve on last year's result because Molokai is what I focus a lot of my year around. But yeah it'll basically just be "See you on race day, fellas" because Boothy has never done this race on a SUP and Kenny wasn't there last year, so I don't know what to expect from them.
Japan #1 and Molokai veteran Kenny Kaneko will be a good bet for the podium and an outside chance at the win, while there's been rumours that Lincoln Dews – not mentioned on the official start list – could be a last-minute entry [UPDATE: I reached out to Linc to confirm but he said he was still undecided].
But despite some big name withdrawals there's still going to be one former champ on the start line. While the pre-Travis/Connor/Kai trio of Duane Desoto (2008), Ekolu Kalama (2009) and Dave Kalama (2010) have long since retired from SUP racing, the first-ever champion will be racing this year. Kevin Horgan, who claimed the first two SUP editions of Molokai way back in 2006 and 2007, isn't going to be in the hunt for line honours but will be flying the flag in the 50-59 solo unlimited division.
The women's field is quite small but does feature two of the most dominant forces in Molokai history: Three-time champion Sonni Honscheid (2014-2016) and defending champ and two-time winner Terrene Black (2013, 2018) will start red hot favourites and are almost impossible to split. Neither has raced regularly this season – Terrene is focusing on her firefighting career while Sonni has taken a break following her near-flawless 2018 season. But apart from Penelope Strickland (2017) no other woman has won a Molokai unlimited title in the past six years.
So while some of the biggest names are missing, we still should be in for some great battles in both the men's and women's solo divisions (and in the men's 14′ stock class there should be a good fight between former champ Josh Riccio and Mo Freitas).
For the second year, Molokai will also feature an official foil division, with Kai Lenny the hot favourite to defend against the likes of Kody Kerbox, Jeffrey Spencer, Bernd Roediger, Clement Colmas and King of the Cut foil champ (and Sunova board designer) Marcus Tardrew. Pioneering women's foiler Annie Reickert is the only entrant in the women's division, though perhaps she'll get the call up to race unlimited and replace her absent NSP teammate.
The 23rd Annual Molokai-2-Oahu Paddleboard World Championships – the 14th edition to officially include SUP (world's longest-running SUP race?) – will be held on Saturday, July 28. You can follow the race via GPS on the official site (no official word on live video coverage yet).