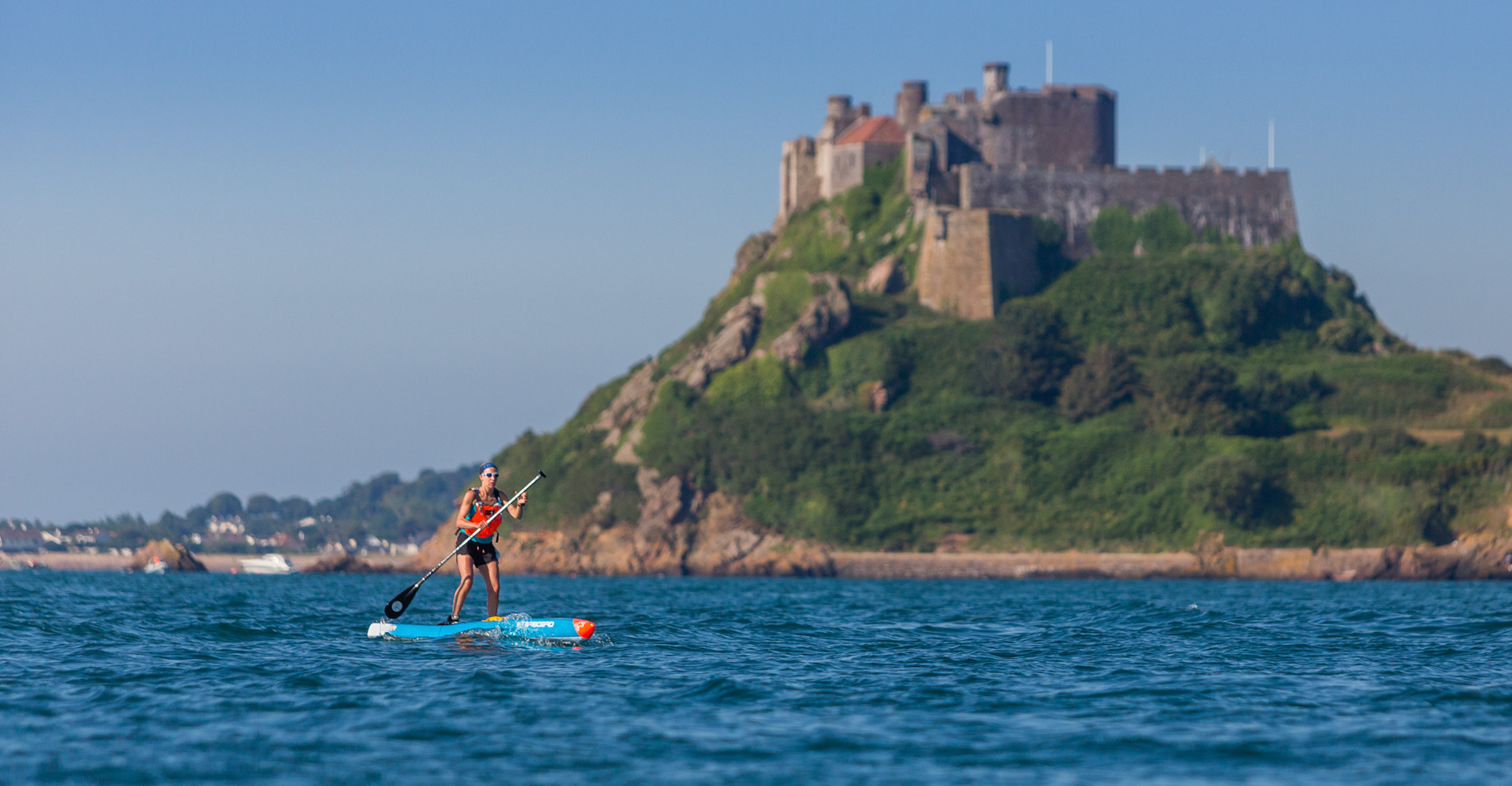 August 30, 2019
by Christopher Parker (@wheresbossman)
Jersey Round Island Challenge: I'm going to attempt the world's longest live stream tomorrow
I've just arrived on the island of Jersey (old Jersey, not New Jersey) for the next stop of The Ultra Paddle League – a new series that promotes the world's longest races – and we've decided to try something rather special.
The "Jersey Round Island Challenge" presented by Gill Marine is a classic charity event that offers a unique ocean challenge. The traditional course would be about 55kms (34 miles) and includes some of the largest tidal currents in the world that make "navigation" just as important as strength & stamina.
But… it's not going to be a round-island race this year.
Wild seas are predicted along the rugged north coast of Jersey on Saturday, which has forced organisers to adopt plan B.
Competitors will now traverse the protected south coast of the island in a course that will be around 40km. The new route not only protects competitors from being mercilessly slammed into sheer cliffs along the north coast, it also keeps us within range of steady mobile internet for the whole race.
So… I thought I might as well attempt the world's longest live stream.
The race is expected to last around 6 hours, and I'm aiming to live on air the entire time calling the action.
I've never done a live stream over three hours, and even that was a stretch, so this is definitely unchartered territory. But after falling in love with podcasts and watching far too many days of the Tour de France, I thought it would be a fun experiment in rambling commentary storytelling.
I'll be joined on the boat by local legend and former race winner Aaron Rowe, a real character of a lad who will add a healthy dose of local knowledge and a few entertaining stories to the stream.
The Jersey Round Island Challenge starts at 7:20am local time tomorrow (Saturday). We expect to be on air any around 7.15am and run right through until the race finishes (or until my battery packs do).
You can watch the live stream on The Paddle League Facebook page.
Don't expect ESPN, don't expect edge-of-your-seat action, but do expect an experiment that will either be a bold new frontier for our sport or a complete and utter failure. Either way, it should be some good fun!
WHEN TO WATCH
Race starts 7.20am and we expect to be on air about 5 minutes before that.
7.15am Saturday morning in Jersey =
8.15pm Friday night in Hawaii
8.15pm Friday night in Tahiti
11.15pm Friday in California
1.15am Saturday in Peru
2.15am Saturday in Florida
3.15am Saturday in Brazil
7.15am Saturday in UK
8.15am Saturday in France
8.15am Saturday in Germany
8.15am Saturday in Spain
8.15am Saturday in South Africa
9.15am Saturday in Israel
9.15am Saturday in Ukraine
1.15pm Saturday in Thailand
3.15pm Saturday in Japan
4.15pm Saturday in Australia (Eastern)
5.15pm Saturday in New Caledonia
6.15pm Saturday in New Zealand
Watch live on The Paddle League.