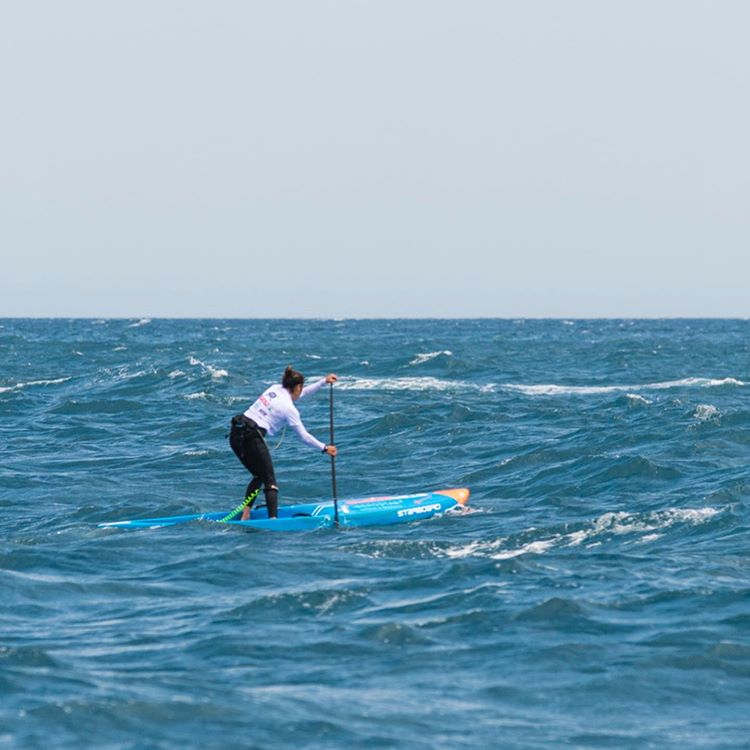 May 25, 2019
by Christopher Parker (@wheresbossman)
EuroTour update: Amandine Chazot and Tom Auber have won the downwinder in Spain
In brief: Tom Auber and Amandine Chazot have claimed the latest round of the EuroTour in the north-east of Spain. The French duo saluted at the Cap de Creus SUP Challenge in a great downwind run a couple of hours north of Barcelona.
Tom's toughest challenge came from compatriot Martin Vitry, while last week's third-place finisher Vinni Martins repeated his result after out-sprinting Martin Letourneur and Ty Judson in the final hundred metres.
Amandine triumphed over fellow Frenchwoman Olivia Piana, while Laura Quetglas hit the podium for Team Spain for the second week in a row. It was another big showing from the junior girls out of the Spanish island of Mallorca, with young training team-mates Duna Gordillo, Sonia Caimari and Sonia Hurtado all hitting the top 10.
Follow The Euro Tour for more coverage. Here are the early results…
WOMEN'S TOP 10
1st: Amandine Chazot (FRA) Sunova/QB
2nd: Olivia Piana (FRA) Rogue
3rd: Laura Quetglas (ESP) Starboard/QB
4th: Melanie Lafenetre (FRA) Infinity
5th: Susak Molinero (ESP) RRD
6th: Noelani Sach (GER) NSP
7th: Duna Gordillo (ESP) F-One/QB
8th: Sheila Sirvent (ESP) Starboard/QB
9th: Sonia Caimari (ESP) SIC/QB
10th: Sonia Hurtado (ESP) Starboard/QB
MEN'S TOP 10
1st: Tom Auber (FRA) Fanatic
2nd: Martin Vitry (FRA) SIC/QB
3rd: Vinnicius Martins (BRA) JP
4th: Martin Letourneur (FRA)
5th: Ty Judson (AUS) NSP
6th: Ludovic Teulade (FRA) Oxbow/QB
7th: Enzo Bennett (TAH) 425
8th: Bruno Hasulyo (HUN) Lightboard
9th: Boris Jinvresse (FRA) Sunova/QB
10th: Kelly Margetts (AUS) Sunova/QB