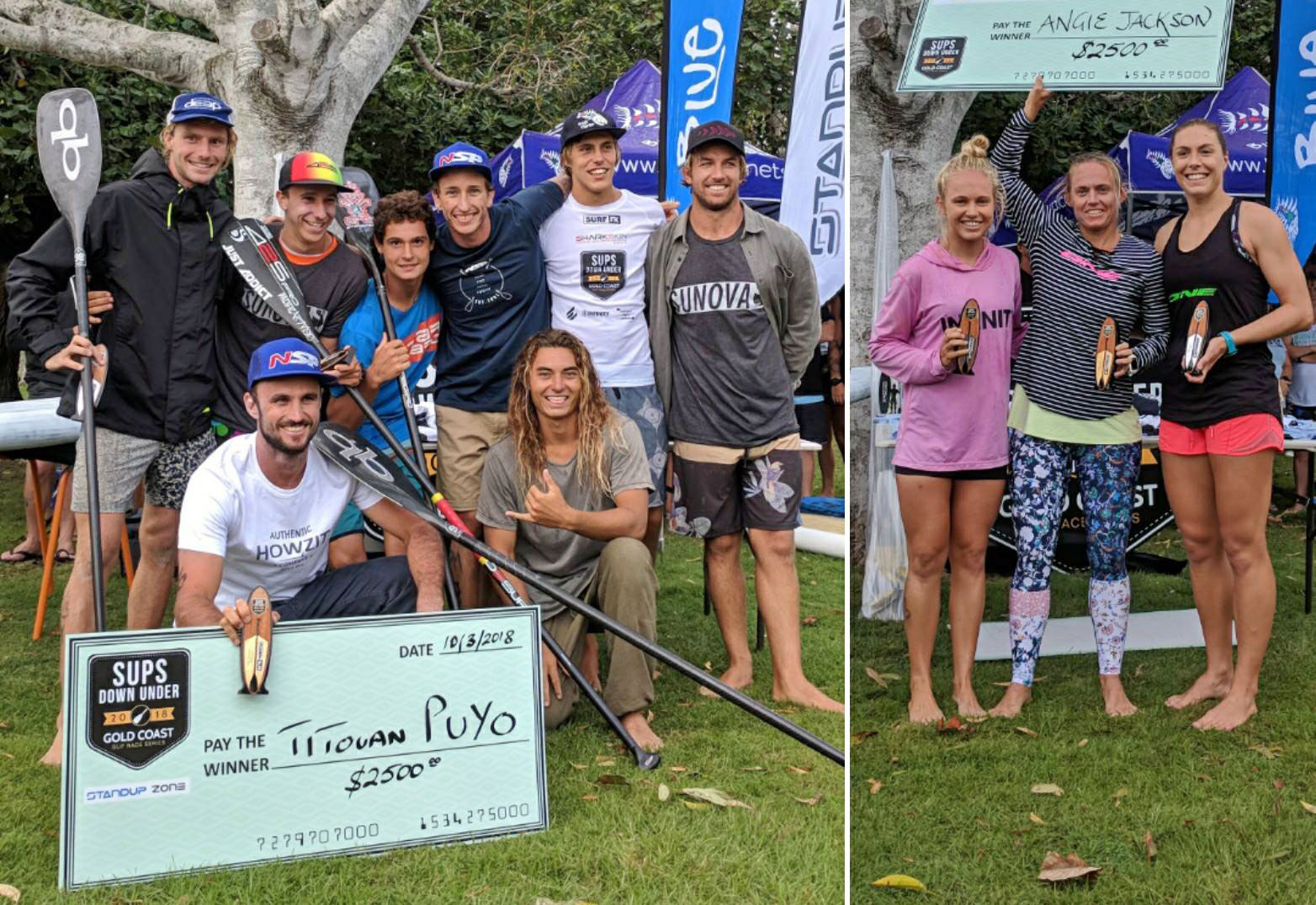 March 10, 2018
by Christopher Parker (@wheresbossman)
Titouan Puyo, Angie Jackson Win the "SUPs Down Under" Double Downwinder as Tiny New Caledonia Owns Australia
https://www.instagram.com/p/BgIqNSdHMC9/
Titouan Puyo showed he's still the king of New Caledonia, but there are no shortage of heirs apparent after the tiny Pacific island nation blew away the Aussies at the SUPs Down Under event on Queensland's Gold Coast today.
New Caledonia took four of the top five spots in the men's race, with Titou being joined by Noic Garioud (3rd), Clement Colmas (4th) and the new downwind dark horse (or "le cheval noir") Ben Riviere. Only runner-up Lincoln Dews managed to get in between the "Cagous" and salvage some pride for the home team.
Lincoln's second place was very nearly a first, with the Queenslander missing the final channel marker/buoy turn on the first run after leading the entire way. He went toe-to-toe with his Quickblade team mate, Titou, on the second run, but that mistake on the opening leg was too much to make up for, which left the New Caledonians to celebrate an historic sweep.
To put things in perspective: the entire island nation of New Caledonia has a population of just 280,000 — exactly half that of the Gold Coast where the race was held today (and the Goldy is only Australia's 7th largest city; Australia's total population is roughly 90x larger than New Caledonia's).
Apart from Lincoln and the New Cal crew, others to impress include Aussie dark horse Ty Judson (6th), who picks up his second solid finish in two weeks, as well as James Casey (7th) who was clearly enjoying the windy second run much more than the painfully light opener.
The change in conditions between the two runs sent some competitors on a game of Snakes & Ladders, with young gun Itzel Delgado taking fourth on the first leg but finishing ninth overall after hitting the wall on the second. Operating in reverse was the slow-starting Bernd Roediger, who finally got his beloved bumps on the second run to storm back into the top eight money spots.
In the women's, Angie Jackson matched Titou's heroics and made it a double win, narrowly outlasting her ONE team mate Kate Baker on the second leg to secure the $2,500 winner's prize. It's a nice bit of redemption for Angie who suffered severely in the heat at last weekend's the 12 Towers race.
Local girl Chloe Walkerdene rounded out the podium with a solid all-round performance between the two runs; the top 30 guys and top 3 women were given a second (and much funner) run on the downwind course after 135 paddlers took part in the opener.
One of the pre-race favourites Terrene Black sat out the second leg after finishing third in the first and strongly disagreeing with some of the rule interpretations during the crowded opening kilometres where drafting was plentiful.
Thanks to the organisers for a fun day, and look out for full results on the official SUPs down Under Facebook page.
PRO MEN
1st: Titouan Puyo
2nd: Lincoln Dews (Australia
3rd: Noic Garioud (New Caledonia)
4th: Clement Colmas (New Caledonia)
5th: Ben Riviere (New Caledonia)
6th: Ty Judson (Australia)
7th: James Casey (Australia)
8th: Bernd Roediger (Hawaii)
9th: Itzel Delgado (Peru)
PRO WOMEN
1st: Angie Jackson (Australia)
2nd: Kate Baker (UK/Australia)
3rd: Chloe Walkerdene (Australia)
[notdevice][fbvideo link="https://www.facebook.com/supracerr/videos/1665955860155125/" width="645″ height="363″ onlyvideo="1″][/notdevice][device][fbvideo link="https://www.facebook.com/supracerr/videos/1665955860155125/" width="322″ height="181″ onlyvideo="1″][/device]