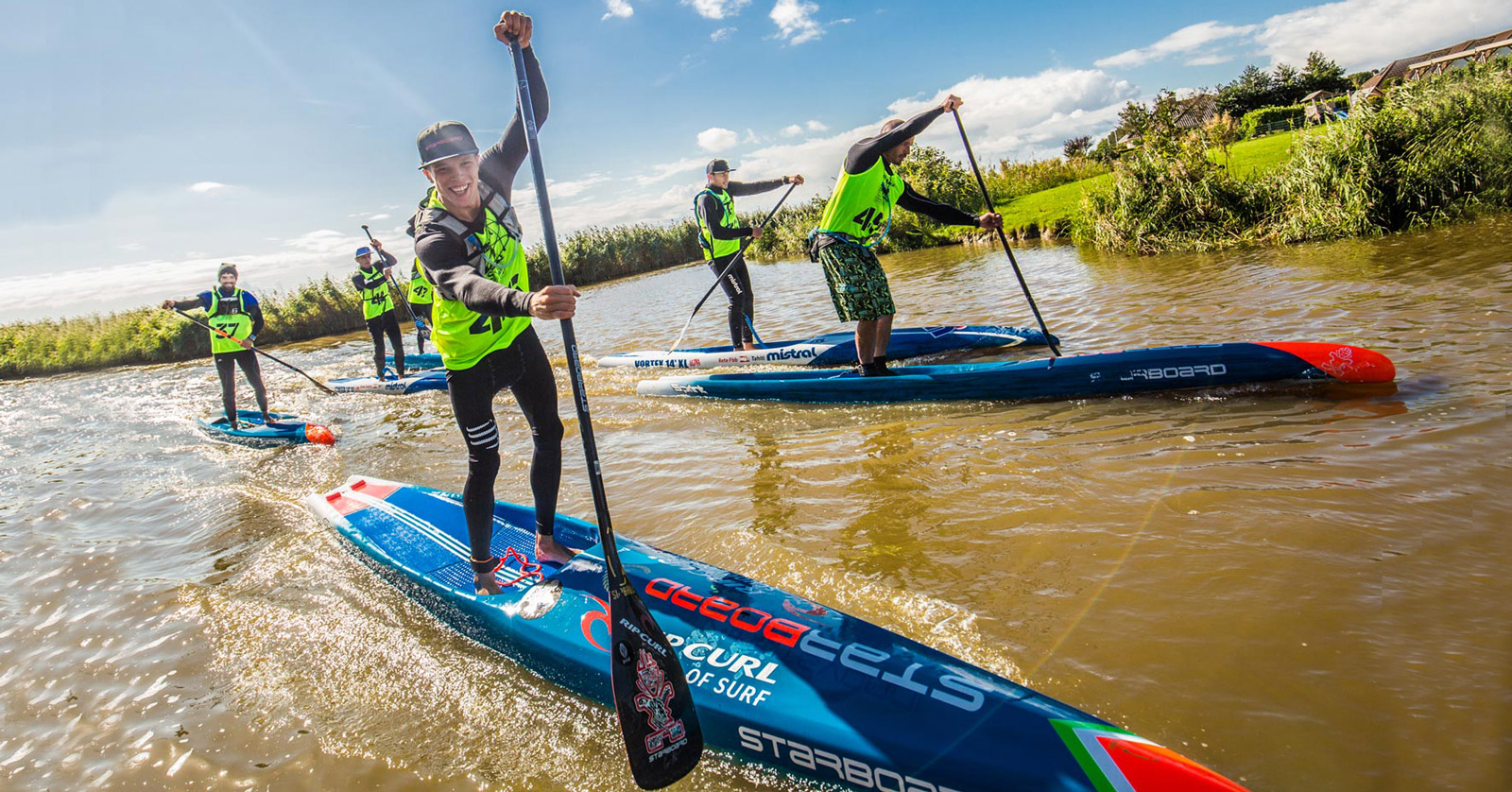 September 4, 2018
by Christopher Parker (@wheresbossman)
The 'SUP 11 City Tour' begins Wednesday: Here's when, where and "why" to follow this classic race.
It's arguably the most epic race in the world of paddleboarding: Five days, five stages and more than 200 kilometres of fun, horrible, grueling and rewarding paddling through the Dutch countryside.
Welcome to the 10th anniversary edition of the SUP 11 City Tour, a race that holds a special place in the hearts of the many paddlers from around the world who make an annual pilgrimage to the province of Friesland for a week-long event that's best described as "school camp for adults."
Every edition of this unique race is a week to remember, but with 10th birthday celebrations this year's SUP 11 City Tour is set to be an instant classic. The event is also part of The Paddle League, with the 11 Cities earning a 6-star "Specialty Major" status on the new world tour.
With the mind-bogglingly crazy 'Non-stop Tour' now complete, the traditional stage race begins on Wednesday and continues through til Sunday. Competitors will paddle 5 to 8 hours per day — some just want to finish and complete their own personal journey, while others will be battling for each and every second in the hunt for the top spots.
In the men's field, the raging hot favourites are Bruno Hasulyo (2016 champ) and his brother Daniel (2017 winner). While on the women's side it's going to be a tight field with three very strong contenders: 2015/2016 champ Seychelle, 2018 dark horse of the season Yuka Sato, and two-time runner-up Petronella van Malsen who's representing the home nation.
But this event is about so much more than just who wins the elite division. There are personal battles and interesting stories right throughout the field, and as clichéd as it sounds: everyone that crosses the finish line on Sunday afternoon is a winner.
There's a staggered start each day, with the amateur divisions heading off at 8:30am followed by the women and master's men, before the men's open & elite field starts at 9:45am (here's the full schedule).
Days 1, 2 and 4 are "normal" stages where it's a mass start, however days 3 and 5 feature the time trial format that will surely put some big gaps on the overall leaderboards.
I'll be out there myself in the open competition division, and with absolutely zero training this year I'll be pretty stoked just to hit the finish line (so expect updates mid-afternoon after I stumble over the line).
With (relatively) good weather forecast and a record 200+ entrants for the 10th anniversary celebrations, it's going to be a big week here in Holland. Hopefully by now you know "why" to follow this amazing adventure, but here's exactly when and where to watch:
---
The Evening Stage
Each day I'll be hosting "The Evening Stage" daily recap show alongside 11 Cities legend Bart de Zwart. We'll have results, highlight reels and interviews with some of the more interesting characters that make this race so unique.
Tune in to watch live on the official SUP 11 City Tour Facebook page from 6pm 7.30pm local time Wednesday to Sunday (there will be a full replay available straight after each show)
7.30pm in the Netherlands =
7.30am Hawaii
7.30am Tahiti
10.30am U.S. Eastern
11.30am Peru
1.30pm U.S. Pacific
2.30pm Brazil
6.30pm UK
7.30pm South Africa
7.30pm C. Europe
8.30pm Israel
12.30am Thailand
2.30am Japan
3.30am Australia
4.30am New Caledonia
5.30am New Zealand
---
Live GPS tracking map
Track the athletes each day with the live GPS map on the official site:
https://sup11citytour.com/livesup11/
(take note of the staggered starts; men's masters will start 15 minutes before the men's open/elite divisions)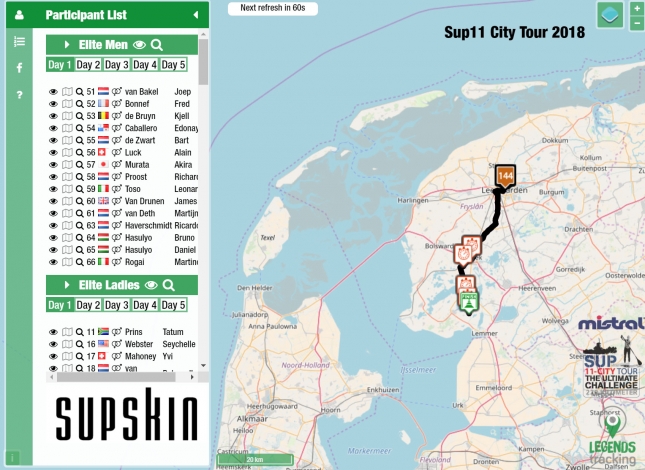 ---
SOCIAL
This will definitely be the main way to follow this year's race, with regular updates from SUP Racer, The Paddle League, TotalSUP and an endless stream of content on the official SUP 11 City Tour channels.
11 City Tour on Facebook
– The official 11 Cities page will have regular updates, photo galleries, daily video recaps and potentially live streams at the start of each stage (internet permitting)
@sup11citytour on Instagram
– Regular posts and plenty of Insta Stories showing what happens behind the scense
The Paddle League on Facebook
– Daily updates, results and insights
@paddleleague on Instagram
– Insta Stories/interviews/insights and regular updates
SUP Racer on Facebook
– Results and "photo of the day" after each stage
@supracer on Instagram
– "Photo of the day" with insights from each stage
TotalSUP on Facebook
– Plenty of general coverage from our friends at TotalSUP, where the head honcho Mathieu will be paddling in the master's division
@totalsup on Instagram
– Regular stories and updates throughout the week
https://www.instagram.com/p/Bm_h00-AadY/
---