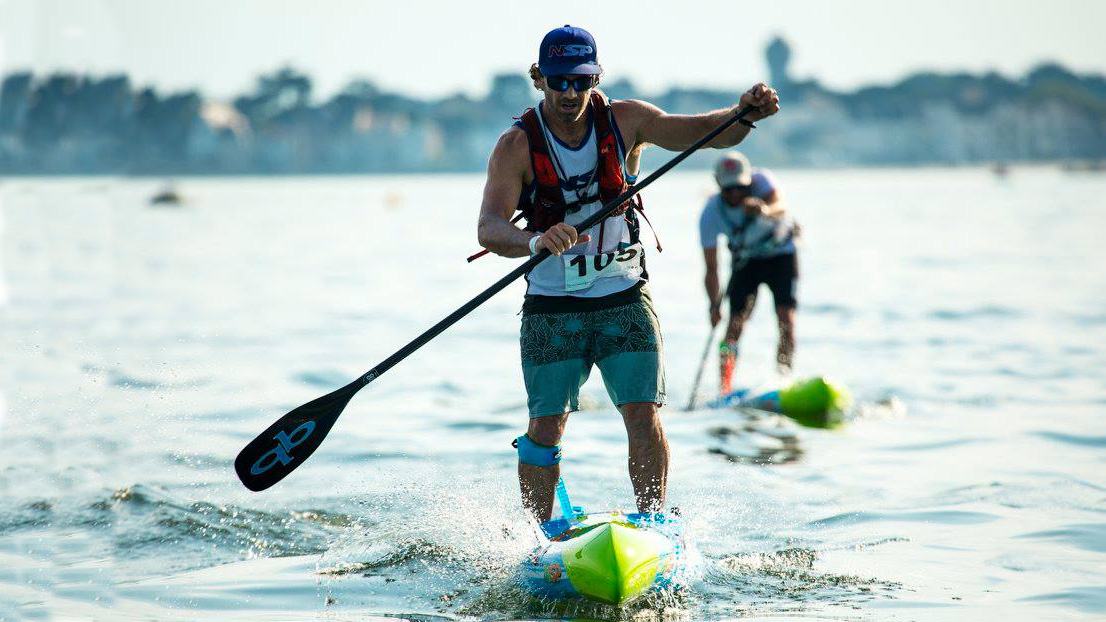 July 7, 2018
by Christopher Parker (@wheresbossman)
Travis vs Titou: Team NSP duo go 1-2 at the 'Summer Cup' paddle festival in La Baule, France
Team NSP's star duo Travis Grant and Titouan Puyo dominated the excellent "Paddle Summer Cup" event in La Baule, France last weekend, finishing 1-2 in both the long course and beach race events to highlight their class and keep the young guns at bay for at least one more year.
Travis made it a clean sweep of the event after narrowly pipping the home-nation hero in both disciplines, finishing 13 seconds clear in the distance before grinding out a similar gap in the beach race.
The rapidly-rising French youngster Tom Auber was third in both races, while the winner from week 4 of the EuroTour, Amandine Chazot, saluted twice in the women's event ahead of the dark horse Frenchwoman Fanny Tessier.
La Paddle Summer Cup , c'est du SUP, du SUP, du SUP, sous toutes ses formes, dans des conditions de rêve et sur un spot de dingue !

Crédits : Charles Tiger/Nicolas Salet/PromoPaddle

Posted by Paddle Summer Cup on Friday, July 6, 2018

From all reports – and based on all the media we've seen – the Paddle Summer Cup in La Baule was a fantastic event. Very well organised and just plain fun for everyone no matter whether they were first timers or international stars; "Amazing event" was how the ever-succinct Travis summed it up when we chatted the other day.
Although it clashed dates with the big World Cup in Germany this year, the Summer Cup could be one to watch for next year's European Summer of SUP.
It was also fascinating to watch the battle between Trav and Titou (or T1 and T2 as they're affectionately known). Not only are they good mates and NSP/Quickblade team mates, they're also two of the hot favourites for next month's Molokai-2-Oahu showdown in Hawaii.
This year's M2O is set to be an epic, with the likes of Connor, Jimmy, Lincoln, Boothy, Nottage, Mo and many more international names battling Trav and Titou for arguably the most prestigious title in the sport.
That's still a few weeks away, so until then here are the top finishers from La Baule; follow the Paddle Summer Cup on Facebook for more coverage.
Men's Distance
1st: Travis Grant (1:06:59) Team NSP
2nd: Titouan Puyo (1:07:12) NSP
3rd: Tom Auber (1:09:22) Fanatic
4th: Joseph Gueguen (1:10:24) SIC
5th: Boris Jinvresse (1:11:00) Starboard
6th: Valentin Henot (1:12:26)
7th: Alexandre Bicrel (1:12:29) NSP
8th: Matthieu Chauvel (1:12:49)
9th: Tom Villedary (1:13:15)
10th: Samuel Carbillet (1:13:15)
Women's Distance
1st: Amandine Chazot (1:22:32) Starboard
2nd: Fanny Tessier (1:23:08)
3rd: Marie-Elphege Julienne (1:25:44)
4th: Helene Staumont (1:25:51)
5th: Anais Guyomarch (1:28:25)
6th: Camille Houron (1:29:07)
7th: Nathalie Debost-Guern (1:31:36)
8th: Anne Ly (1:33:33)
9th: Flavie Falaize (1:34:40)
10th: Barbara Duchene (1:37:46)
Men's Beach Race
1st: Travis Grant (0:30:34) NSP
2nd: Titouan Puyo (0:30:46) NSP
3rd: Tom Auber (0:31:43) Fanatic
4th: Joseph Gueguen (0:32:07) SIC
5th: Boris Jinvresse (0:32:48) Starboard
6th: Tom Villedary (0:32:59)
7th: Stephane Guiomar (0:33:29)
8th: Alexandre Bicrel (0:33:31)
9th: Matthieu Chauvel (0:33:32)
10th: Mathieu le Vaillant (0:33:36)
Women's Beach Race
1st: Amandine Chazot (0:38:21)
2nd: Fanny Tessier (0:39:15)
3rd: Marie-Elphege Julienne (0:40:12)
4th: Nathalie Debost-Guern (0:41:04)
5th: Anais Guyomarch (0:41:13)
6th: Camille Houron (0:41:41)
7th: Helene Staumont (0:42:31)
8th: Sandrine Berthe (0:43:16)
9th: Anne Ly (0:43:41)
10th: Barbara Duchene (0:43:580
Click here for the full results over on the official site