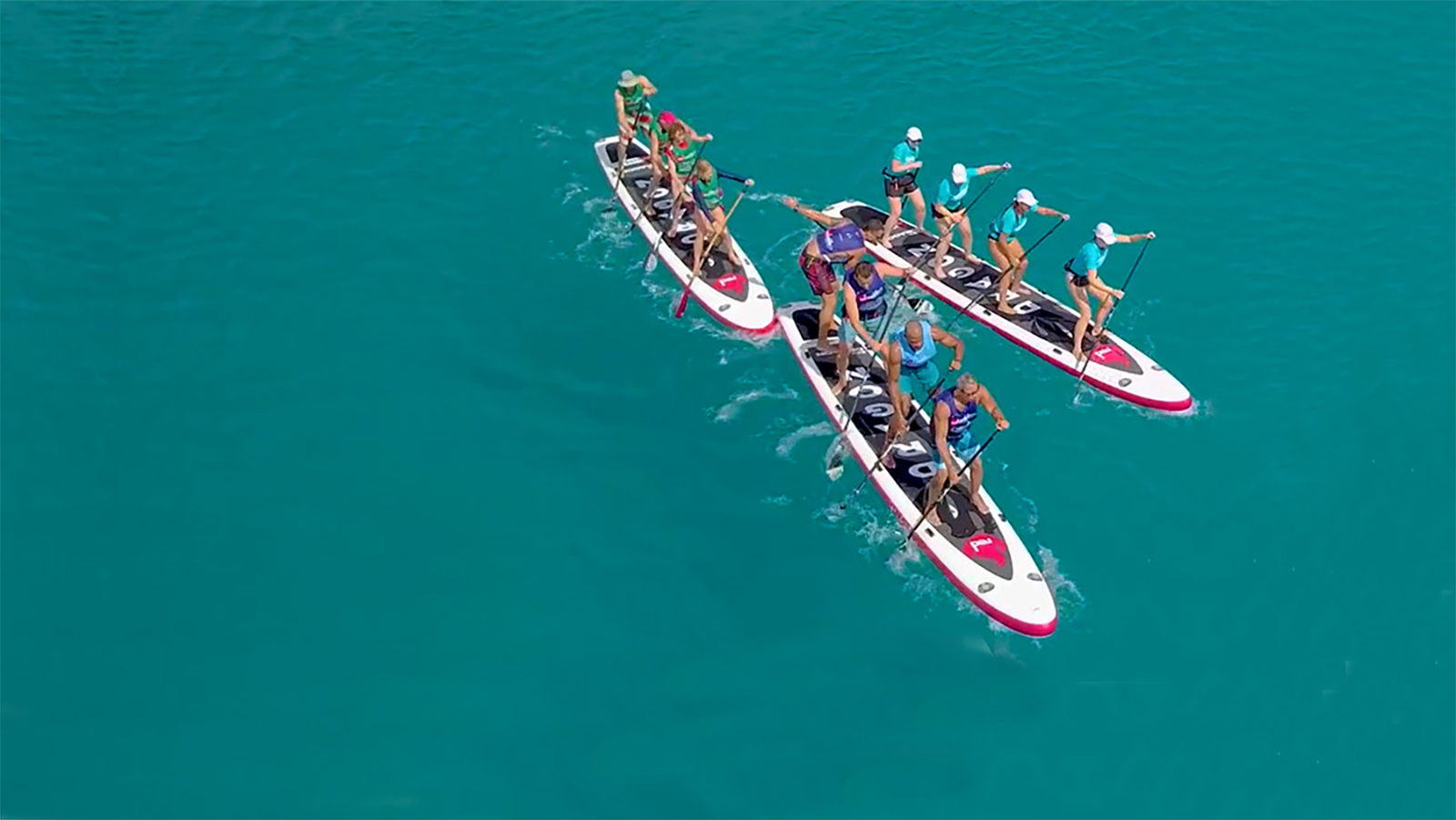 July 5, 2018
by Christopher Parker (@wheresbossman)
The countdown to Red Paddle Co's "Dragon World Champs" goes up a gear as Nike joins the party.
One board, four paddlers, 57 41 days: the countdown to the funnest event of the year is in full swing, with just under two months til Red Paddle Co's "Dragon World Championship" race in Austria. From August 31 – September 2, picturesque Lake Fuschl plays host to this unique, novel and challenging event that turns stand up paddling into a team sport.
If you're not familiar with the Red Dragon, the concept is pretty simple: take a 22ft-long inflatable, find three friends as crazy as you are, then race against other squads in a knockout tournament until only one crew is left standing.
It's probably the most fun you'll have on a SUP, though it's not as easy as it looks–there's a good deal of strategy and teamwork required to get this behemoth of a board purring along.
Unleash the DRAGON! (Red Paddle Co's "Dragon World Championships" revealed)

Unleash the Dragon! Red Paddle Co's "Dragon" racing is one of the funnest things you can do on a paddleboard, and this year the main event is happening in AUSTRIA from August 31-September 2. Get all the details on the official site, and then find three friends and start training 😉

MORE: https://www.dragonworldseries.com/dragon-world-championships

Posted by SUP Racer on Friday, February 2, 2018

The inaugural Red Dragon "Worlds" were held in Barbados last year, and this year it'll go up a gear with the news that Nike Swim joins as headline sponsor for the 2nd annual edition. From the official press release, Red's head of marketing Charlotte Green sums it up:
"It's a great accolade to be working alongside Nike Swim at a global level to help drive participation within paddle boarding. By working with Nike Swim, we will create an incredible international event in Austria to bring their 'Escape to Water' campaign to life whilst allowing teams to form, practice and train together on the mighty 22ft, four-person Red Dragon inflatable board. The Dragon World Championships are set to be a true celebration of SUP and style!"
It's no secret Red Paddle Co is the world's leading inflatable brand: They make incredible boards and you can find them in just about every corner of the map (they're sold in 60+ countries). But the reason I love Red is because the brand is committed to a lifestyle of fun and adventure, which the Red Dragon Worlds sums up pretty well.
More: 10 things to know about the Dragon World Championships
After missing the Barbados event thanks to injury (still regretting it!), I'm heading back there next month to check it out; every time I've been on one of the Dragons side-shows at a big SUP race it's turned out to be the highlight of the event.
If you want to join in the fun, find out more (and register) over on the official site.