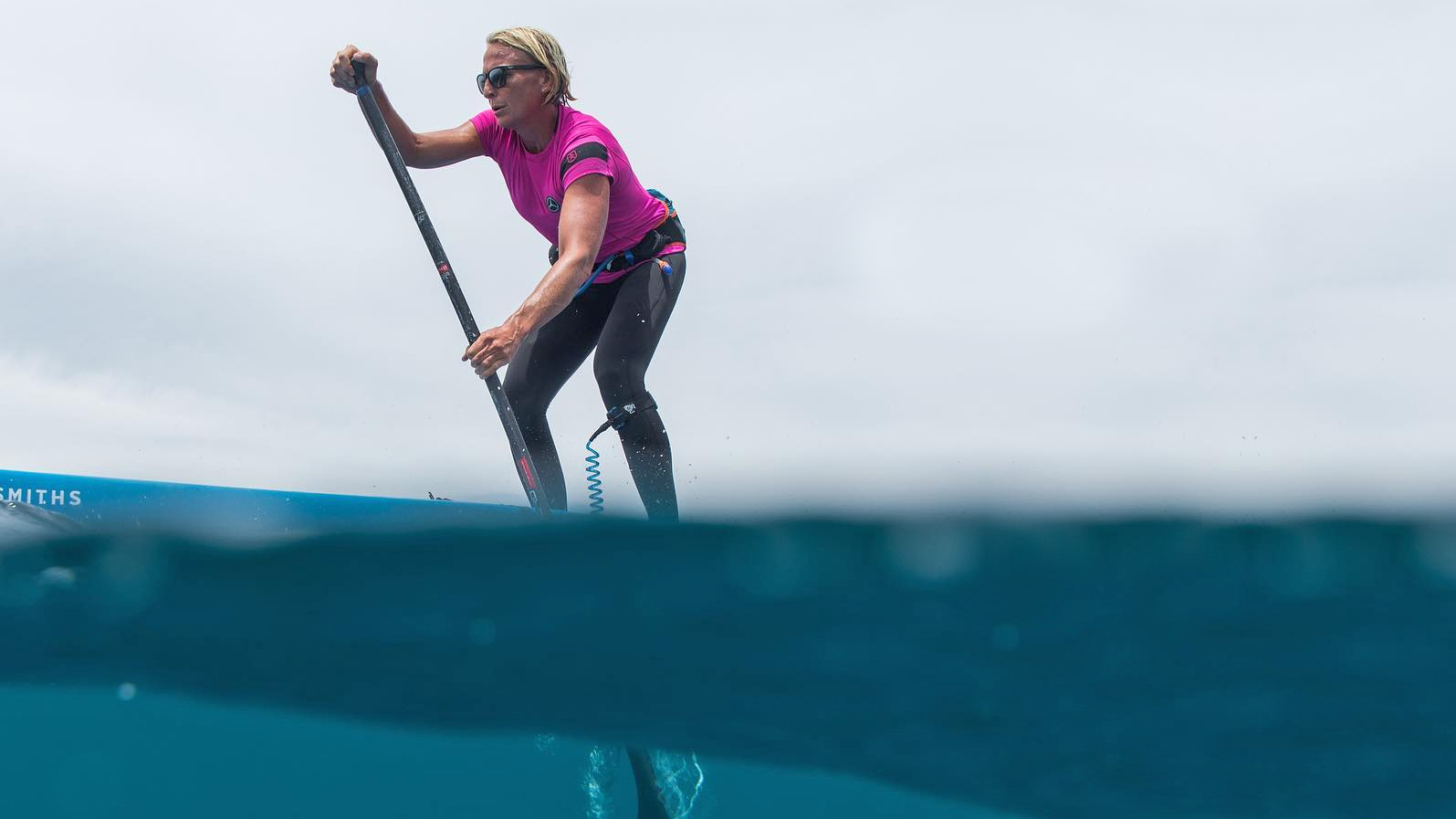 May 5, 2018
by Christopher Parker (@wheresbossman)
Sonni Honscheid and Aussie dark horse Ty Judson have won the Bluesmiths 'Paddle Imua' charity downwinder on Maui
https://www.instagram.com/p/Bidd3vKAYKJ/
In brief: Sonni Honscheid has continued her unbeaten run in Season 2018 by claiming the 2-star Bluesmiths Paddle Imua charity downwinder on Maui this weekend, claiming her second win on the Maliko run in the space of six days and further cementing her status as the woman to beat on The Paddle League.
With Maui's signature winds going virtually silent for the second week in a row, the famed Maliko downwind run once again turned into an 8-mile grind to produce finishing times well outside the race records.
Sonni was six minutes clear of future champion Annie Reickert, while the smiling assassin from Japan, Yuka Sato, picked up another podium before flying back home for next weekend's Kerama Blue Cup World Tour stop on the island of Zamami.
Is anyone going to catch Sonni this season? The German powerhouse seems to be in career-best form right now, which is a frightening prospect given the career she's already had. The other top women will get another shot next week in Japan, however considering nobody has gotten within five minutes of Sonni in 2018, the odds are already stacked against them.
In the men's event, Ty Judson got a well-deserved win after a similarly-impressive effort in the 6-star OluKai Ho'olaule'a six days prior. This guy has been in form all season, with some solid results at home and a great cameo at the Carolina Cup before almost finishing runner-up in the big one last week. Definitely a name to watch.
Ty was only narrowly ahead of another highly under-rated athlete in Josh Riccio, who almost stole the show on his 14 footer after the unlimiteds lost much of their advantage in the light conditions.
In fact, Ty and Sonni were the only unlimiteds in the top three after much of the field opted for stock boards. That included Ryan Funk in third, while Kody Kerbox came home fourth on his big board. Bernd Roediger – seen praying to the rain gods for his signature bumps prior to the race – rounded out the top five.
But the real story of this event isn't on the results sheet, it's in the name even'ts name.
Paddle Imua is a charity downwinder that supports Camp Imua, a Maui-based organisation that hosts camps for disabled kids and their families. It's a great cause and a charity close to the hearts of the local paddling community–if you want to contribute you can head over to paddleimua.com and donate.
Thanks to Bluesmiths and the organising crew for making the race possible, and well done to everyone that got out on the water. Plenty more shots over on the Bluesmiths, Paddle Imua, Black Project and Stand Up Magazin instas.
---
| | | | | |
| --- | --- | --- | --- | --- |
| # | Athlete | Time | Points | Board |
| 1 | Sonni Honschied | 1:31:43 | 20.00 | Unlimited |
| 2 | Annie Reickert | 1:37:19 | 15.00 | 14' |
| 3 | Yuka Sato | 1:38:06 | 12.00 | 14' |
| 4 | Devin Blish | 1:42:44 | 10.00 | Unlimited |
| 5 | Laura Claydon | 1:50:58 | 8.50 | 14' |
| 6 | Andrea Moller | 1:53:34 | 7.00 | Unlimited |
| 7 | Shanna Upton | 1:57:39 | 6.00 | 14' |
| 8 | Hannah Hill | 1:59:35 | 5.00 | 14' |
| 9 | Louanne Harris | 2:13:03 | 4.50 | 14' |
| 10 | Sharon Baldwin | 2:17:07 | 4.00 | Unlimited |
| 11 | Sarah Westbrook | 2:17:51 | 3.60 | 14' |
| 12 | Nadia Sydney Murrell | 2:19:12 | 3.20 | 14' |
| 13 | Elizabeth Campos | 2:19:53 | 3.00 | 14' |
| 14 | Brook Starr | 2:20:53 | 2.80 | Unlimited |
| 15 | Sharon Look | 2:22:05 | 2.60 | Unlimited |
| 16 | Shantelle Pierce | 2:22:24 | 2.40 | Unlimited |
| 17 | Sharlene Griffen | 2:28:51 | 2.20 | 14' |
| 18 | Kathleen Hagan | 2:31:22 | 2.00 | 14' |
| 19 | Heidi Sarkozy | 2:50:53 | 1.80 | 14' |
| 20 | Ina Tagaloa | 2:51:07 | 1.60 | 14' |
| 21 | Margaret King | 2:53:35 | 1.50 | Unlimited |
| | | | | |
| --- | --- | --- | --- | --- |
| # | Athlete | Time | Points | Board |
| 1 | Ty Judson | 1:22:02 | 20.00 | Unlimited |
| 2 | Josh Riccio | 1:22:41 | 15.00 | 14' |
| 3 | Ryan Funk | 1:27:09 | 12.00 | 14' |
| 4 | Kody Kerbox | 1:29:08 | 10.00 | Unlimited |
| 5 | Bernd Roediger | 1:29:32 | 8.50 | 14' |
| 6 | Nathan Cross | 1:31:23 | 7.00 | Unlimited |
| 7 | Ralf Sifford | 1:38:19 | 6.00 | Unlimited |
| 8 | Mark Raaphorst | 1:41:44 | 5.00 | Unlimited |
| 9 | John Hadley | 1:42:43 | 4.50 | 14' |
| 10 | Alex Matero | 1:43:50 | 4.00 | Unlimited |
| 11 | Neil Turpin | 1:47:01 | 3.60 | 14' |
| 12 | Hans Wannemacher | 1:49:21 | 3.20 | 14' |
| 13 | Kyle Ellison | 1:49:46 | 3.00 | 14' |
| 14 | Alex Mawae | 1:50:13 | 2.80 | 14' |
| 15 | John Walsh | 1:52:19 | 2.60 | 12'6 |
| 16 | Shane Murrell | 1:53:34 | 2.40 | 14' |
| 17 | Jp Mihlbauer | 1:54:04 | 2.20 | 14' |
| 18 | Kieran O'Riordan | 1:54:14 | 2.00 | 14' |
| 19 | Orey Masserman | 1:55:28 | 1.80 | Unlimited |
| 20 | Tim Yates | 1:56:28 | 1.60 | Unlimited |
| 21 | Kelso Offenbaker | 1:57:25 | 1.50 | 14' |
| 22 | Michael Johnson | 1:58:46 | 1.40 | 14' |
| 23 | Sharn Mentz | 1:59:43 | 1.30 | Unlimited |
| 24 | John Zevenbergen | 2:00:13 | 1.20 | Unlimited |
| 25 | Ron St. John | 2:02:53 | 1.10 | 14' |
| 26 | Andrew Dunber | 2:05:04 | 1.04 | Unlimited |
| 27 | Zoltan Bazso | 2:05:28 | 0.98 | 14' |
| 28 | Samuel Shnider | 2:06:53 | 0.92 | 14' |
| 29 | Gregory Harbottle | 2:08:04 | 0.86 | Unlimited |
| 30 | Chris Freeman | 2:09:25 | 0.80 | 14' |
| 31 | Gary Candido | 2:10:11 | 0.76 | Unlimited |
| 32 | Searay Beltran | 2:12:52 | 0.72 | 12'6 |
| 33 | Donnie Mcgean | 2:15:03 | 0.68 | 14' |
| 34 | Ernst Disse | 2:15:20 | 0.64 | 14' |
| 35 | Johnny Kahakaloa | 2:16:40 | 0.60 | 12'6 |
| 36 | Mike Jucker | 2:18:45 | 0.56 | 14' |
| 37 | Tom Burke | 2:20:37 | 0.52 | 14' |
| 38 | Karl Wannemacher | 2:21:13 | 0.48 | 14' |
| 39 | Mickey Stove | 2:25:02 | 0.44 | 14' |
| 40 | James Williams | 2:25:10 | 0.40 | 14' |
| 41 | Ben Williams | 2:28:26 | 0.38 | Unlimited |
| 42 | Dave Wess | 2:30:54 | 0.36 | Unlimited |
| 43 | Anderson Gallagher | 2:31:20 | 0.34 | 12'6 |
| 44 | Douglas Hagan | 2:31:24 | 0.32 | 14' |
| 45 | Ty Simpson-Kane | 2:36:01 | 0.30 | 12'6 |
| 46 | Fred Mayo | 2:36:13 | 0.28 | 12'6 |
| 47 | Paul Williams | 2:38:31 | 0.26 | Unlimited |
| 48 | Taito Barraek | 2:44:46 | 0.24 | 14' |
| 49 | Rino Englehart | 2:50:13 | 0.22 | Unlimited |
---