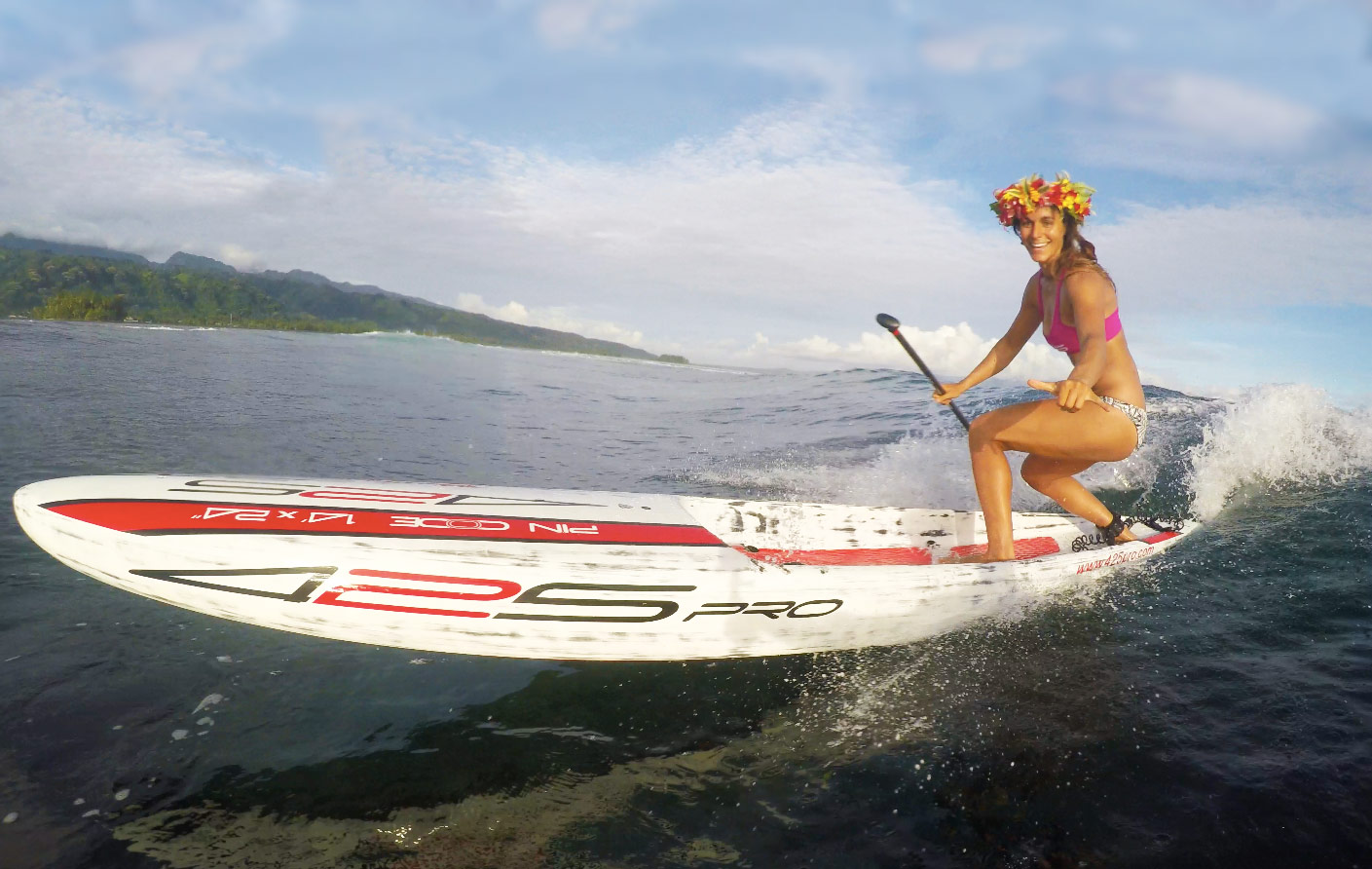 January 10, 2018
by Christopher Parker (@wheresbossman)
Trade Week Continues: Olivia Piana Departs Starboard, Joins Tahitian-Born Team '425 Pro'
World number three and Pacific Paddle Games vice-champion Olivia Piana has signed with Tahitian-born brand 425 Pro, departing Starboard to help spearhead one of the newer teams alongside the legendary Georges Cronsteadt.
This is a huge pick up for the '425' stable, which was formed in Tahiti a couple of years ago and is now based out of Bali. Olivia has enjoyed a meteoric rise through the ranks after returning to the sport 24 months ago, with France's finest finishing season 2017 ranked number three in the world after scoring second place at the PPGs. Her massive year also included podiums in Carolina and Denmark plus a string of victories on the EuroTour.
One of the strongest women on the water and one of the friendliest, ever-smiling paddlers off it, Olivia will no doubt be a huge asset to 425. But she doesn't just plan to be the female face of the brand, with Olivia eager to help develop 14′ race boards for the women's market as well.
The 425 Pro Team has been quietly building up over the past 12 months: Olivia will join the king of Tahitian paddling, Georges, and his highly under-rated compatriot Enzo Bennett, with another half a dozen French-speaking riders such as French veteran Didier Leneil filling out the roster (I'm pretty sure the entire 425 team is French-speaking).
Olivia sounded very happy about the trade when I chatted with her yesterday:
"I'm super happy to join 425Pro as we share the same ideas about boards and paddles. Everyone in the team contributes their opinion and listens carefully. Plus speaking your native tongue is much easier and the dialogue is naturally deeper. 425 has offered me a great opportunity to help develop boards for paddlers under 70kg which is a lot of the female paddlers. And I'm lucky to be surrounded by the great champion Georges Cronsteadt!

I'm also really grateful for all the support given by Starboard, which has allowed me to come back to the highest level since the beginning of 2016. Merci!"
The European powerhouse also said she was excited to hit all the major races this season and chase the new international series being formed out of the SUP Racer World Rankings (something you'll hear a lot more about next week).
This is a fairly natural fit for Olivia. The 2016 Air France Paddle Festival champion and 2017 Ironmana stand out spends a lot of time in the islands of French Polynesia, which is the birthplace of the 425 brand and still home to its core team. Olivia will still be based in France but no doubt a few extra trips to paradise are on the cards this year.
Starboard will be disappointed to see Olivia go, but when you have a team as big as theirs it's impossible to retain everyone. Olivia will have much more room to breathe in the smaller-sized 425 stable, while Starboard will still be served well on the women's side by Fiona and Sonni.
Olivia's deal continues a busy "Trade Week" period that's already seen Mo Freitas sign with Rogue and Kai Lenny depart Naish, while Izzi Gomez and Lina Augaitis are expected to confirm their new homes later this week.
Until then, we say félicitations to Olivia and the 425 team. It's going to be an exciting season!
https://www.instagram.com/p/Bdx4ujwggYp/