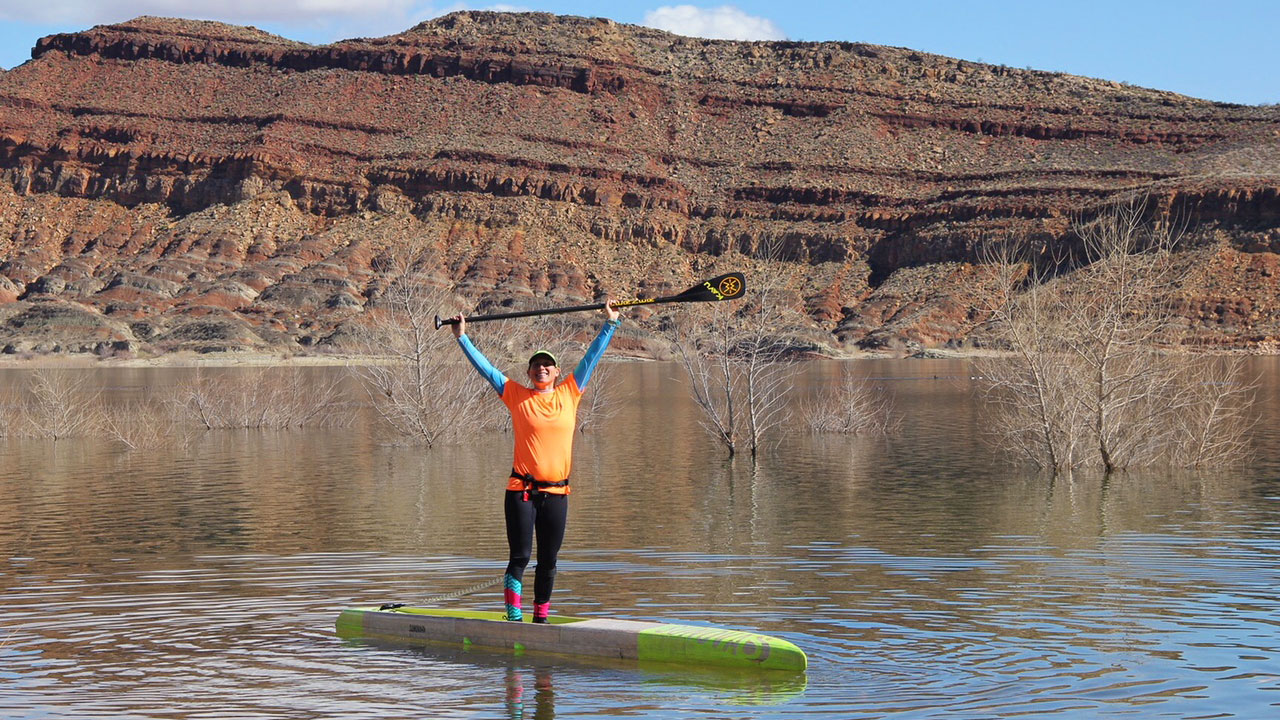 March 6, 2018
by Christopher Parker (@wheresbossman)
Comeback: Former World Number Two (Now *Mother* of Two) Lina Augaitis Joins Team Sunova
After a couple of seasons on the sidelines, former world number two and perennial podium-getter Lina Augaitis is making a comeback this year. And she's doing it with the support of a new team: Sunova.
Lina officially joins Team Sunova this week as Canada's top paddling export aims to return to the pointy end of a sport she helped shape from 2013 to 2015 before taking a break to start a family.
This is another strong pick-up for the team that already has James Casey and Kelly Margetts riding some of the best-performing (and best-looking) boards in the industry. Founded by shaping guru Bert Burger, and now with the support of chief race board designer Marcus Tardrew, Sunova is carving out its own niche in a crowded market.
In addition to Lina, Sunova welcomes another Canadian to the team this week in Norm Hann, one of the most accomplished adventure paddlers on the planet. Norm has led numerous SUP tours through the Canadian wilderness and is, just like Lina, a veteran of the mammoth Yukon River Quest.
"Augaitis" has been one of the most recognisable names in the women's sport over the past half a decade, with Lina regularly battling fellow powerhouses Annabel Anderson and Sonni Honscheid at the world's biggest races. The Ottawan, who now calls British Columbia home, took over two dozen victories in her peak including wins at the Battle of the Paddle, SUP World Cup, The Worlds and on the 2014 and 2015 EuroTours.
Lina went on hiatus in late 2015 after giving birth to her first child and has only raced sporadically since then. Her and her husband, Andrew, welcomed their second child into the world four months ago, and since then she's seemingly gotten her competitive drive back.
So with the international SUP racing season just around the corner, I asked Lina what her goals are for season 2018, and I quickly discovered she's a different and much wiser paddler than in the past.
But first, a few words from the Sunova crew on signing one of the world's winningest women to the team.
Kelly Margetts, Sunova Team Manager
"We're pumped to have Lina on board. She fits our core vision for the brand and brings the right attitude to the team. It's going to be exciting to see her racing again–Lina is a true athlete, and she's set herself some solid goals for the season that we aim to help her achieve.
"We've already got some great guys on the squad, and now Team Sunova is proud to be helping elevate the women's sport as well."
Martin "Tino" Jandke, Sunova Boss Man
"I'm super excited. Her style totally suits the Sunova family. We want to make sure she gets the right tools to forge her own path in this new phase of her career. Can't wait to watch her in action! We really want to see more women getting on the water and this is something Lina will be able to help us with.
"We're also stoked to have the craziest most adventurous Canadian guy Norm Hann paddling with us! Norm is next level and has pioneered amazing paddling adventures that really inspire us. That's why we'll soon be releasing a new Norm Hann touring model in our signature balsa wood finish. Full power at Sunova!"
Lina Augaitis, former world number two
I'm stoked to be part of this new family. The Sunova crew seem really genuine about helping grow the sport, so I'm really excited to be part of the team and look forward to helping grow the brand and making a difference in the sport.
"There are so many exciting things happening at Sunova — they make some amazing, unique boards, and they're not afraid to branch out and try new and innovative things, which I really appreciate. I'm excited to paddle all of their range and I've been blown away by first impressions. I think it's a great fit for me because we see the sport in similar ways, and I'm excited to bring my past experience and new life as a "mom-athlete" to the team!
"My former family at SIC was a really important part of my SUP career (and life), and I'm really grateful for my time with them, but the switch to Sunova comes at a great time for me as I return to the competitive sport with new motivations.
"As a new mother and past world champion, I hope to connect with as many individuals as I can. It's really important to be able to pursue my passions and goals while still being the best mother and wife I can be.
"On the competitive side of things, I have new motivations this year that simply didn't exist last time I was competing. I have two young children now, and of course I want to give them all the opportunities I can provide. I want them to be able to pursue their own dreams and passions, and at the same time they're my biggest motivator. I want to show them what it's like to work hard for something, set goals, deal with decisions & choices, successes & failures and lessons learned.
"I want to teach my kids that you can keep learning and growing no matter what age or stage of life one is at.
"My kids are still so young (Tav turned two in December and Aiste is only 4 months old). It's an adventure every day, but luckily Andrew and I share a passion for the outdoors and try to find creative ways to get our family out there regularly.
"Between working part-time and being a full-time mom, paddling and racing is also a great way for me to stay fit, keep learning, grow as a person and share my experiences with others. I think you'll see a slightly wiser/more mature version of Lina on the race board this season…
"I'm really excited to be back in this awesome community but a little nervous to see where I fit in. I'm also nervously curious about what my body is capable of these days. Training is soo different with kids! I have such limited time on the water. Is it enough? I try to get creative with my workouts and bring my kids along when I can, but it's definitely a challenge.
"I want to see what my strengths are now and if they've changed, and I want to see what I can accomplish as a full-time mom that works part-time and paddles/competes when she can. I'm eager to see how high I can go on the world rankings, and I'd love to compete in the PanAm Games next year, but these days it seems less about the results and more about experience.
"In the past, all I wanted to do was win, but now I just want to get on the water and share the love with my family, friends and the rest of this amazing community."