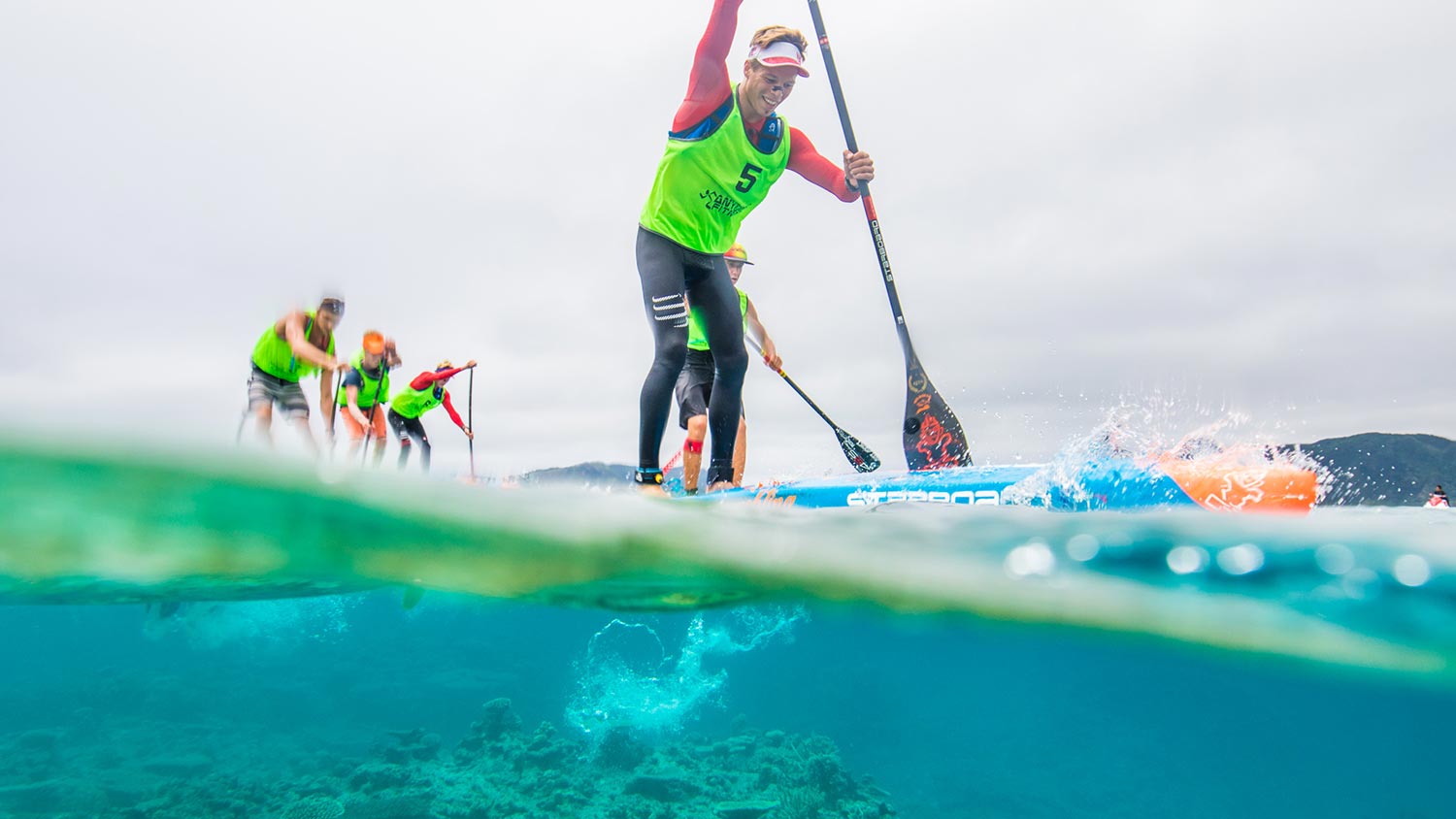 May 13, 2018
by Christopher Parker (@wheresbossman)
Zamami: Sonni Honscheid Goes Five Straight; Connor Baxter Outlasts Young Gun Garioud
In brief: Sonni Honscheid has continued her unbeaten streak in season 2018 to five events after claiming the Kerama Blue Cup on Japan's Zamami Island. Sonni was too strong yet again, however yesterday's win wasn't as dominant as her previous four after home nation hero Yuka Sato gave the German some serious competition.
Seychelle hung on against a fast-finishing Lina Augaitis to claim third step on the podium, while number two seed Fiona Wylde faded late to finish fifth.
In the men's battle it was a frantic finish between number one seed Connor Baxter, Sunova's two-piece young gun Noic Garioud and Aussie Lincoln Dews. Connor just hung on despite the heroics of the 16-year-old from New Caledonia, while Linc had to settle for third.
The Hasulyo brothers, Daniel and Bruno, looked strong all race but couldn't match the top three in the final, 1km super sprint to the buoy that produced enough little downwind bumps to break up the lead pack.
Kenny Kaneko finished strong for the home team, claiming sixth spot after working with France's Martin Vitry (7th) to try and reel in the lead group.
Full recap/results incoming; follow The Paddle League on Facebook and Insta for more coverage.
ELITE MEN (18km / 11 miles)
1st: Connor Baxter (1:41:36)
2nd: Noic Garioud (1:41:46)
3rd: Lincoln Dews (1:42:02)
4th: Daniel Hasulyo (1:42:11)
5th: Bruno Hasulyo (1:42:46)
6th: Kenny Kaneko (1:43:15)
7th: Martin Vitry (1:44:04)
8th: Kelly Margetts (1:46:29)
9th: Rai Taguchi (1:47:19)
10th: Kota Kayashima (1:47:26)
ELITE WOMEN (18km / 11 miles)
1st: Sonni Honscheid (1:50:44)
2nd: Yuka Sato (1:51:59)
3rd: Seychelle (1:54:50)
4th: Lina Augaitis (1:55:16)
5th: Fiona Wylde (1:57:35)
6th: Terrene Black (1:59:11)
7th: Takayo Yokoyama (2:01:20)
8th: Rika Okuaki (2:04:06)
9th: Miu Kogai (2:07:51)
10th: Kiyomi Sheppard (2:15:21)