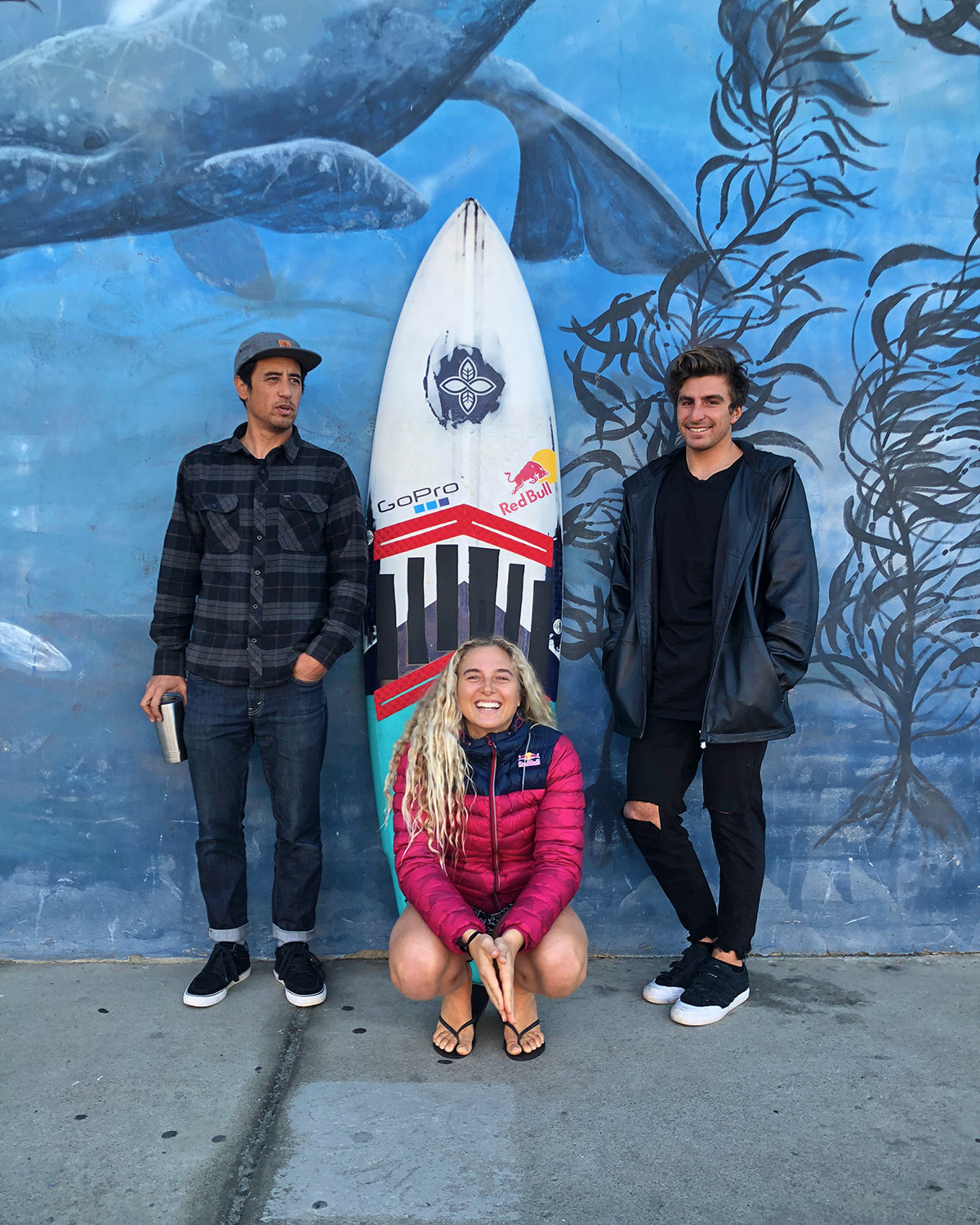 January 12, 2018
by Christopher Parker (@wheresbossman)
It's (Almost) Official: IZZI GOMEZ Is Joining Team Infinity as Trade Week Heats Up
Looks like the Speed Freaks just got a little freakier.
After a few subtle hints on Instagram and some relentless prodding of its team boss, our local sources have confirmed another major "Trade Week" move: Izzi Gomez is joining her brother Giorgio and the rest of the Freaks at Team Infinity.
And just to make it unofficially official, we also got our hands on a preview of the "Welcome to the Team" photo shoot that's been happening down in SoCal the past couple of days (see above).
While Izzi is mainly a surfer (multiple world titles) she definitely knows how to whip a race board around the buoys, so hopefully we'll see this free-spirited sophomore at a few of the big stops this season. The golden-haired one will be riding a new quiver shaped by Dave Boehne himself, which is going to include both surf SUPs and shortboards (Izzi rips on everything, and the only thing bigger than her hair is her talent on a surfboard).
When we first messaged Boehne to confirm the Izzi rumours last week he replied with a giant pic of the speak-no-evil monkey (also known as the "I'm not telling you anything" emoji), but after a little digging we were able to confirm the news a few days ago.
It's not a huge surprise to see Izzi at Infinity: her brother Giorgio joined two years ago and she's always been tight with SoCal's finest, so when Izzi announced her departure from Starboard last week all eyes turned to @infinity_sup for clues.
That didn't take long, with a few subtle Instagram Stories hinting at the move over the past few days (the news should become officially official early next week). One of those teasers was a vague shot of Izzi's brooding reflection in a rearview mirror–an image that wouldn't have looked out of place in a Cohen brothers movie.
And let's face it: there's only one stand up paddle brand that can handle this much hair.
However, in an intriguing and last-minute twist to her contract negotiations, sources close to the Red Bull star have suggested that while she's a natural fit for Infinity, the deal with Dave was only sealed when he agreed to produce an "Izzi x Infinity" line of branded shampoos and also let her borrow his season pass to Six Flags.
But in all seriousness, Infinity has built a pretty damn impressive team over the past couple of years, and the way they've gone about it has been refreshing for a humble little sport like SUP that was never seen as one of the cool kids in the ocean world.
Between the star-studded team (the pro squad consists of Candice, Shae, Slater, and now both of the Gomez kids alongside Boehne himself, while other ambassadors and future stars include Itzel Delgado, Genna Flinkman, Tyler Bashor, Chloe Walkerdene and living legend Anthony Vela), the highly-respected shaping skills of Dave and his brand-founding father Steve, plus that reputation of being stand up paddling's official hipsters-in-residence, Infinity has been punching above their weight and competing with the global marquee brands for the past few years.
With the addition of Izzi Gomez it looks like that punching will continue, so congrats to the whole crew on the new deal. You'd be hard pressed to meet a stronger surfer on the water and a cooler one off it than Izzi Gomez. The youngster has not only taken women's SUP surfing to new levels, she's added a healthy dose of character and flair to the sport at the same time.
It's already been a busy start to season 2018, and I have a feeling it's only going to keep picking up steam over the next couple of weeks. We're excited to see what else is in store…
Follow @infinity_sup and @izzigomez_ for more