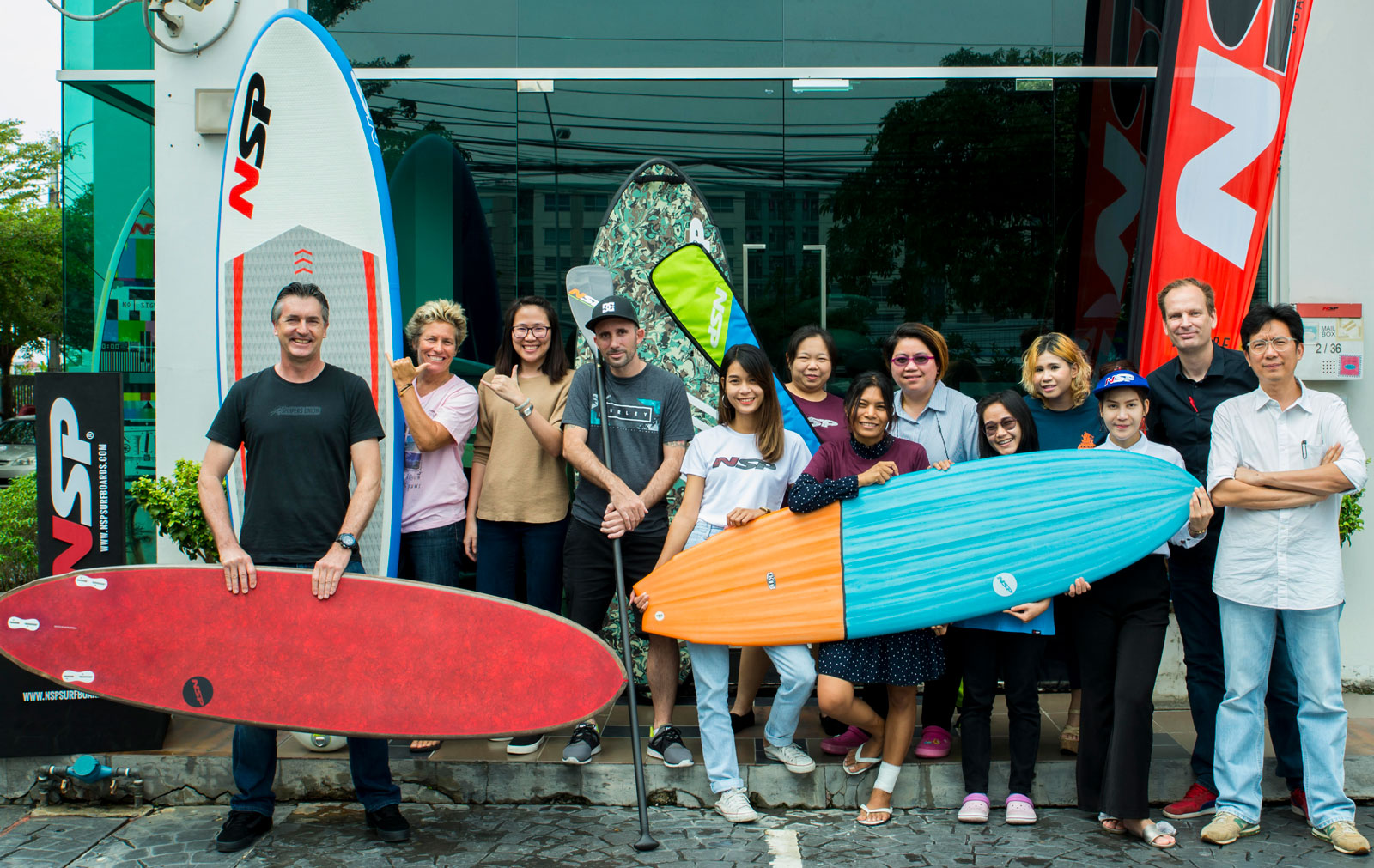 March 2, 2018
by Christopher Parker (@wheresbossman)
Industry News (and Interview) — NSP Lands Former Starboard Brand Manager Caren Forbes
While SUP Racer mainly talks about what happens on the water in this sport, there's a whole 'nother race happening off the water as stand up brands compete for supremacy in everything from board design to marketing talent.
Last week, NSP scored a big goal in this area when they hired former Starboard marketing boss Caren Forbes, an American expat that now calls the industry mecca of Thailand home (arguably the best country to work in the SUP industry).
This is a pretty handy pickup for NSP on a couple of fronts: Anyone who dealt with Starboard between 2012-2016 would have learnt that Caren knows her stuff (it took four employees to fill her void when she departed), and just to top it off, Starboard and NSP – whose corporate offices are literally a scooter-ride away from each other in Bangkok – are rivals. Friendly rivals, sure, but rivals nonetheless, which makes this something of a coup for NSP.
Caren left Starboard in late 2016 to start her own SUP retreat in the relaxing south of Thailand – C Water Adventures (something she'll continue by splitting her time between Bangkok and the South) – but once you're in the SUP industry you can never really leave, so when I visited Thailand last week I asked Caren why she jumped back into the game and what her vision is for the NSP team.
"Every brand has a unique and interesting story involving passionate people dedicating their lives to making a dream a reality. From the CEO to the sales team to the team riders and ambassadors who are out their every day training, teaching, performing and selling. Everyone works hard to make their brand the best in the world.

NSP is no different. There's a great story just waiting to be told and I've been lucky enough to be hired to help tell it. As an added bonus, I get to promote NSP while continuing to showcase our C Water SUP Center on one of the most amazingly beautiful beaches in Chumphon. It's not a bad life working in the SUP industry in Thailand…

Most people know of NSP from watching two of the worlds best SUP Racers, Travis Grant (ranked 3rd in the world) and Titouan Puyo (#2), who make racing look so effortless. These guys are two of the nicest and most humble guys both on and off the water that you'll ever have the pleasure to meet. Add in a good sense of humor and you have two people you naturally want to be around. You may have also heard the name Alain Teurquetil, the mastermind behind the NSP race board designs and the guy who is out there racing each week himself, side-by-side with his team riders.
But what some stand up people might not know is that NSP also has a full range of surfboards targeting pretty much every level from total beginners to semi-pros, which is going to make my job both exciting and challenging as I look beyond simply the SUP market.

It's an energising time to be promoting surfing and SUP brands for a lot of reasons. One aspect is the whole sustainability movement. NSP helped lead the way on this almost a decade ago when our CEO (Trent Pedersen) teamed up with the 'Cobra' manufacturing giant and Harmless Harvest coconut water to produce the first ever board made using coconut husks (harvested right here in Thailand, I might add). This "Cocomat" technology has gone into some of the most popular boards for SUP surfing, touring and yoga, with a look (and weight) that is truly unique.

So I'm really looking forward to this new adventure, and I'm really excited to share the NSP story with even more paddlers and surfers around the world. I also couldn't finish without a quick plug for the brand, so make sure you're following NSP on Instagram and Facebook to see how the story unfolds this season.

Hope to see you all on the water soon, and until then… live the adventure!"