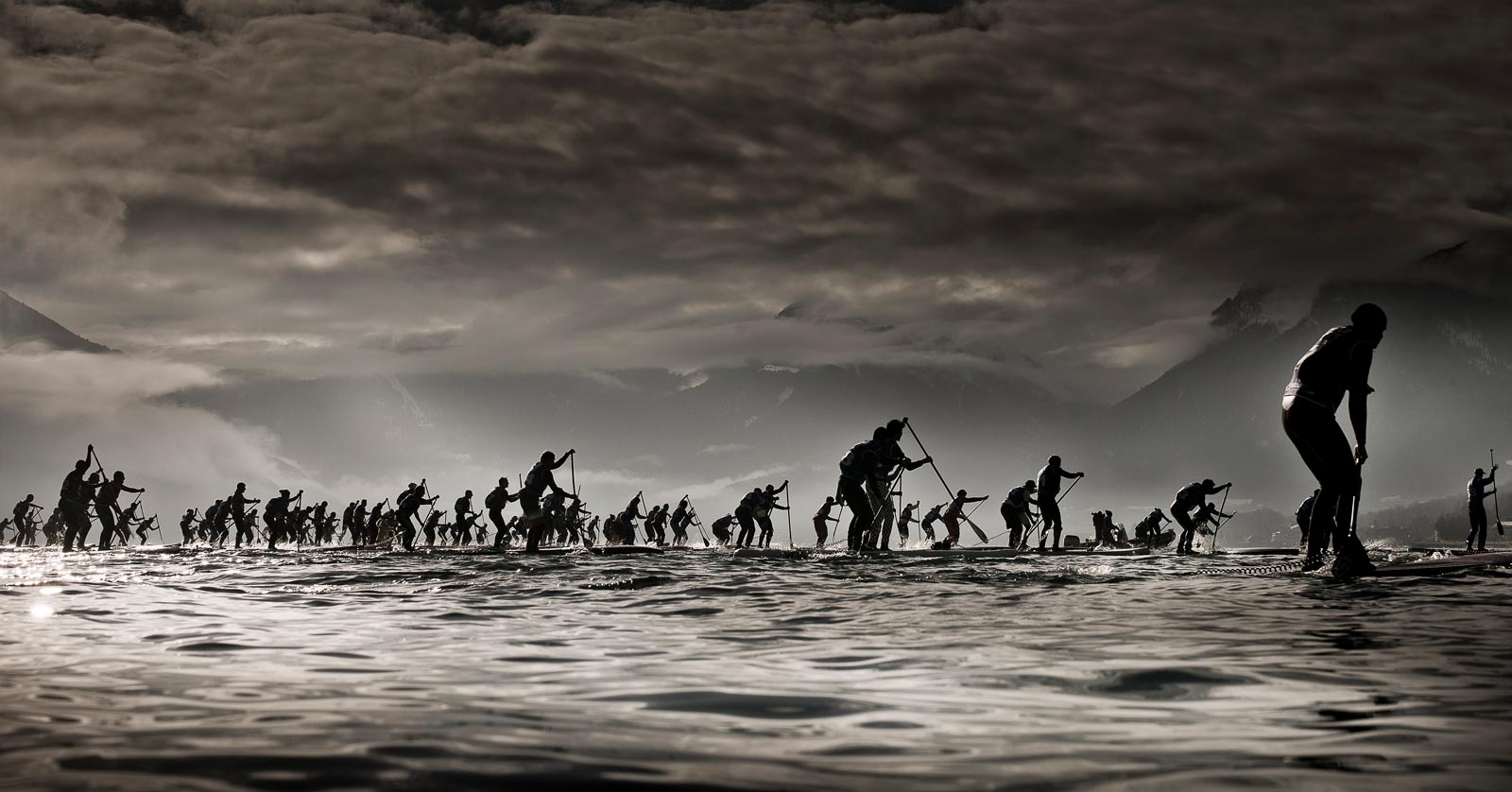 January 19, 2018
by Christopher Parker (@wheresbossman)
Here's why GlaGla is the first "points race" of season 2018 (we're making big changes to the World Rankings this year)
We're only 24 hours from the first big race of season 2018: The GlaGla Race in the French Alps. But the "GlaGla" isn't just the first big race of the year, it's going to be one of the biggest races of the year, period.
The humble GlaGla has quickly become something of a stand up paddling phenomenon. Held in a quiet corner of France in the freezing cold depths of winter, this amazing race has officially become one of the biggest in the world after a record 494 paddlers signed up for the 2018 adventure.
Measured by the number of stand up paddlers on the same start line, the GlaGla would now rank as the #2 race in the world behind only its compatriot the Paris Crossing.
Extraordinary.
More important than bragging rights, however, is the fact the GlaGla Race highlights just how strong our sport is (or rather: could be) at a grassroots level. While there's been plenty of chatter about the industry plateauing and some of the big elite races struggling to sustain themselves, we're seeing a new breed of events come through that have found success in simplicity.
I don't want to sound dramatic, but these "grassroots," "mass participation"-style races are probably going to save our sport. They're the new pillars of the SUP world. They're the events that attract hundreds of weekend warriors and first time paddlers; i.e. the people that are actually out there paying retail price for boards and fueling the industry that in turn helps drive our sport.
The GlaGla Race mirrors the similar success of the big one in Paris and other bucket list adventures such as Chattajack. We could analyse the reasons why ad nauseam, but the main point is that we should be doing everything we can to support these events.
That's why SUP Racer traveled to the GlaGla Race in 2017, and it's why we've returned this year to live stream the event and share this grand spectacle with the paddling world.
But we're taking it a step further: starting this season, SUP Racer is going to have a far bigger emphasis on these grassroots events, including how they factor into the world rankings.
https://www.instagram.com/p/BdfXCI1goFL/
The core of SUP Racer has undoubtedly become the world rankings, and if the rankings have a currency it would be points. So if we want to support these mass participation races, and if our currency is world ranking points, then we're going to start rewarding these events with more points.
This is a big jump from previous years when the Race Index and subsequent star rating system was based on "level of competition" and little else. That may have been a statistically accurate way to analyse the top athletes, but we believe we could do more for the sport if we considered other important factors (such as participation).
The formula will continue to be tweaked, but one criteria we've agreed on for season 2018 is that any amateur race attracting 400+ competitors will automatically score 40 world rankings points no matter which athletes are on the start line (and we're considering a lower tier of 20 points for ~250 plus participants).
(Note: The "Majors" and other big elite races will still score the most points – up to a set score of 100 this season – but the grassroots events will definitely get a significant bump to reward their huge contribution to the sport that hopefully makes them even more relevant.)
This will not only recognise these amazing races that are helping drive our sport, it'll hopefully be an added incentive to other race organisers and promoters to build their own participation numbers.
These changes to the points formula foreshadow even bigger changes to the broader world rankings system…
New name for the world rankings
The SUP Racer World Rankings will be spun-off into a new, separate entity. The leaderboards will remain, but the name and format will change.
We're pretty excited about this new direction, and when I say we I mean we, because we've built a team of highly-respected and very talented paddlers and industry figures to help guide this new entity.
This is (by far) the single most significant project SUP Racer has undertaken in the six years since we started this crazy ride.
Events will score set points
Every race inside the new world rankings system will get a set score of between 20 and 100 points, which will phase out the old star ratings system in favour of tiers and regional groupings. The majors and other select international races (think: Carolina, Gorge, etc) will score 100 points.
Events will be grouped into regions
We're introducing new event tiers and groupings to help define which races get what points. This will include "International," "Specialty," and "Regional," level races alongside the traditional "Majors" and "Regional majors."
We're also going to focus more on geography, with a longer-term aim of having separate, regional leaderboards in places like the USA, Europe, Asia and Australia.
The rankings will be RESET each season
This is a another major change.
One of the key features of the world rankings has been its trailing 12 month system, however that always creates a few issues (namely that the season never really takes shape until after the big races in August and September) and every year we get a lot of requests to simply reset the leaderboards.
So this year we're going to reset the rankings back to zero, which in turn will create a structure that looks more like a world tour than just a simple leaderboard.
The big reset will happen after the first major race of the year in April, and until then the 2017 rankings will be frozen in place.
The new, international "season" will run for six months from early April to early October. All of the races that fall outside of the season, such as this weekend's big GlaGla Race, will count as "headstart" events and will see their points activated after the first international race in April
(For the 2018 season, only events from January-March will count, but in the future all events from mid-October to March will count for the next season.)
This is all just a logical evolution of the system
While some of these changes are pretty major we see them as a logical evolution of the current system.
Every year I've tried to tweak the SUP Racer World Rankings to best serve the sport, and this year we're taking a giant leap down that same path in order to (hopefully) give the sport a better and more sustainable foundation.
We've been working day and night preparing for season 2018, and while I wish we could share all the details with you right now, the changes are so significant that it's taken a little longer than anticipated to get things in order; we initially aimed to announce at the beginning of January, but it'll probably be the end of January now.
Hopefully we'll have some big news in the next 10 days, but until then you can be certain of one thing: The GlaGla Race is the first "points race" of season 2018, and to recognise its massive success in attracting well over 400 paddlers to the start line, it's going to earn 40 points on the new-look, soon-to-be-revealed world rankings system.
Oh and it's also going to be live streamed, so tune in to SUP Racer's Facebook page from 10:30am French time on Saturday to see the adventure unfold (that's 11:30pm Friday in Hawaii, 1:30am Saturday California, 4:30am Eastern, 6:30am Brazil, 10:30am South Africa, 5:30pm Japan, 6:30pm Queensland, 7:30pm NSW, 9:30pm New Zealand).
Buckle up, it's going to be a big year!